Pelosi defends decision to alter congressional class photo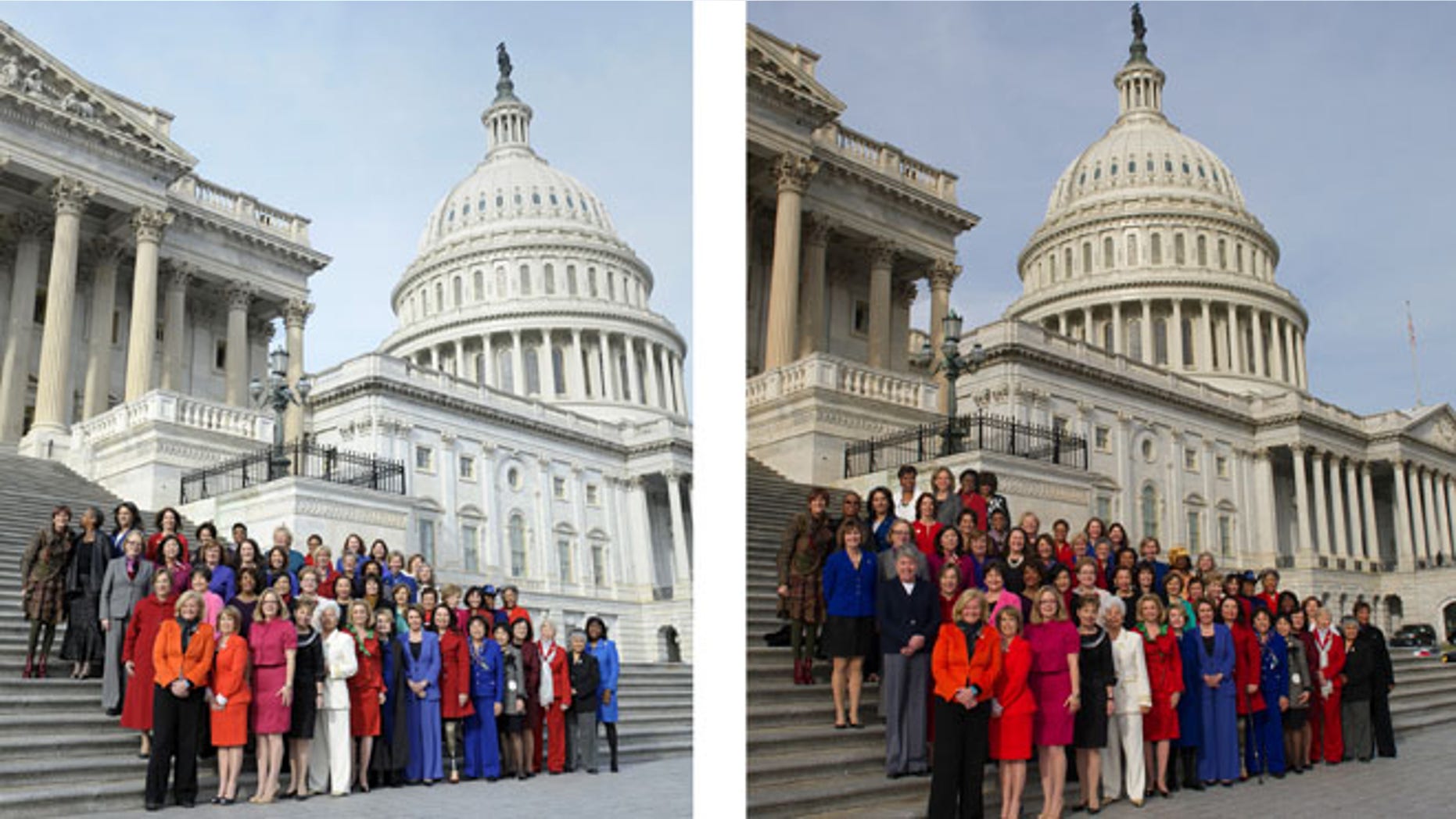 Nancy Pelosi's aides took a page out of the fashion world's playbook this week and did some ultra-airbrushing to a congressional class photo -- adding in four lawmakers who were never in the original picture.
The reason was innocuous enough. The Democratic women of the 113th Congress had gathered on the Capitol steps Thursday for a picture, snapped by The Associated Press, marking the start of the session.
Four lawmakers, though, were late to the shoot. So Pelosi's office added their faces after the fact -- then emailed that image around to reporters and posted it on her Flickr page.
Still, the act of digitally altering a quasi-official photo raised questions Friday. Journalism institute Poynter drew attention to the "doctored" photo, pointing out that the White House in 2011 stopped staging photos after a flap over the president re-enacting the announcement of Usama bin Laden's death.
Pelosi defended the changes on Friday.
"It was an accurate historical record of who the Democratic women of Congress are," the House Democratic leader said. "It also is an accurate record that it was freezing cold and our members had been waiting a long time for everyone to arrive."
She said they needed to get back inside to greet constituents and head to the floor. "It wasn't like they had the rest of the day to stand there," she said.
Pelosi noted the point of the photo was to highlight the 61 Democratic congresswomen in the 113th Congress.
"And not only were they women, but they reflected the beautiful diversity of our country. Women who are from every community, as well as every religious faith. So we were pretty excited about it," she said.
Still, there was a time when missing the class photo meant ... you wouldn't be in the class photo.
According to Poynter, Pelosi's office did acknowledge in its original email that the photo had been altered. The post on the Flickr account, though, does not include such a disclaimer.
Among the digitally added members were Florida Rep. Debbie Wasserman Schultz, head of the Democratic National Committee. She and the three other lawmakers were wedged into the back row in the altered image.