Pawlenty, who called Trump 'unfit and unhinged,' derailed in comeback attempt in Minnesota; battle lines drawn in Connecticut
Tim Pawlenty -- who briefly ran for president in 2012 and had derided President Trump as "unhinged" -- was denied in his effort to stage a political comeback and become Minnesota's governor again in the race to replace Democratic Gov. Mark Dayton.
County Commissioner Jeff Johnson won in Tuesday's Minnesota GOP gubernatorial primary despite Pawlenty's enormous fundraising and name recognition advantages. He also won despite his own history as the party's losing candidate for governor four years ago.
Pawlenty joins several other prominent Republicans -- including Reps. Martha Roby and Mark Sanford, as well as Sens. Jeff Flake and Bob Corker -- who have recently suffered major political consequences, at least in part, for opposing Trump.
Johnson had positioned himself as a more conservative candidate than Pawlenty. He branded the former two-term governor as part of the "status quo" and bashed him for calling Trump "unhinged and unfit for the presidency" in the weeks leading up to the 2016 election -- rhetoric that Pawlenty softened during the campaign.
Pawlenty was hoping to resurrect his political career after flaming out as a presidential candidate in 2011. He spent the intervening years as a Washington lobbyist.
KEITH ELLISON HANGS ON IN MINNESOTA DESPITE DOMESTIC ABUSE ALLEGATIONS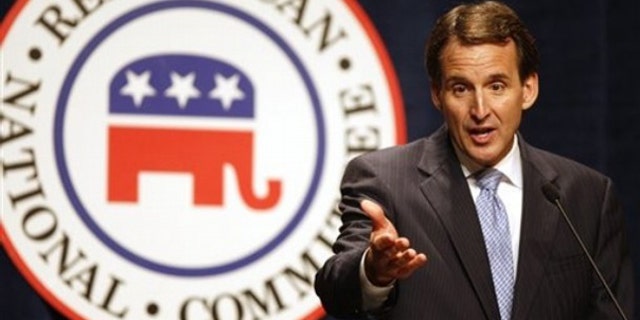 Democratic Rep. Tim Walz, meanwhile, won the party's three-way primary for the governorship, and will take on Johnson in November.
In all, voters in four states headed to the polls Tuesday to select nominees for critical gubernatorial, House, and Senate races in November, and several of the day's contests were broadly seen as an early indication of voters' views on Trump and the Republican Party.
In Connecticut, Madison businessman and political newcomer Bob Stefanowski won the Republican primary for governor, defeating four fellow GOP contenders and setting the stage for a pivotal battle with businessman Ned Lamont in November.
Connecticut is ground-zero for Republican efforts to continue their gains in progressive New England. Even though Connecticut voted for Hillary Clinton by double-digits in 2016, the state's governor, Dan Malloy, is deeply unpopular, with critics citing high taxes and an ongoing budget crisis. Malloy declined to seek a third term.
And in Wisconsin, Democrats making yet another effort to unseat Republican Scott Walker have nominated state schools chief Tony Evers. Evers emerged from a field of eight candidates in Tuesday's primary. He was the only candidate to have won election statewide before and now faces his biggest challenge against Walker, who has built up a huge financial advantage.
The 66-year-old Evers has been the state's education chief since 2009 and has clashed with Walker in the past on mostly education issues.Walker's campaign and Republicans criticized Evers for not revoking the license of a teacher who was caught viewing pornographic emails on his school computer.
Meanwhile, Christine Hallquist made history in Vermont Tuesday night as the first openly transgender nominee for a governorship from a major party in the nation's history, beating back her Democratic challengers in the state's primary.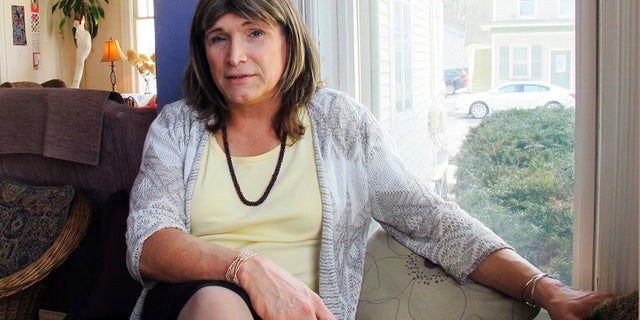 Hallquist defeated educator Brenda Siegel, who earlier was considered a frontrunner in the race, and environmentalist James Ehlers.
Hallquist, a former CEO of the Vermont Electric Cooperative, made no bones about the fact she wanted a place in the history books during the campaign.
She's appealed to Vermonters with a progressive message including a livable wage, Medicare for all, free public college education and high-speed broadband access — even to those who live on remote back roads.
"That's how I want to be known in Vermont," Hallquist, 62, told The Associated Press in an interview at her Burlington offices. "Nationally, I want to be known as the first trans candidate."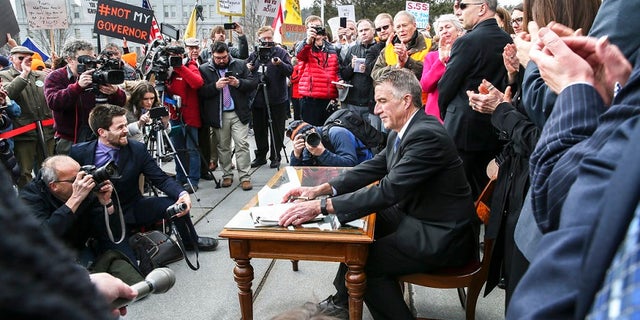 Hallquist also defeated another candidate who was trying to make history: a 14-year-old boy, Ethan Sonneborn, who took advantage of the state constitution's lack of an age requirement to seek the governorship.
On the Republican side, first-term Gov. Phil Scott overcame businessman Keith Stern to win the GOP gubernatorial primary, surviving the major political fallout from his decision to sign the state's first major gun control laws earlier this year.
No sitting governor has been defeated in Vermont since 1962, and Scott's victory in November would continue Republicans' surprisingly strong hold on governorships in highly progressive New England. The GOP currently holds the governorships of four out of six states in the region, including Vermont, Maine, Massachusetts, and New Hampshire.
However, Scott may have a unique vulnerability. In April, he was heckled by a bevy of protesters calling him a "liar" and "traitor" as he signed sweeping gun regulations into law, citing the dangers posed by mass shootings.
The package of bills raised the age to buy firearms from 18 to 21, banned high-capacity magazines, and made it easier to take guns from people considered a danger to themselves or others and from people arrested or cited for domestic assault.
Scott's approval rating in the state tanked after he signed the measure, plummeting from 65 percent early in the year to 47 percent shortly after the bill took effect. His disapproval rating nearly doubled to 42 percent in that period.
Fox News' Kaitlyn Schallhorn and The Associated Press contributed to this report.