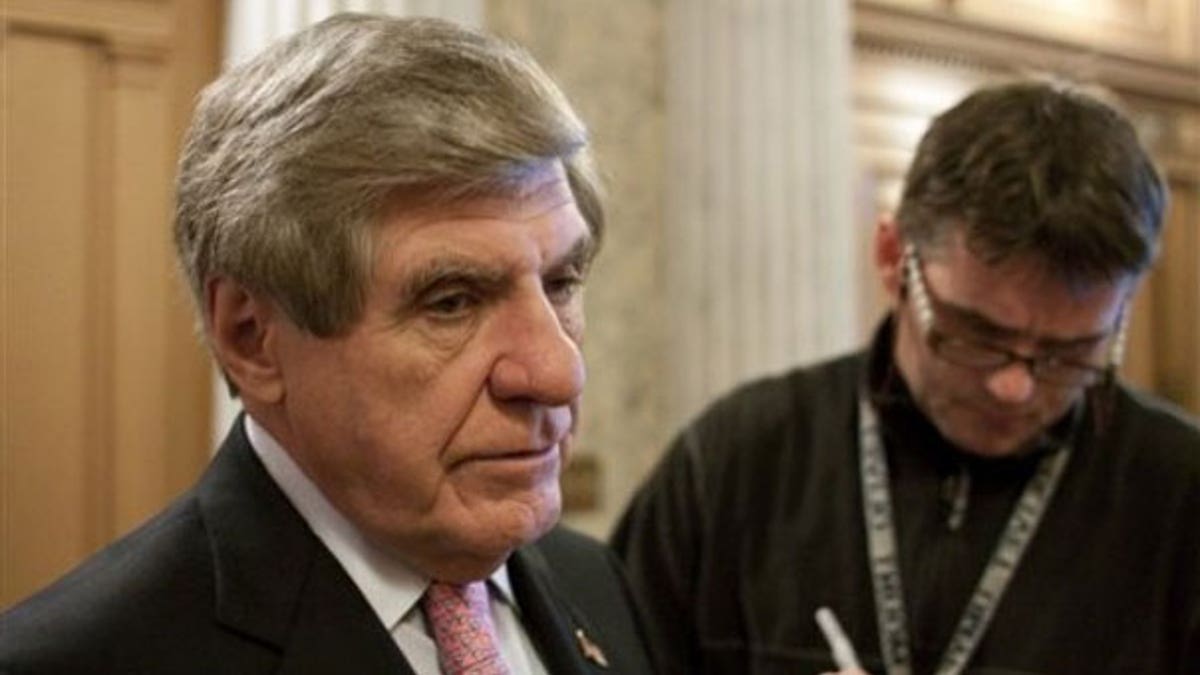 With Sen. Joe Lieberman apparently on board the health care reform train and the public option off the table, Senate Democrats are turning their attention to what could be the last remaining hurdle to passing a bill out of their chamber -- abortion funding.
The abortion issue, and to a lesser extent Medicare cuts, remain major points of contention as at least one Democratic senator -- Ben Nelson of Nebraska -- indicated he'd break from party lines to strike down the sweeping legislation if the bill does not toughen restrictions to ensure taxpayer dollars don't fund abortion.
President Obama's top domestic initiative could hinge on Nelson, who has vehemently opposed the abortion language in the current Senate version of the bill and previously threatened a filibuster. That makes him the last known holdout among the 60 senators who are members of the party's caucus, a group that includes 58 Democrats, Lieberman and Sen. Bernie Sanders, I-Vt. Senate Majority Leader Harry Reid needs 60 votes to overcome a filibuster.
Nelson, the senior senator from his state, called for the Senate last week to adopt a measure that closely mirrors language in the House version of the bill, which bans federally subsidized health insurance plans from covering abortion, even if the procedures are paid for entirely with customers' premiums.
But the amendment, which was co-sponsored by Republican Sen. Orrin Hatch of Utah, fell flat when the Senate sidelined the measure in a 54-45 vote.
Still, Nelson's backing remains far from secure, though Lieberman now appears satisfied after Senate leaders moved toward stripping out a government-run insurance plan and killing a proposed expansion of Medicare.
Nelson met one-on-one with Obama at the White House on Tuesday -- his third meeting in eight days with the president.
Obama "made a strong case for passing health care reform now," Nelson said of the meeting, "But I think it still remains to be seen if it was compelling." The legislation needs to be improved, he added, and liberals resisting his proposals -- even saying the bill should be scrapped -- are running out of alternatives.
"I do say if nothing is done, I'm not sure what Plan B is," he said. "If Plan B is start over ... it's quite possible that it just won't happen. It seems to me that we have a chance right now to fix a flawed bill."
In an interview with CBS' "Face the Nation" on Sunday, Nelson zeroed in on the abortion funding, specifically, as reason to oppose the legislation.
"I can't support the bill with the abortion language that's in there," he said.
Abortion opponents like Nelson claim the Senate bill circumvents the Hyde Amendment, which was enacted in 1976 to bar the use of federal dollars to pay for abortions.
Reid, who voted against Nelson's amendment, faces a difficult task in striking a compromise on the issue. Without Nelson's support, Reid will need to secure at least one vote from Republicans to reach a 60-person majority.
Democratic have for months courted the backing of Maine Sen. Olympia Snowe, the sole Republican who voted in favor of a health care reform bill that passed the Senate Finance Committee in October.
But Snowe has expressed reservations regarding the Senate's current legislation, telling Fox News on Tuesday that she's holding out for a report from the independent Congressional Budget Office on a number of issues -- including an analysis on how the legislation will affect small businesses and an assurance that insurance premiums will come down.
Snowe, a moderate Republican, also expressed concern over the time frame for passing the Senate's legislation, saying, "There's no magic to the Christmas deadline."
Meanwhile, Sen. Mary Landrieu, D-La., a moderate who had been on the fence, has said will vote "yes" on the legislation as long as they are "no major changes."
"I'm generally happy and will vote for it barring anything major from CBO," she told reporters Wednesday, adding that she will work to secure Nelson's vote.
Other Democrats besides Nelson have also voiced hesitation in supporting the bill, like Sen. Jim Webb, who is opposed to Medicare cuts in the Senate bill.
Webb wrote in an op-ed published in the Winchester Star on Wednesday that "I have yet to decide whether I will support final passage of the bill."
"I am a long-time supporter of Medicare Advantage programs which have, in my view, greatly improved services in rural areas of Virginia, and I did not want to see cuts to benefits or services," wrote Webb.
Democratic Senate aides told Fox News, however, that there is little concern among party leaders that Webb will vote against the final legislation.
While Nelson so far remains the strongest Senate Democratic critic, others, including Sens. Roland Burris of Illinois and Claire McCaskill of Missouri have voiced concerns over the health care reform legislation -- from possible overspending to the uncertainty of a so-called "public option," or government-run insurance plan.
In an interview with Fox News on Sunday, McCaskill said she would not support the bill "if we're not saving more money for our government than we're spending."
Fox News' Trish Turner and The Associated Press contributed to this report.