Palin 'seriously interested' in 2016 run, adding another big name to growing potential field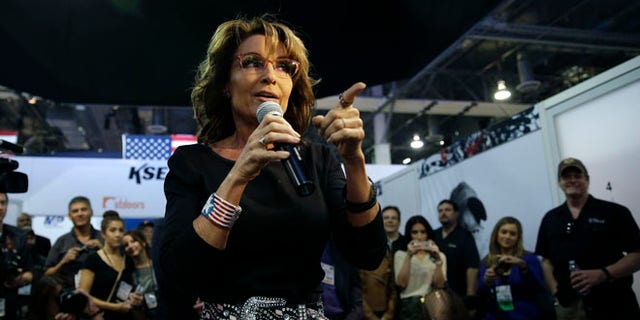 NEWYou can now listen to Fox News articles!
Former Alaska GOP Gov. Sarah Palin is saying she is "seriously interested" in running for president in 2016, injecting some intrigued into next year's race and the already crowded field of potential GOP candidates.
Palin -- also a former vice presidential nominee and a perennial potential candidate -- has twice told reporters over the past several days that she is interested in running.
The 50-year-old Palin made her comments before speaking on Saturday at the Iowa Freedom Summit, the first big conservative gathering of potential 2016 GOP presidential candidates.
Palin first told ABC News, while serving wild boar chili on Thursday to the homeless in Las Vegas, that she is interested in the 2016 presidential election.
"Of course, when you have a servant's heart, when you know that there is opportunity to do all you can to put yourself forward in the name of offering service, anybody would be interested," Palin said.
On Friday, she told The Washington Post: "You can absolutely say that I am seriously interested. … As I said yesterday, I'm really interested in the opportunity to serve at some point."
However, exactly how serious Palin is remains unclear, considering her uncanny ability to keep the media and the rest of America interested in her most every public word and movement. She also has a upcoming cable TV show.
In addition, Palin says she has yet to ramp up a national campaign, and there are no obvious signs that she is already in the process.
"It is a significant step, of course, for anyone to publicly announce that they're interested," Palin also told The Post. "Who wouldn't be interested when they have been blessed with opportunities to speak about what is important to this country and for this country?"
As an ardent member of the Tea Party movement, Palin since her 2008 campaign with GOP presidential nominee John McCain has remained influential in helping conservative candidates get elected in states and in Congress.
In her remarks to ABC, Palin also suggested entering the GOP race with other potential big-name candidates -- including former presidential nominee Mitt Romney, former Florida Gov. Jeb Bush and a host of governors and senators -- was to perhaps help get a woman elected president.
"America has had enough of seeing that … sign on the Oval Office door saying, 'No Girls Allowed.' I know that," she said. "It doesn't necessarily have to be me. … but happy to drive that competition because competition will make everyone better."
The summit on Saturday will be in Des Moines and is scheduled to also include Texas Sen. Ted Cruz, New Jersey Gov. Chris Christie, Wisconsin Gov. Scott Walker, former Texas Gov. Rick Perry, former Pennsylvania Sen. Rick Santorum and conservative star Dr. Ben Carson.