Palin attacks Bloomberg soda ban during CPAC speech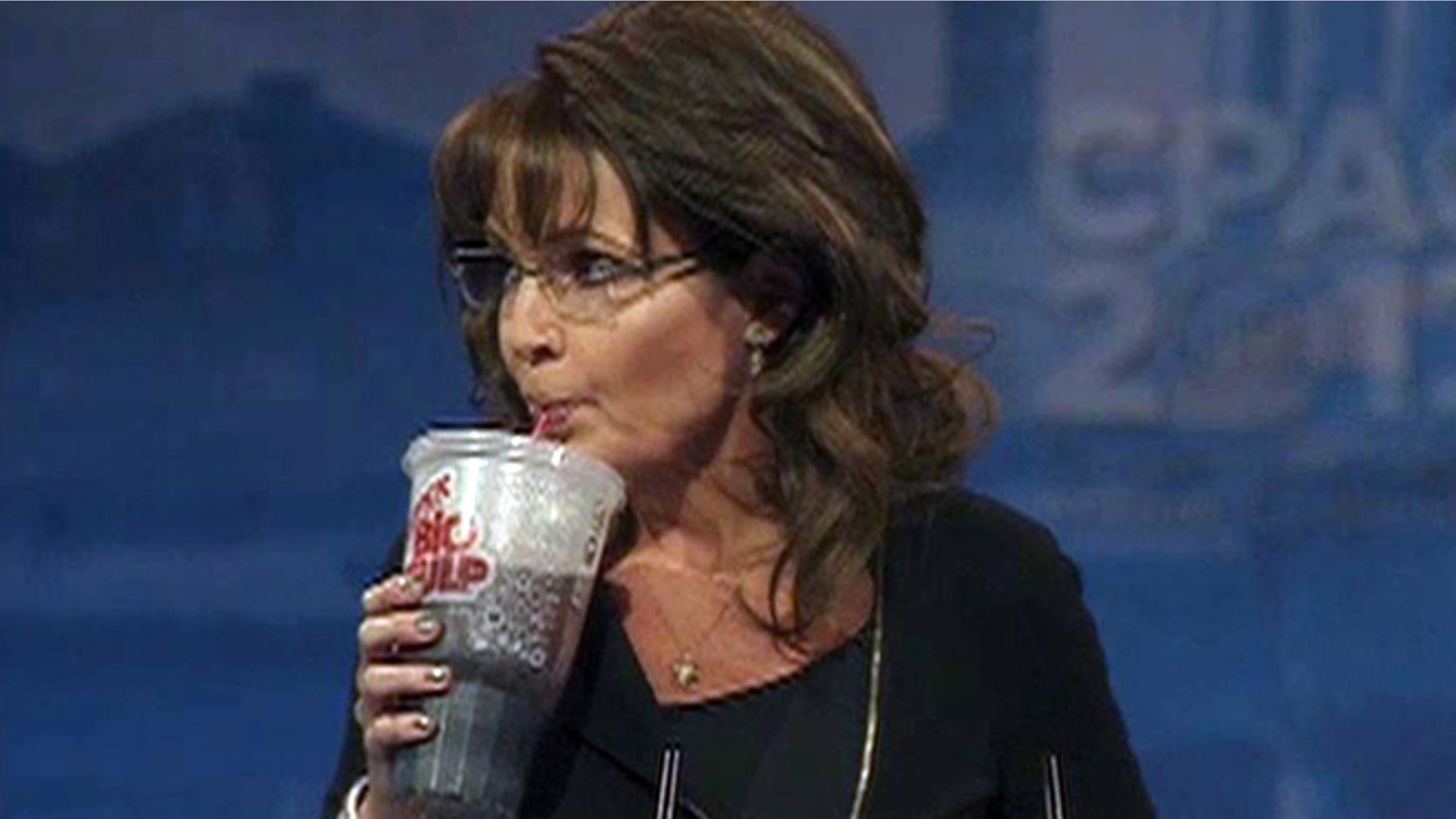 Sarah Palin, the 2008 Republican vice presidential nominee, spoke at the Conservative Political Action Conference on Saturday and offered stark criticism of the Obama administration and used the friendly platform to poke fun at New York Mayor Michael Bloomberg's call to ban oversized sodas.
Palin had just finished speaking about the run on gun sales leading up to the Christmas holiday. She said her husband bought her a gun rack and she bought him a gun, saying, "In this go around, he's got the rifle and I got the rack."
The crowd laughed. She ducked under the podium and while the crowd was still clapping, retrieved a clear Big Gulp cup filed with soda and took a long swig. The crowd cheered some more.
"Oh, Bloomberg's not around, our Big Gulp's safe," Palin quipped. "Shoot, it's just pop, with low-cal ice cubes in it. I hope that's OK."
Earlier this week, Manhattan state Supreme Court Justice Milton Tingling halted Bloomberg's ban on sugary drinks,  writing in his opinion that the rules are "arbitrary and capricious," applying to only certain beverages and only certain stores.
Bloomberg, for his part, said the city plans to appeal, calling the ruling "clearly an error."
Palin saved her most pointed criticism for the president, likening him to Ponzi-scheme felon Bernie Madoff.
Taking a shot at the president's call for universal background checks on gun owners, she said, "Dandy idea, Mr. President -- should have started with yours."
The former Alaska governor also urges GOP to broaden message.
"We must leave no American behind," she said in a populist speech that electrified supporters at a conservative summit in suburban Washington. "And we must share our powerful message of freedom and liberty to all citizens -- even those who may disagree on some issues."
Palin has maintained a low profile during last year's election. She's expected to play a limited role in the future of the GOP but shared several recommendations Saturday.
Instead of focusing on rebuilding the Republican Party, she said that party leaders should focus on rebuilding the middle class.
The Associated Press contributed to this report