Overseas Monitors To be Stationed at Polls in States With Most Electoral Votes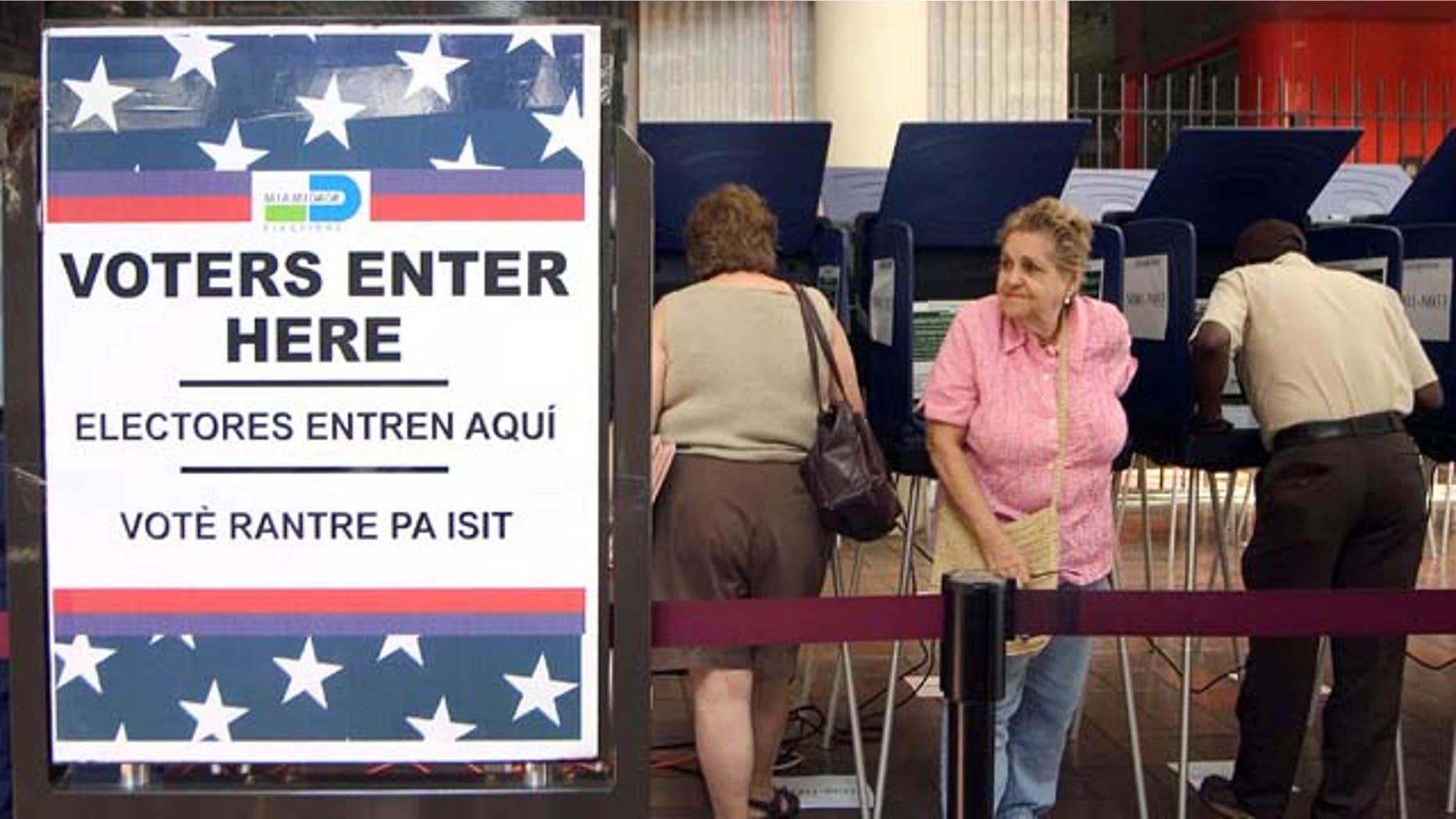 AUSTIN, Texas – International voting monitors who plan to go to polls in states with the most electoral votes say they are baffled by threats of arrests made by the Texas attorney general.
The group, the Organization for Security and Co-Operation in Europe, says that Texas officials did not create such a fuss when they monitored polls in the state in 2008 during the presidential election.
Texas Attorney General Greg Abbott warned that its poll watchers face criminal charges if they come too close to voting sites. He reminded them to obey state laws that prohibit political campaign workers and loiterers from coming within 100 feet of a polling location entrance -- or potentially face prosecution.
The U.S. State Department has even been dragged into the fray.
OSCE spokesman Thomas Rymer said Friday that its polling monitors were present in San Antonio in 2008 without issue.
He says the organization is stationing four pairs of observers in Texas, California, New York and Florida -- the states with the most electoral votes.
Abbott, a Republican with a Tea Party bent who has the "Don't Tread on Me" logo on his Twitter page, says he's leery because OSCE has met with groups that oppose voter ID initiatives.
The tension over the group's monitoring is unfolding at a time when Democrats and Republicans have engaged in bitter battles nationwide over voter ID laws and voter registration investigations that Republicans say are necessary because of fraud, but which Democrats call frivolous and meant to intimidate minorities. As is commonly the practice, the U.S. government invited the OSCE
An Oct. 19 report outlining the group's plans to observe the Nov. 6 election notes that efforts to implement stricter voter ID laws in U.S. states "have become highly polarized."
The report goes on to say that "Democrats are concerned that these would disenfranchise eligible voters, while Republicans believe they are necessary to protect the integrity of the vote." The report does not express an opinion about the merits of the laws.
Daan Everts, an OSCE ambassador, said that his monitors won't go within 100 feet of polling sites as instructed.
Everts is the head of OSCE's long-term election observer mission. Abbott wrote him this week saying he was unclear about the OSCE's intentions. He also raised concerns about the group's meetings with opponents of voter ID initiatives.
Everts says his group is nonpartisan. He says Abbott "should be better informed."
Abbott tweeted "BRING IT" after the group took offense at being threatened with criminal charges by him.
OSCE observers generally are members of parliament from of organization members, which include the United States and 55 countries in Europe and Central Asia. The group has sent observers to poll locations across the U.S. since 2002.
The OSCE said it is sending an unprecedented number of observers to U.S. polling stations, paying particular attention to any signs of voter intimidation. The website of the Organization for Security and Co-operation in Europe says that more than 100 parliamentarians from Europe and Central Asia will travel to the United States to monitor the Nov. 6 elections.
The site says it is "the largest Organization for Security and Cooperation in Europe parliamentary delegation to ever observe a North American election."
Civil rights group that oppose voter ID laws and voter registration investigations have urged OSCE to pay particular attention to voter suppression allegations regarding Colorado, North Carolina, Ohio, Pennsylvania, Florida, Texas, Virginia and Wisconsin, most of which are considered battleground states in the presidential election.
OSCE Ambassador Janez Lenarcic said concerns that its election observers intended to influence or interfere with the election process were groundless. He called the threat of prosecution "unacceptable."
The U.S. State Department was dragged into the fray Thursday, telling reporters in Washington that Texas officials had been reassured OSCE would comply with state laws. The department added that the elections observers are afforded diplomatic immunity.
"In general we give them protected status, as we expect of our people when we participate in OSCE delegations," department spokeswoman Victoria Nuland said.
Nuland, the State Department spokeswoman, said she was unaware of any other state that had expressed concerns about the OSCE poll observers.
But Abbott released a letter sent to the department saying his office still had not been sufficiently assured.
Texas Gov. Rick Perry has thrown his support behind his top prosecutor, tweeting, "No UN monitors/inspectors will be part of any TX election process."
OSCE is not an arm of the United Nations.
The flap is just the latest fight Abbott is taking beyond Texas. His office has filed two dozen lawsuits against the federal government since President Barack Obama took office, many of which have resulted in defeat.
Those include the state's defense of a voter ID law passed last year by Republican-controlled Texas Legislature but struck down a federal court in Washington before it could be implemented this Election Day. Abbott has appealed to the U.S. Supreme Court.
Abbott began a letter to the OSCE by stating that "it remains unclear exactly what your monitoring is intended to achieve, or precisely what tactics you will use to achieve the proposed monitoring." He then raised concerns about the organization's contact with Project Vote, a nationwide group that advocates against voter ID laws.
Project Vote said in a statement that it recently advised OSCE about "areas of concern for voting rights this election."
In his letter to the OSCE, Abbot said: "The OSCE may be entitled to its opinions about Voter ID laws, but your opinion is legally irrelevant in the United States."
This story contains material from The Associated Press.
Follow us on twitter.com/foxnewslatino
Like us at facebook.com/foxnewslatino