Outrage subdued after DJ goes on racially charged rant on GOP congressional candidate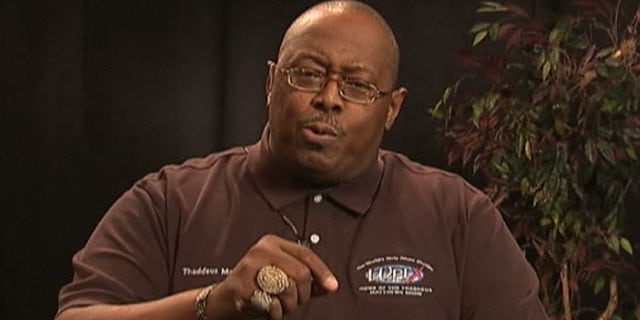 In a profanity-laced tirade, a Memphis DJ last week used an on-air interview to berate a local Republican congressional candidate -- calling her a "token negro" who is doing the bidding of "white folk."
DJ Thaddeus Matthews called Charlotte Bergmann, who is black, "stupid." He referred to her as a "curly-haired nigga." When she walked out of the interview, he refused to shake her hand, saying he didn't want to get her "whiteness" on him.
The outrage? The fury? In Memphis, you can hear the crickets.
Bergmann told FoxNews.com that, while the web video of the interview has gotten a lot of attention on blogs, local media are largely ignoring it. She said she hasn't gotten any calls from politicians about it. "No organization has spoken out," Bergmann said.
"The anger has been expressed throughout the nation, but not in my local ... area," she said.
As for her treatment on air, which she described as "racist" and abusive, she said it stems from the notion that black politicians should uniformly be Democrats.
Bergmann is running in Tennessee's 9th District, which is mostly black. The seat is currently held by Democratic Rep. Steve Cohen, whose office so far has not returned a request for comment on the radio interview.
Matthews has stood by the bulk of his comments. He told MyFoxMemphis.com on Thursday that he's apologized on air for the "whiteness" comment, but he defended the rest.
"I do not regret the content of what I said. In the anger of having another politician in my studio that knows absolutely nothing about nothing and gives me stupid answers, I don't regret that," he said. "Now the context of the whiteness rubbing off ... that part I do regret, that particular portion of the show. But the rest of everything I said, I meant exactly what I said."
It's unclear how the radio station management, at WPLX-AM 1180, is handling the incident, but the owner of the broadcasting company apparently has issued an apology. Bergmann said the owner, William Pollack, called her Wednesday to apologize. She also provided a written apology under Pollack's name, which expressed regret for the "ill treatment" on air.
"I was unaware of the horrific treatment of you until today. I have personally met with Matthews and will assure you this situation is receiving our complete attention," the statement said, adding that he "personally supported" Bergmann in 2010 and will do so again.
Bergmann eventually walked out of the interview, which was conducted last Tuesday.
But for the first 12 minutes, Matthews repeatedly challenged her loyalty to black people.
Matthews started by asking about her affiliation with the Tea Party.
He accused her of evading the question, later asking, "Are you a token of white folk? And white folk using you to come against black folk?"
After she started to respond, Matthews interrupted, saying: "Damn, Ms. Bergmann, shut up for a moment. OK, shut up for a moment, because you shucking and jiving."
The confrontational interview continued as he challenged her on plans to help the black community. "All I see in you is another token negro," he said, likening her to former Republican presidential candidate Herman Cain.
After several minutes, the DJ threatened to cut off her microphone and throw her out of the studio. "I'm so sick of your sh-, yourself, and I'm about to put your ass up outta here," he said. "You are a token negro that white folk have control over."
Eventually, Bergmann said "we have a failure to communicate" and left the studio.
Matthews continued to berate the congressional candidate.
"Get up and get your ass up outta here. Get your stupid, ignorant ass up outta my studio," he said.
As she left, Bergmann held out her hand to the DJ.
"I don't need to shake your hand," he told her. "I'm scared because some of that whiteness might rub off on me."
Bergmann told FoxNews.com that she's trying to get the video of the confrontation shown at the upcoming Conservative Political Action Conference -- an annual meet-up in Washington of prominent conservatives.
She said her campaign has reached out to two Republican lawmakers about that possibility.
She also said donations to her campaign have spiked since the incident.
Matthews has a reputation in Memphis as a controversial blogger and radio host. According to MyFoxMemphis.com, he was booted from another AM station in 2010 -- he claimed white Republicans pressured the bosses to remove him, according to the report.
Matthews went on to launch his show on WPLX, which was billed as a mostly blues music program.