Oregon's sanctuary state policies could be repealed in November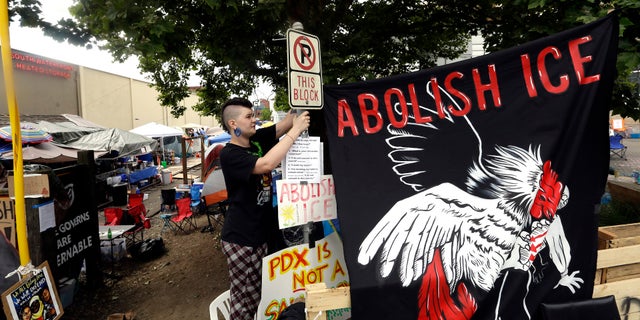 NEWYou can now listen to Fox News articles!
Oregon could start allowing its law enforcement officers to cooperate with federal immigration officials if voters choose to repeal its sanctuary status in November.
A measure to repeal the so-called sanctuary state status – which regulates how much local law enforcement officials can help federal immigration authorities – will be on the November ballot, The Oregonian reported.
Oregon has been a sanctuary state since 1987, making the law the oldest in the nation. It prohibits law enforcement agencies from using "agency monies, equipment or personnel for the purpose of detecting or apprehending persons whose only violation of law is" that they are in "violation of federal immigration laws."
The Trump administration has been opposed to sanctuary cities and states, promising to crack down on them.
Andrea Williams, executive director of immigrant rights organization Causa Oregon, warned that if the sanctuary status is rescinded, police officers would begin to racially profile people in the state.
WHAT IS A SANCTUARY CHURCH? A LOOK AT THE POLICY AND ITS LEGALITY IN THE US
"No Oregonian, including those who may be undocumented immigrants, should have to live in fear that doing basic things like going to work or school or reporting a crime to police could result in harassment or their families being torn apart," Williams said in a statement.
The group Oregonians United Against Profiling said businesses such as Nike and Columbia Sportswear back opposition to the proposal, formally called Initiative Petition 22 (IP 22).
According to The Oregonian, two groups were instrumental in garnering more than 97,000 signatures by July 6 to get the initiative on the November ballot: Oregonians for Immigration Reform and Stop Oregon Sanctuaries.
NEBRASKA TOWN MIGHT BAR UNDOCUMENTED IMMIGRANTS FROM JOBS, RENTING HOUSES
"All are eager to end Oregon's sanctuary policy and see their state do its part to combat, not promote, illegal immigration by freeing our police and sheriffs to cooperate fully with federal immigration authorities to enforce U.S. immigration law," Cynthia Kendall, Oregonians for Immigration Reform president, said in a statement to Fox News.
"Voters seldom get an opportunity to vote on immigration issues," she previously told KOPB-FM. "We should get to decide do we want to repeal this or not. My guess, and our polling shows, yes we want to repeal that."
Bob Dane, executive director of the right-leaning Federation for American Immigration Reform (FAIR), praised the groups' "herculean effort" to get IP 22 on the ballot.
"Oregon lawmakers have repeatedly demonstrated their contempt for concerns that Oregon citizens have about rampant illegal immigration," Dane told Fox News.
Last year, Attorney General Jeff Sessions criticized Portland while visiting the west coast city, dubbing it a "trafficker's, a smuggler's or gang member's best friend" because of its sanctuary policies.
"Think about that: Police may be forced to release pedophiles, rapists, murderers, drug dealers and arsonists back into communities where they had no right to be in the first place," Sessions said at the time. "They should, according to law and common sense, be processed and deported."
The Associated Press contributed to this report.