Oregon judge faces ethics probe over Hitler portrait, same-sex nuptials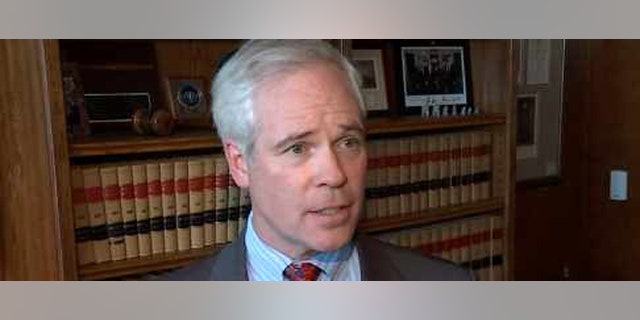 An Oregon judge facing an ethics investigation for refusing to perform same-sex weddings is accused of hanging a painting of Adolf Hitler in the Marion County courthouse, among other allegations, the Oregon Commission on Judicial Fitness and Disability announced Tuesday.
According to Fox 12 Oregon, Judge Vance Day says the painting was meant to be a tribute to a local serviceman who fought in World War II, but took the painting down after about a week when a fellow judge suggested it could be deemed offensive.
"It was [the serviceman's] and we overlaid that with various pieces, and the purpose was to show that a young, vibrant democracy of citizen soldiers could overcome a fascist dictator like Adolf Hitler," Day told the station.
Six allegations against Day were revealed in a press release. He is accused of violating several rules from the Code of Judicial Conduct, which includes a requirement that judges "observe high standards of conduct."
The allegations cover a variety of scenarios, including Day's behavior at his son's soccer game, interactions with a former Navy Seal, and his personal beliefs about same-sex marriage.
Specifically, the former Chairman of the Oregon Republican Party is accused of telling his staff to direct same-sex wedding applications away from his office to other judges. Day admits to shying away from same-sex marriage applications because of his personal religious beliefs, but claims that doing so does not represent misconduct of any kind.
"Under Oregon law, it is not the job of a judge to marry people," Day told Fox 12 Oregon. "It's a permissive action. So the word the statute used is 'may,' not 'shall.'"
The complaint also alleges he allowed a veteran on multiple occasions to handle guns even though he knew the man had a felony conviction on his record. Under Oregon law, felons are prohibited from possessing a weapon.
Day is also accused of making false statements to investigators and fellow judges when pressed about the allegations against him.
Day denies he broke ethics rules and says the proceedings violate his constitutional rights to free speech, free association and religious expression, specifically his Christian beliefs. And after reviewing the complaint, he says he believes the accusations have more to do with politics than the judicial process. He'll be seeking dismissal of all charges.
"It appears that the commission has thrown everything in but the kitchen sink," Day told The Associated Press. "The clear issue that they're after me on is that I had stopped doing weddings because I have a firmly held religious conviction."
Day and the accusations levied against him will be the subject of a public hearing on November 9.
The Associated Press contributed to this report.