Oregon governor reportedly changed his mind about resigning over ethics controversy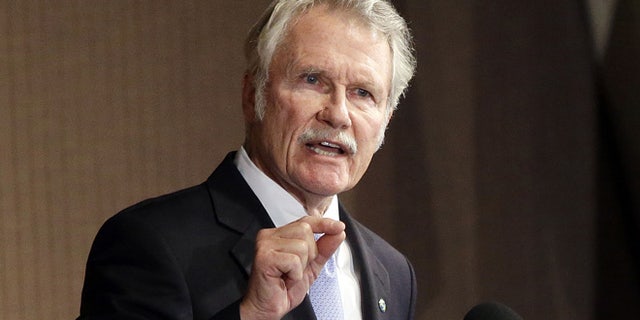 Oregon Gov. John Kitzhaber decided to resign over the weekend amid an ethics scandal involving his fiancée, but later changed his mind for reasons that remain unclear, according to a published report.
The Associated Press reported late Wednesday that Kitzhaber, a Democrat, informed some of his aides on Sunday that he was going to step down. On Tuesday, Kitzhaber asked Oregon secretary of state Kate Brown to return from a conference in Washington D.C. Since Oregon does not have a lieutenant governor, Brown would taken Kitzhaber's place until a special election could be held.
However, on Wednesday, Kitzhaber's office issued a two-sentence statement saying he would remain in office.
"Let me be as clear as I was last week, that I have no intention of resigning as Governor of the state of Oregon," Kitzhaber said. "I was elected to do a job for the people of this great state and I intend to continue to do so."
Kitzhaber, who was re-elected to a second consecutive term as governor in November, has faced calls to resign after a series of newspaper reports revealed that his fiancée, Cylvia Hayes, did paid consulting work for organizations with an interest in Oregon public policy. During the same period, she worked as an unpaid adviser in the governor's office on some of the same issues. Kitzhaber has said repeatedly that he and Hayes took care to avoid conflicts, and a state ethics commission will decide whether conflict-of-interest laws were broken.
State Attorney General Ellen Rosenblum has launched in an investigation into the allegations, which she has previously called "very serious" and "troubling."
Earlier this month, The Oregonian, the state's largest newspaper, called for Kitzhaber to step down in an editorial.
Emails released to the paper last week by the Department of Administrative Services showed Hayes instructed state officials to help implement a policy known as the genuine progress indicator, which she was being paid to promote.
The genuine progress indicator is an alternative to the gross domestic product, which uses health and environmental data to help measure economic success. Hayes was paid by Demos, a New York-based nonprofit, to promote the policy.
The records also show that Kitzhaber himself intervened to urge Jordan to hire a former Maryland official who worked on the genuine progress indicator in that state, the newspaper reported. He was eventually hired on a yearlong contract worth about $65,000.
The Associated Press contributed to this report.