Oregon AG investigating governor, fiancée over ethics issues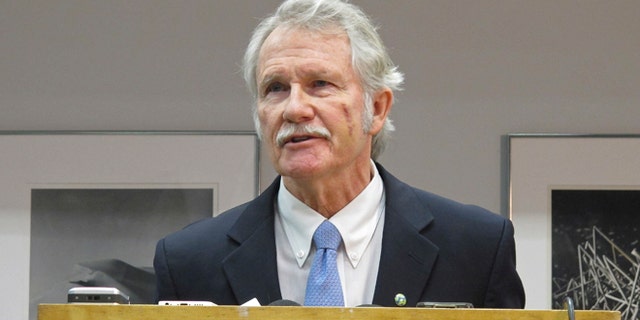 NEWYou can now listen to Fox News articles!
Oregon's attorney general has opened an investigation into mounting influence-peddling allegations surrounding Gov. John Kitzhaber and his fiancée.
The Oregonian reports that the investigation of a sitting governor may be unprecedented. Attorney General Ellen Rosenblum confirmed the probe just hours after Kitzhaber, a Democrat, on Monday asked the AG to look into the ethics issues surrounding him and his wife.
"Thank you for your letter," she wrote to Kitzhaber. "My office has already opened an investigation into this matter. I appreciate your intent to cooperate fully."
Kitzhaber did not know about the attorney general's investigation when he sent his letter, said Amy Wojcicki, a spokeswoman for the governor.
In the defiant letter to Rosenblum, Kitzhaber maintained he and his partner, Cylvia Hayes, have done nothing wrong but said an outside review is necessary because of a "rush to judgment currently underway in the Oregon media."
The request marked a change of direction for Kitzhaber, who previously insisted a state ethics commission could do an adequate investigation. Kitzhaber has stopped short of appointing a special prosecutor as his critics have requested.
A series of newspaper reports since October have shown that Hayes did paid consulting work for advocacy groups seeking to influence state government. At the same time, she took an active role in Kitzhaber's administration.
The scrutiny intensified last week, when the editorial boards at two newspapers called for Kitzhaber to resign.
In his request, Kitzhaber, a Democrat, asked Rosenblum to conduct "a full and independent factual review of any and all questions or allegations as you see fit." He pledged to fully cooperate and said he, Hayes and his office would turn over any materials requested.
"I deeply regret that this situation has become a distraction from the important work of our state and look forward to your review and its conclusions," Kitzhaber wrote.
Last week, Rosenblum, also a Democrat, called the allegations serious and troubling, and said her office was exploring her legal options.
On Monday, her spokeswoman, Kristina Edmunson, said the probe is a criminal investigation.
Kitzhaber has maintained that he and Hayes kept a clear separation between her public and private roles, However, public records suggest some of her work wasn't reviewed for conflicts until after it began. Hayes has not publicly addressed the allegations.
The Oregon Government Ethics Commission is conducting a preliminary review of the allegations and will decide in March whether a formal investigation is warranted. The seven-member commission, appointed by Kitzhaber, has limited jurisdiction to enforce Oregon's conflict-of-interest laws for public officials.
Kitzhaber and Hayes have hired lawyers to represent them in the commission proceedings.
The Associated Press contributed to this report.