Ore. Congressman Explains Mental Health Issues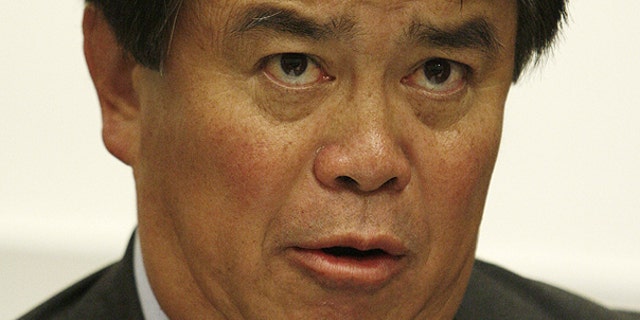 NEWYou can now listen to Fox News articles!
PORTLAND, Ore. -- An Oregon congressman whose erratic behavior has recently prompted calls for his resignation said Sunday that some of his actions could be attributed to a reaction to a mental health drug.
U.S. Rep. David Wu told The Associated Press, however, that it does not explain the behavior documented in reports over the last month, which included sending his staff photos of himself wearing a tiger costume.
Wu said he was hospitalized after his 2008 campaign for symptoms that were later diagnosed as a reaction to a common mental health drug. He said he felt dizzy and confused on Election Day that year, when his staff and family reportedly were unable to locate him.
"It came up that afternoon, and it knocked me off my can," Wu said, referring to the symptoms.
The AP interview in his Portland office was the most detailed public account yet of Wu's psychiatric treatment since reports of his erratic behavior first surfaced last month. Six staff members quit after his 2010 re-election campaign during which the congressman gave angry speeches and talked his way inside the secure portion of Portland International Airport.
The congressman said last year's episodes were the culmination of a period of mental health challenges that began in 2008 as marital issues led toward his separation from his wife.
He declined to detail the problems in his marriage but said they had nothing to do with his health.
In 2008, Wu was treated with a prescription mental health drug that he declined to name but described as "very common."
Wu said he reacted to an enzyme in the drug, and that after the election he was hospitalized for two days. He said he continued to feel unwell until summer 2009, when doctors linked his symptoms to his medication.
The drug component he reacted to is common in many medications, he said. Still, despite his allergy, Wu acknowledged taking two tablets of an unknown painkiller from a campaign donor in 2010.
"That is what a combination of pain and bad judgment will do, and I shouldn't have done it," Wu said.
He said he was experiencing severe neck spasms from an old football injury and left his prescription painkillers in Washington, D.C. Wu said he did not experience any side effects from taking the medication.
He declined to discuss his specific diagnoses, but said he has never been treated for substance abuse.
Wu attributed his outbursts in 2010 to stress from a tough campaign, a dissolving marriage and taking care of his children, ages 11 and 13.
Asked whether he can handle the stresses of Congress and of a future campaign, Wu said his October episode happened during a period of such extreme stress that wouldn't occur again.
"Anyone who has known me over a period of time has said that I handle a wide variety of things very well," Wu said. "Last October was an atypical period for anybody."
Wu said the staff departures were a wakeup call that he had been a "hard boss" -- curt with his staff when he's short on time and impatient when there was no need to be.
Wu said he would not step down, despite calls for his resignation from Republicans and from some Oregon newspapers.
"I can do this job, and I can do this job well," he said.