Opponents of proposed California breakup sue to pull it off ballot
A non-profit organization fighting against a maneuver to divide California into three different states requested Monday that the state's highest court get involved as part of an effort to have the measure taken off the ballot.
The Planning and Conservation League, an environmental nonprofit corporation, filed a lawsuit arguing that such a significant alteration to the state's governmental makeup should require more than the normal initiative process. It should also need two-thirds approval from the Legislature prior to being on a ballot or put up for consideration to a state constitutional convention, the group said.
California's secretary of state office confirmed last month that the "Cal-3" initiative, sponsored by venture capitalist Tim Draper, had received enough signatures to qualify for a spot on the November ballot.
CALIFORNIA 'THREE STATES' PLAN OK'D FOR NOVEMBER BALLOT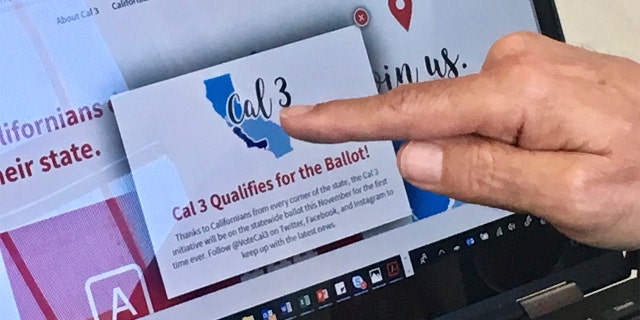 The campaign seeks to split up America's most populous state into three – Northern California, California and Southern California.
Northern California would comprise the Bay Area, Silicon Valley, Sacramento and counties north of the current state capital. California would be a strip of land along the coast stretching from Los Angeles to Monterey. Southern California would include Fresno and the surrounding farming communities, reaching all the way to San Diego and the Mexican border.
Carlyle Hall, a lawyer involved with the lawsuit, told The Associated Press that the concept is "really stupid" and dubbed it a misuse of the ballot initiative system.
"The dislocation and the disruption that would be caused by something as great as this just can't be understated," he said. "This will not make things better. This is really stupid."
CALIFORNIA'S 'FORECLOSURE CAPITAL' TO GIVE AWAY $500 A MONTH TO RESIDENTS IN EXPERIMENTAL WELFARE PROGRAM
The Planning and Conservation League has a history of working on initiatives and therefore has an interest in the process not being abused, Hall said. Additionally, the initiative could harm the environment if California's strong environmental protections are scrapped and replaced with something weaker, which could happen if the state were split, Hall said.
"Cal-3" is Draper's latest attempt to break up the state – an earlier effort to create six separate states didn't gain the necessary amount of signatures to earn a spot on the 2016 ballot.
Fox News' Amy Lieu and The Associated Press contributed to this report.