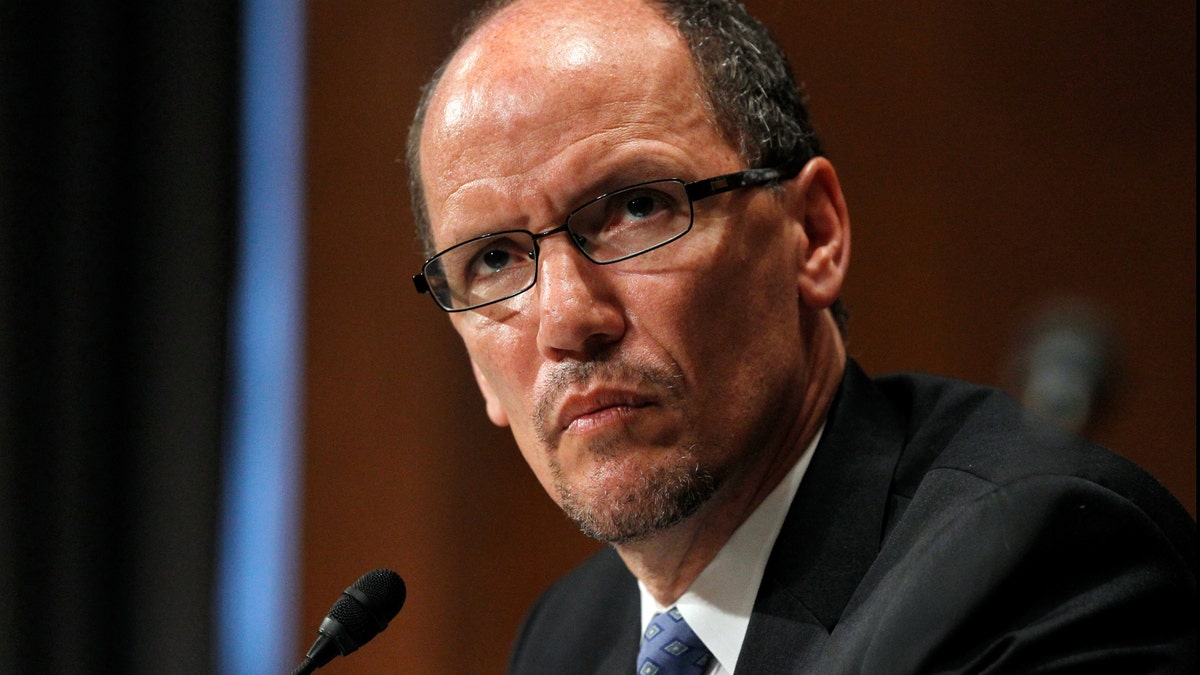 When Hillary Clinton lost her presidential bid, Democrats struggled to find a new face for the party and a clear vision for the road ahead.
Enter former Labor Secretary Thomas Perez. He was elected the Democratic National Committee Chair earlier this year, with hopes that he would unite the party and see Democrats winning elections.
Last week the Democrats were hoping to widen their tent by backing pro-life candidate Heath Mello in his bid to become the Mayor of Omaha, Nebraska. But Mello failed to clinch the seat against incumbent Republican Jean Stothert by an unofficial tally of 6 points. Official figures will be out May 25.
Some observers see Senator Bernie Sanders stumping for Mello, as he did on April 20, as the moment that shifted the focus of the race to a single issue.
"Omaha is a moderate to conservative city in a conservative state. It is the home to many white collar workers that lean Republican," Paul Landow, a political scientist with the University of Nebraska-Omaha, told Fox News. "[Sanders], an east coast socialist, would never appeal to the majority of voters in Omaha.
"And after the first mistake was made, the second mistake quickly followed."
That second mistake, Landow said, involved abortion, "Senator Mello, under pressure, was advised by consultants to soften his position on abortion, even though he had a long pro-life voting record in the legislature. And once he did that, he gave Mayor Stothert the opportunity to claim he was pro-choice, thereby undercutting his credibility with the pro-life community — and making him look like a flip-flopper to both sides."
It's a scenario tinged with no small amount of irony. Last year, Sanders was wildly popular and gave Hillary Clinton a real challenge for the Democratic presidential nomination. Landow summed it up by saying, "bottom line —I believe the Sanders visit and its fallout was the major factor in the Mello loss."
If Mello's softening of this pro-life stance cost him with that base of supporters, it seems leaders on the pro-choice side didn't like the DNC's support of Mello either.
NARAL Pro-Choice America President Ilyse Hogue said in a statement, "The actions today by the DNC to embrace and support a candidate for office who will strip women — one of the most critical constituencies for the party — of our basic rights and freedom is not only disappointing, it is politically stupid."
After that statement, DNC head Perez stepped out to say, "every Democrat, like every American, should support a woman's right to make her own choices about her body and her health. That is not negotiable and should not change city by city or state by state."
House Minority Leader Nancy Pelosi countered Perez on different forums by stating the Democratic Party is not a "rubber-stamp party" but rather unified by values.
In a television interview, New York Senator Chuck Schumer endorsed Pelosi's stance that the Democrats embraced all viewpoints on the matter of abortion but followed up by saying, "…let's make no mistake about it, we're a pro-choice party, a strongly pro-choice party."
A DNC spokesperson told Fox News, "Tom [Perez] does not believe in a litmus test and knows that pro-life Democrats will be part of the party."
But Perez's Twitter feed might leave some confused by exactly what message is being sent or meant. Consider these tweets from Perez, all from April 21.
After campaigning for Mellow, in an interview with NPR, Sanders noted, "in some conservative states there will be candidates that are popular candidates who may not agree with me on every issue." Sanders also said if Democrats "are going to protect a woman's right to choose, at the end of the day we're going to need Democratic control over the House and the Senate, and state governments all over this nation."
Sanders will be on the road again this weekend to campaign for Montana Democratic congressional candidate Rob Quist. Montana's single House seat has been held by Republicans since 1996.
Perez reportedly offered a hand campaigning for Quist, but that offer was turned down.
Landow told Fox News that Quist needs to heed the cautionary tale of Mello's loss in Omaha. "Mr. Quist is making a mistake getting a local race mixed up in national politics. Things can spin out of control quickly, as we found out in the Omaha mayor's race, " he said.
Fox News attempts to reach Mello have, so far, been unsuccessful.
Additional Reporting Provided by Brooke Singman and Jason Kopp.