Oklahoma Legislature, like Congress, takes aim at taxpayer-funded wind energy credits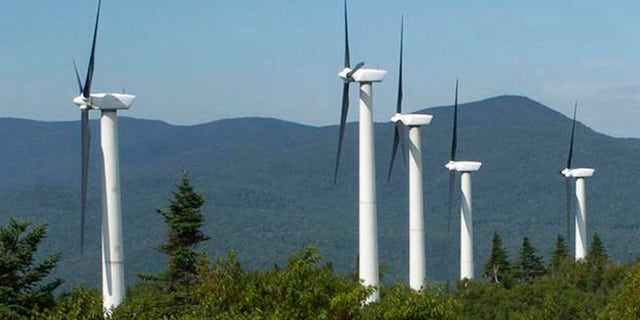 Just outside the small farming community of Tuttle, Okla., the 262-foot-tall wind turbines that dot the horizon are welcome additions -- providing millions of dollars in additional income to farmers and landowners.
The roughly 188 wind turbines erected since 2010 have generated more than $22 million in leases and royalties to them and others across the state, according to a recent study by the Economic Impact Group.
The farmers argue the money helps cover lost income during tough harvest years.
But the local wind-power industry, like those in many other states, is facing challenges from Republican lawmakers and others those who question whether the tax exemptions and credits and other subsidies for so-called "green energy" projects are worth the taxpayer investment.
Roughly 30 bills relating to the Oklahoma wind industry have been filed in the state legislature in the 2015 session, including at least one targeting the tax breaks and others attempting to alter regulatory policies.
Rep. Earl Sears, a Republican and chairman of the House Budget Committee, thinks industry reform is needed.
"We have to take a look at all of these credits we are handing out," he recently said. "They're costing the state $36 million to $40 million per year. And we're glad that most think that reform in the industry is necessary."
Another bill attempts to eliminate a rarely used new-investment tax credit. And Sears has authored a bill that would require wind facilities to demonstrate further financial security.
Wind energy is coming under fire in other states as well.
An offshore wind project in New Jersey, planned by Fishermen's Energy, has been running into regulatory obstacles for nearly five years.
In Nantucket, Mass., a $2.5 billion project to build 130 wind turbines failed when backing at the local level waned.
Taxpayer support for wind energy is also losing momentum in Congress.
Capitol Hill lawmakers at the end of last year did not extend the Federal Production Tax Credit (PTC).
And in March, Sen. Heidi Heitkamp, D-N.D., failed to rally support behind an amendment that would have put a five-year extension on the PTC.
The Senate rejected the amendment by a vote of 51-47, falling primarily along party lines.
Republicans Sens. Susan Collins, Maine; Chuck Grassley, Iowa; and Mark Kirk, Ill., voted in favor of the extension, while West Virginia's Joe Manchin was the lone Democratic senator to vote against the amendment.
An Oregon wind facility in southeastern Wasco and southern Sherman counties was one of the first projects to be put on hold after the non-renewal of the PTC, and industry experts say more projects are likely to follow suit.
"We need a balanced approach that protects the taxpayer's interests but also encourages growth and industry," Oklahoma state Rep. Leslie Osborn said recently.
The Republican lawmaker thinks pulling support for wind projects will negatively impact too many people, particularly those living in rural areas.
"In those tough years, the wind can certainly be a blessing," she said. "The wind is a natural resource, and it's one that we should develop while we're here on earth."