Ohio Gov. John Kasich hires veteran GOP operatives ahead of likely White House run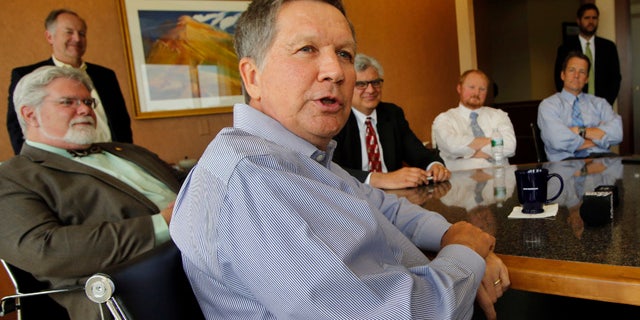 NEWYou can now listen to Fox News articles!
Ohio Gov. John Kasich has hired a pair of veteran Republican operatives ahead of a likely campaign for the 2016 GOP presidential nomination, Fox News confirmed late Tuesday.
According to a senior Kasich adviser, John Weaver will be a senior strategist for the campaign, while Fred Davis will become the lead media consultant for the governor's super PAC, New Day for America.
The hires were first reported by The Washington Post. Weaver and Davis both have experience with presidential campaigns. Weaver was a former top adviser to Sen. John McCain when the Arizona Republican ran in 2000 and 2008. Davis also worked for McCain in 2008, and both men worked for former Utah Gov. John Huntsman during the 2012 campaign.
The Post reported that the pair came to the attention of Kasich as a result of the work they did on behalf of another Midwestern Republican governor, Michigan's Rick Snyder. Snyder was elected to a second term this past November, holding onto office in a state that has voted for the Democratic candidate in every presidential election since 1992.
If Kasich chooses to run, he would join a Republican field that already has ten members and will likely grow to eleven on Monday, when former Florida Gov. Jeb Bush is expected to announce his candidacy.
The Ohio governor, who also won re-election last fall, has already made several visits to early voting states and has also made fundraising appearances in big-money states like California and New York.
Fox News' Serafin Gomez contributed to this report.