O'Donnell: No Witchcraft Since High School -- If so, Rove Would be a Supporter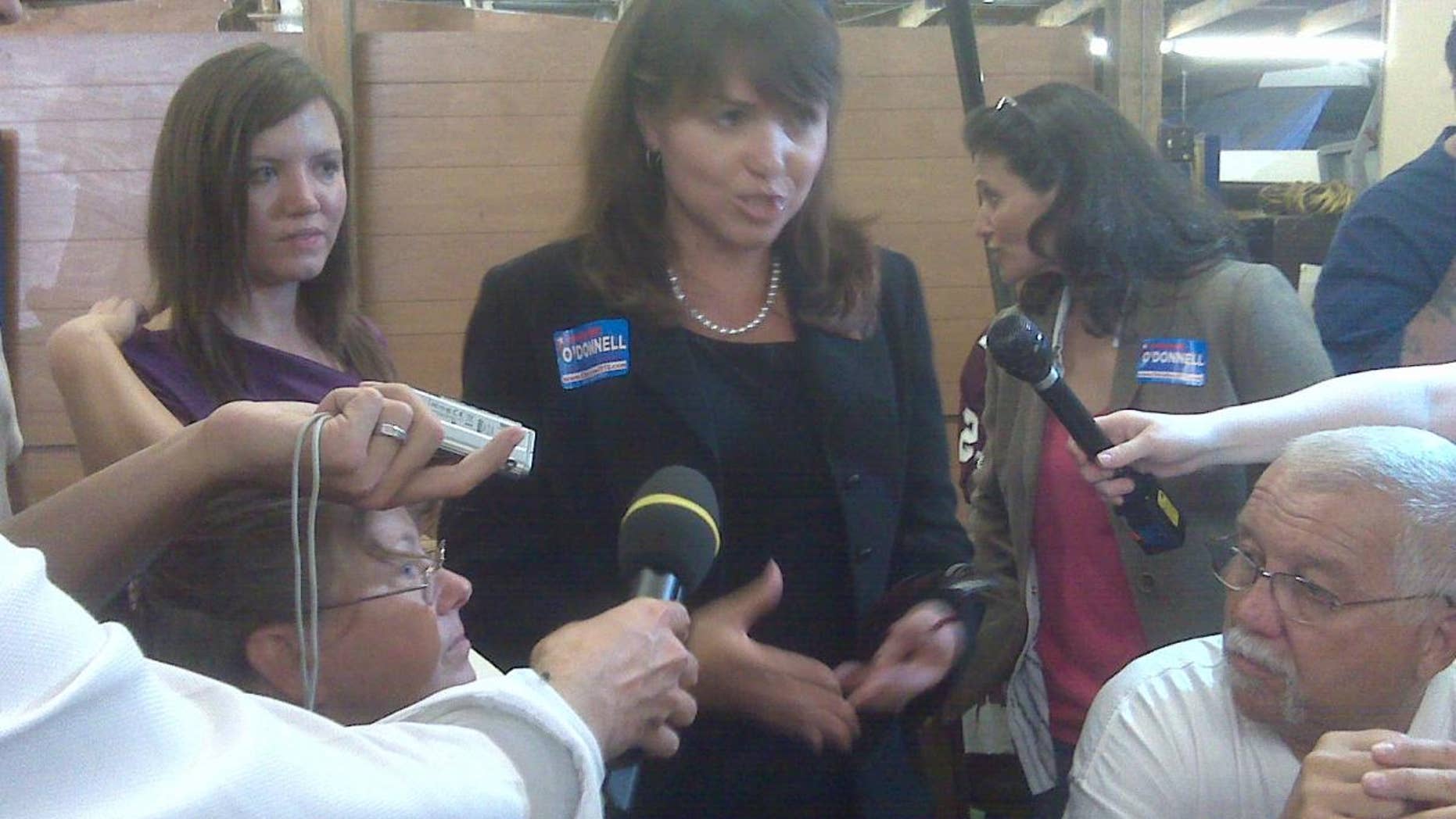 Delaware Republican Senate nominee Christine O'Donnell responded to old clips that surfaced over the weekend where she said she had once "dabbled in witchcraft," clarifying at a GOP picnic in Delaware Sunday, "I was in high school, how many of you didn't hang out with questionable folks in high school? But no, There's been no witchcraft since, if there was, Karl Rove would be a supporter."
The jab at the former President George W. Bush senior adviser came after Rove had cast doubt on her ability to carry the state for the GOP and said there are too many questions about her past.
The nominee showed up at the picnic in a key county that helped secure her GOP Tuesday primary upset, despite canceling previously scheduled appearances on "Fox News Sunday" and CBS' "Face the Nation." Her campaign backed out of the talk show interviews, saying she needed to get back to Delaware and had a scheduling conflict, including attending church and then the afternoon picnic.
She was greeted with a raucous applause at the annual Sussex County GOP picnic with chants of "yes we can" and "yes we will!"
Many in the crowd kept saying "get over it," to the media when she clarified her original witchcraft comments, which included her giving details about a date she had with a witch. The 1999 tape from "Politically Incorrect" first surfaced Friday when Bill Maher aired it on "Real Time with Bill Maher," saying he would keep airing clips until she appeared on his show.
"Bill wanted ratings, I gave him ratings," O'Donnell said.
Local Republicans seemed un-phased by the latest clip, which followed other television interviews that surfaced where O'Donnell talked about such issues as sex and condoms on MTV and to Phil Donahue.
"It seems awfully silly if you see the clip, you can see she was speaking of time when she was a youth and a time when she was exploring youthful things, said Vance Phillips, the president of the Sussex County Council and former Vice Chairman of the Delaware Republican party.
"[I] see it as a continuum of personal attacks -- the left understands they cannot beat her on the issues, "Phillips said.
O'Donnell catapulted into the national spotlight after a surprising Republican primary victory over longtime Delaware Congressman Mike Castle.
She has faced attacks from both parties, with establishment GOP fearing that she didn't have enough appeal to beat her Democratic opponent, Chris Coons -- who is currently ahead in the polls to fill the seat once held by Vice President Joe Biden.
The former political commentator and Tea Party favorite was endorsed by Sarah Palin, and eventually backed by the NRSC, but has yet failed to get the support of influential Republicans, including Rove who again Sunday reiterated his fears of her ability to win.
"Well, this is actually about what is a winning strategy. There are serious questions that have been raised about Miss O'Donnell's background, character, statements and previous actions." Rove said on "Fox News Sunday."
"In southern Delaware, where there are a lot of church-going people, they're probably going to want to know what was that all about," Rove said of the witchcraft comments. "And again, she said it on television when she went on the -- on the Bill Maher show. And I -- my view is she can't simply ignore it. She's got to deal with it and explain it and put it in its most sympathetic light and move on."
Karl Rove is a Fox News contributor.
PHOTO CREDIT:
Christine O'Donnell at Sussex County GOP Picnic/Fox News Photo