Obama's Top Economic Adviser to Depart White House at Year's End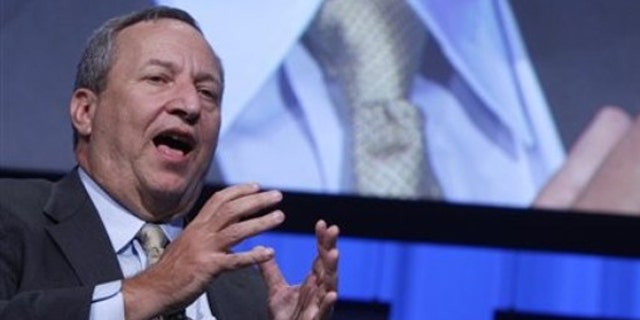 NEWYou can now listen to Fox News articles!
President Obama's top economic adviser, Larry Summers, is leaving the White House at the end of the year, the administration announced Tuesday.
Summers will leave his post as director of the National Economic Council to return to Harvard University as a professor.
"I will miss working with the president and his team on the daily challenges of economic policymaking," Summers said in a written statement. "I'm looking forward to returning to Harvard to teach and write about the economic fundamentals of job creation and stable finance as well as the integration of rising and developing countries into the global system."
Summers will continue to serve as a member of Obama's economic advisory board. Summers, who was officially "on leave" from Harvard to work at the White House, needed to return to the university within two years to preserve his tenure, Harvard spokesman John Longbrake said.
Summers leaves as the economic recovery limps along with unemployment stuck near 10 percent. He would be the third high-level member of the Obama economic team to leave this year, following the departures of budget director Peter Orszag and Christina Romer, head of the Council of Economic Advisers.
"I will always be grateful that at a time of great peril for our country, a man of Larry's brilliance, experience and judgment was willing to answer the call and lead our economic team," Obama said in a written statement.
Geithner praised Summers for his performance.
"Few economists can claim as big an imprint on American history as Larry Summers. In the 1990s, he was instrumental in fostering a period of shared and lasting economic growth," he said in a written statement. "And over the past few years, his insights have been essential to helping President Obama guide us through the worst economic crisis since the Great Depression."
Obama had signaled as recently as Monday that changes were imminent for his economic team. Over-worked staffers were "going to have a whole range of decisions about family that'll factor into" their career decisions, he said.
Speculation has been swirling for months that Treasury Secretary Geithner and Summers could be blamed for a potentially weak showing in the midterm elections with the economy turning voters against Democrats.
President George W. Bush ousted his first Treasury secretary and National Economic Council director two years into his first term after the midterm elections in which his party picked up seats.
Summers, often seen with a Diet Coke in his hand, has a reputation as a brilliant, if occasionally smug, economist. During the debate over overhauling the nation's financial regulations, liberals bristled at Summers' rejection of proposals to place limits on the size of banks. They held him partly responsible for the deregulation of banks that occurred in 1999 while he was treasury secretary under President Bill Clinton.
When he returns to Harvard, he will be going back to his roots. At age 28 he became one of the youngest professors to receive tenure at Harvard. After leaving the Clinton Cabinet in 2001, he returned to Harvard as its new president, where he had a tense relationship with the university faculty. It erupted when he argued that gender differences explained why fewer women pursued math and science careers. He resigned in 2006.
The Associated Press contributed to this report.