Obama's go slow approach on ISIS may doom more Dems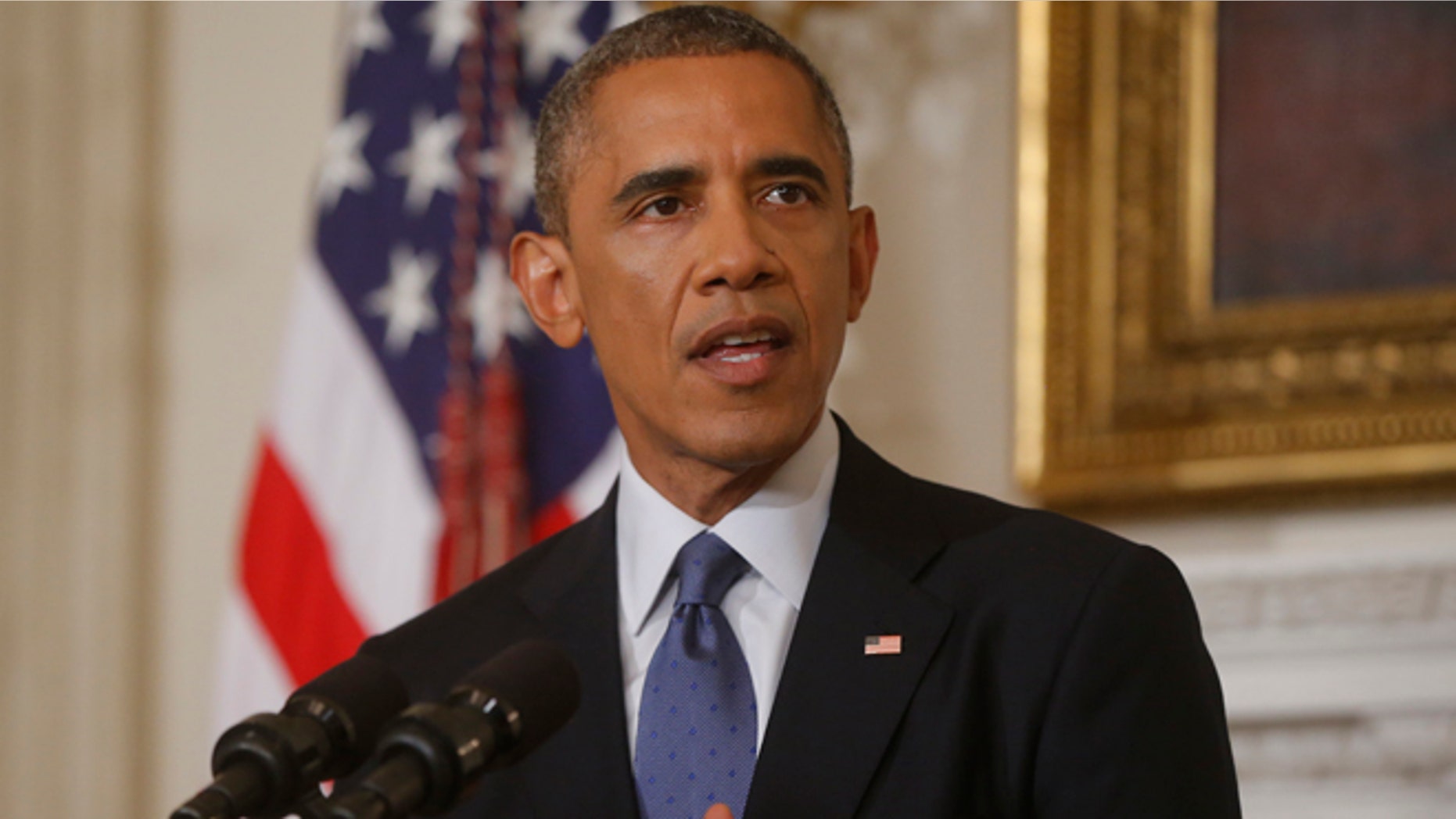 Want FOX News First in your inbox every day? Sign up here.
Buzz Cut:
•             Obama's go slow approach on ISIS may doom more Dems
•             Udall apologizes for exploiting beheaded Americans
•             Poll: Tied up in Kansas
•             Final primary day holds clues for November and 2016
•             A Pinterest page for a bachelor party? C'mon, dude!
OBAMA'S GO SLOW APPROACH ON ISIS MAY DOOM DEMS
President Obama is seeking to stretch the timeline for victory over Islamist militants who are building a terror state in the remnants of Iraq and Syria. It will take years, he says, and likely go beyond his term in office before the victory is complete. It's no wonder, given that bridging the 1,377-year feud that his riven Islam since the death of its founder is a precondition for progress, according to the White House. Starting any process with first getting the Saudis and Iranians in agreement sounds like a long haul, indeed. Stretching out a timeline that far pretty well guarantees success since the sun will eventually implode.  Last night, Obama dined with the cream of the national security think-tank crop at the White House and today he will share his new thoughts on his month-old air campaign in Iraq with the four senior members of Congress. Not for authorization but for something called "buy in," which sounds more like something from a magazine article on management techniques than, say, the Constitution. What the president clearly doesn't want is legal authorization for swift, aggressive action.
[John Bolton writes: "The United Nations at 70: How to fix a broken organization"]
We can't wait - But the problem for the president and his party is: Swift, aggressive action is exactly what Americans seem desperately to want. While there's no appetite for further increasing the number of boots on the ground beyond the more than 1,200 troops the president has already deployed, there is a strong desire for a show of strength beyond the five-a-day defensive airstrikes the resident has ordered. The a new WaPo/ABC News poll where four in ten say the president is "too cautious" when it comes to foreign policy, the president will be working hard Wednesday, when he addresses the nation on ISIS, to combat the 57 percent that say he is not a strong leader. Even worse for vulnerable Democrats, already feeling the weight of his unpopularity, over half of respondents believe Obama's presidency has been a failure. The president would like to step back and regard the arc of history bending toward justice and reconciliation. His party, however, has 56 days before it will be out on its arc.
[Waver - Stu Rothenberg writes: "While the current Rothenberg Political Report ratings don't show it, I am now expecting a substantial Republican Senate wave in November, with a net gain of at least seven seats. But I wouldn't be shocked by a larger gain."]
UDALL APOLOGIZES FOR EXPLOITING BEHEADED AMERICANS 
AP: "Sen. Mark Udall on Monday apologized for saying that two reporters beheaded by militants in the Middle East would agree that the United States should not 'be impulsive' in responding to their deaths… Udall, a Democrat, made the comments in an untelevised debate with challenger Rep. Cory Gardner on Saturday night in the western Colorado town of Grand Junction. Udall has been criticized by Republicans for saying the Islamic State of Iraq and the Levant, which currently controls much of Iraq's heartland, is not an imminent threat to the United States. At the debate, he argued that the two American journalists whose beheadings it filmed and released would agree with him…Udall apologized for the remark less than an hour later. 'I should not have invoked the names of James Foley and Steven Sotloff,' he said in a statement. 'It was inappropriate and I sincerely apologize.'''
BEGICH TRIES AGAIN ON RAPE, MURDER CLAIM IN AD
After being forced to remove an ad accusing Alaska Republican Senate rival Dan Sullivan of releasing a murderer and rapist, Sen. Mark Begich, D-Alaska, is continuing to invoke the issue in his latest ad. From the ad: "First, it was letting violent criminals off with light sentences again and again, as little as 14 months for sexual assault. Now, Sullivan is claiming credit for saving pensions, but it was a pension fraud case, where he made a bad deal with a New York financial firm for only 20 cents on the dollar. He let Alaska get ripped off — Dan Sullivan didn't stand up for Alaskans."
On the money - Crossroads GPS is on air in Alaska with an ad looking at Mark Begich's tenure as mayor of Anchorage saying he left the city deep in debt and then "took off for Washington."
WEHBY HIGHLIGHTS SUPPORT FROM SAME SEX MARRIAGE PIONEER
As she's looking to counter weeks of successful attacks on social issues from and on behalf of Sen. Jeff Merkley, D-Ore., Republican nominee Dr. Monica Wehby is out with a daring new ad today that highlights her support from one of the same-sex couples who first married in the state. The spot, from FP1 Strategies, stars Ben West, one of the lead plaintiffs in the suit that struck down the state ban on same-sex marriages. The candidate told Politico "My opponent keeps trying to paint me as an extreme right-wing Republican, and that's not actually who I am… I'm a very independent-minded person… I've always felt government should stay out of it…"
FIRST LADY FLOATS IMPEACHMENT BAIT IN GEORGIA
"Because, frankly, if we lose these midterm elections, it's going to be a whole lot harder to finish what we started. Things will be even worse in Washington. Instead of leaders coming together on behalf of hardworking families and finding consensus on the issues that matter most, we'll just see more conflict and more obstruction, more lawsuits and talk about impeachment, more votes to repeal the Affordable Care Act, or even shut the government down -- behavior that just wastes time and wastes taxpayer dollars." – First lady Michelle Obama at a campaign event in Georgia for Senate nominee Michelle Nunn.
NUNN, GRIMES HEAD BACK TO HOLLYWOOD
According to reports, Georgia Democratic Senate candidate Michelle Nunn will be in Lost Angeles today to attend a fundraiser hosted by media mogul Michael Kong and his wife, designer Stacy Twilley. Jeffrey Katzenberg is slated to host a high-dollar Hollywood soirée for Kentucky Democratic Senate candidate Alison Lundergan Grimes on Sept. 18, in what is being billed as one of the biggest entertainment-industry fundraisers of the season.
Grimes hit D.C. Dems first - Politico: "[Democrat] Alison Lundergan Grimes is leaning on Washington, D.C.-area donors to pump cash into her coffers as polls show her falling behind in her race against Republican Leader Mitch McConnell in Kentucky. Three liberal Maryland Democrats — Sens. Barbara Mikulski, Ben Cardin and Rep. Chris Van Hollen — will headline a Tuesday evening fundraiser for Grimes in Potomac, Md., where attendees are asked to pony up as much as $2,600 each to attend. … The next day, the Grimes campaign is hosting a Wednesday reception at a Capitol Hill townhouse for the Democratic candidate."
POLL: TIED UP IN KANSAS
The latest independent survey out of Kansas finds Sen. Pat Roberts, R-Kan., and independent Greg Orman statically tied. According to a KSN-TV survey , Orman leads Roberts 37 percent to 36 percent. Democrat Chad Taylor, who recently dropped his Senate bid, garners 10 percent.
[The poll also finds Gov. Sam Brownback, R-Kan., trails Democrat Paul Davis, 47 percent to 40 percent.]
GOP BLASTS BRALEY OVER ANOTHER MISSED VETS HEARING Washington Free Beacon: "Rep. Bruce Braley (D., Iowa) skipped a key Veterans' Affairs (VA) Committee hearing in 2012 on the same day he had a fundraiser, again raising questions about his commitment to veterans' issues, Republicans say…"
PETERS BRINGS A CHAIR FOR LAND
AP: "Democratic U.S. Senate candidate Gary Peters plans to keep pressing his opponent to debate, scheduling a forum where an empty chair will symbolize Republican Terri Lynn Land…Grand Rapids [Mich.] station WOOD-TV proposed having a debate. The NBC affiliate postponed the proposed debate because Land didn't respond to its invitation…Peters' campaign says he'll follow the footsteps of Clint Eastwood, who had a conversation with an empty chair at the 2012 Republican National Convention. Land has said she's open to joint appearances but hasn't committed to a debate. Land spokeswoman Heather Swift says it's appropriate Peters would debate himself because 'Congressman Gary' and 'candidate Gary' are at odds."
THAT ANSWER MUST ALSO BE A PARODY
Mississippi's Democratic Senate nominee, former Rep. Travis Childers, emailed out a Web video to supporters almost identical to a 1984 campaign spot that is one of the most famous of all time. When asked by the (Jackson) Clarion-Ledger about the swiped concept "[t]he Childers campaign said the video is a parody…" It's a parody so subtle that a viewer would never even notice it.
PICK SIX: APPLY YOUR PROBABILITIES
Republicans need six more Senate seats to take control of the upper chamber. Which blue seats are the most vulnerable in this year's midterms? Here are the top picks among Fox News First readers: Arkansas (13.7%), Montana (12.6%), West Virginia (11.8%), Louisiana (11.5%), South Dakota (10.4%) and North Carolina (9.5%). Reader Bob Taylor agrees with the consensus but calls for "some out of the box thinking" adding, "We're on the verge of a wave (AK, IA, NH, CO,  and MN or MI) are likely with a surge and (OR, IL and HI) possibilities, albeit long-shots. So let's see, that's 10 if you apply probabilities." If you're looking for leading indicators from Minnesota, check out the latest update on the race from Fox News.
Share your top six picks. Email them – just your top six, please – to FOXNEWSFIRST@FOXNEWS.COM or tweet @cstirewalt.
[New Today at Fox News Opinion: Republican Strategist Alice Stewart examines the Colorado House contest that may hold the key to understanding the midterms and immigration.]
WITH YOUR SECOND CUP OF COFFEE…
The tech world is geeking out as it awaits the long-anticipated release of the iPhone 6 and other rumored goodies from industry leader Apple. But how do we explain the craving for Apple's wares in the general public? Forbes' Robin Lewis explains: "Apple's connection with its consumers has gone way beyond the simply emotional. It has succeeded by actually connecting with their minds…Neurological connectivity is achieved when a retailer, brand or service creates a strong psychological and emotional response that operates on a subconscious level for the consumer in a way that is typically not readily understood nor necessarily recognized by the consumer. As various research studies in the field of neuroscience have found, when people encounter an elevated experience, their brains release many chemicals. One in particular that has attracted a lot of attention is dopamine, which leads to feelings of euphoria, self-satisfaction and well-being, and which can also actually lead to addiction."
Got a TIP from the RIGHT or LEFT? Email FoxNewsFirst@FOXNEWS.COM
POLL CHECK
Real Clear Politics Averages
Obama Job Approval: Approve – 42.3 percent//Disapprove – 54 percent
Direction of Country: Right Direction – 27 percent//Wrong Track – 65.2 percent 
Generic Congressional Ballot:  Democrats – 44 percent// Republicans – 43 percent
-- 56 days until Nov. 4 --
FINAL PRIMARY DAY HOLDS CLUES FOR NOVEMBER AND 2016
Today wraps up the primary season with contests in New York, Massachusetts, New Hampshire, Delaware and Rhode Island. There's limited suspense, but plenty of tea leaves to be read, including for the 2016 aspirations of Gov. Chris Christie, R-N.J.
New York - Gov. Andrew Cuomo, D-N.Y., is expected to win his party's nomination for a second term, but the question is: by how much? Anti-corruption crusader and liberal firebrand Zephyr Teachout has been relentless in her pursuit of the scandal-ridden incumbent, who was pointedly denied the NYT's endorsement. If Cuomo fails to win in a walk, it would be a boon for the expected Republican nominee, Westchester County Executive Rob Astorino. Also watching will be Republican Governor's Association Chairman Chris Christie, the governor of neighboring New Jersey. Christie dismissed Astorino's chances and refused to commit association money to the effort.
Running mate rebuke - Cuomo's running mate, former Rep. Kathy Hochul, D-N.Y., is locked in a battle with Teachout's running mate, political newcomer and Columbia University law professor Tim Wu, whom NYT endorsed as "an independent voice, someone who can bring fresh ideas to a very stale and often corrupt political culture."
[Polls Close in New York at: 9 p.m. ET .For Results: New York Board of Elections.]
New Hampshire - Former Massachusetts Sen. Scott Brown seems to have won over skeptical New Hampshire Republicans who were initially resistant to the idea of a carpetbagging candidate. Brown has hustled and consolidated support, leading to his surge in the polls against Sen. Jeanne Shaheen, D-N.H. Democrats are hoping, though, that Brown will still show poorly in a win against a crowded field and that efforts to scuff him up in the process will prove helpful in protecting Shaheen. Gov. Chris Christie, R-N.J., also has some skin in the game. Christie, who has focused his 2016 aims on early voting New Hampshire, has used his post as the head of the Republican Governors Association to campaign repeatedly for retired munitions-industry executive Walt Havenstein in his bid to win the GOP nomination to face incumbent Gov. Maggie Hassan, D-N.H. But Havenstein has struggled to seal the deal against 32-year-old conservative activist Andrew Hemingway. If voters spurn Christie's pick, or even if it's a nail-biter, it would not bode well for the New Jersey governor's 2016 chances.
[Polls in New Hampshire close at 8 p.m. ET . For Results: New Hampshire Secretary of State.]
Massachusetts - Failed 2010 Senate candidate Martha Coakley is expected to coast to an easy victory in her three-way Democratic primary. Republican Charlie Baker, who was narrowly defeated by Gov. Deval Patrick, D-Mass., in 2011, is also anticipated to win. Recent polling shows a statistical tie between Coakley and Baker. Among Congressional races, the battle between Rep. John Tierney, D-Mass., and challenger Seth Moulton is gaining national attention. After Tierney was plagued with scandal involving his wife helping to conceal her brother's income from an illegal business, he barely squeaked out a win in 2012 over Republican Richard Tisei. Tierney does have the backing of liberal heavyweights like former Rep. Barney Frank, D-Mass., and Sen. Elizabeth Warren, D-Mass., but the Boston Globe recently threw its support behind Moulton.
[Polls in Mass. close at 8 p.m. ET. For results: The Massachusetts Secretary of State.]
Rhode Island - WSJ: "Tuesday's Democratic primary for Rhode Island governor is emerging as a referendum on how to tackle rising pension costs as the candidates clash over their approaches to a problem bedeviling elected officials around the U.S. Rhode Island Treasurer Gina Raimondo is trumpeting a 2011 state overhaul she spearheaded that sharply curtailed retirement benefits and rankled unions, while Providence Mayor Angel Taveras is lauding a city pension fix he championed that wasn't as aggressive and eventually won labor support. The race is too close to call ahead of Tuesday's vote, said polling firm Fleming & Associates of Cumberland, R.I. Its most recent voter survey conducted in August showed Ms. Raimondo with 32% support as compared with 27% for Mr. Taveras."
[Polls Close in Rhode Island at: 8 p.m. ET. For Results: Rhode Island Board of Elections. ]
What will Delaware? - Delaware also has a primary today, but no races of national interest. Polls there close at 8 p.m. ET. Hardcore Blue Hens can click here for results.
HILLARY RAMPING UP ELECTION EFFORTS 
As part of her expanded midterm role, 2016 Democratic frontrunner Hillary Clinton will host a $10,000-a-ticket fundraiser at her Washington, D.C., home tonight to benefit Senate Democrats. But it's not all team building in Hillary Land. As she gets ready for a January campaign announcement the Clintons' shadow campaign operation is set the date for its post-midterm kickoff. WaPo reports that her team will meet in New York on Nov. 21.
Benghazi panel sets start date - Washington Examiner: "A new special committee created to investigate the 2012 terrorist attacks in Benghazi, Libya, will hold its first public hearing next week, the panel announced Monday."
A PINTEREST PAGE FOR A BACHELOR PARTY? C'MON, DUDE!
San Jose [Calif.] Mercury News: "One of our favorite political pundits, George Will, recently wrote that politics, like physics, must have a theory of everything. He called it the Cupcake Postulate. We're not sure how, but the theory probably explains why Raul Peralez, a San Jose cop running for San Jose City Council, posted a photo of provocatively decorated cupcakes on his Pinterest social media page…The cupcakes mimicked the female reproductive organ, baked in various, sugary colors. … Other delicacies depicted on his 'Manly Men' Pinterest board included a cake that looked like a thong-clad woman's posterior and a phallic looking thing wrapped in a tie. To his credit, Peralez 'fessed up, apologized and quickly removed the entire board posting. He said it was meant for a bachelor's party, not for public consumption… 'As a novice Pinterest user it was a mistake on my part as I thought this Pinterest board was a private message from me to my close friends on the eve of planning a bachelor party,' he wrote in an email."
AND NOW, A WORLD FROM CHARLES…
"[President Obama] didn't call ISIS the jayvee team, though he obviously did. In the middle of his sentence explaining this, which is ridiculous, he actually interrupted himself to say, 'Chuck,' he says, 'and I'm being honest now.' Well, whenever a politician interrupts a sentence to put that in, you know what you are about to hear is a bald-faced lie. And he did it without flinching. You sort of have to tip your hat." –Charles Krauthammer on "Special Report with Bret Baier" Watch here.
Chris Stirewalt is digital politics editor for Fox News.  Want FOX News First in your inbox every day? Sign up here.