ObamaCare 'Glitch' Watch: Reporter seeking coverage ends up at vacant building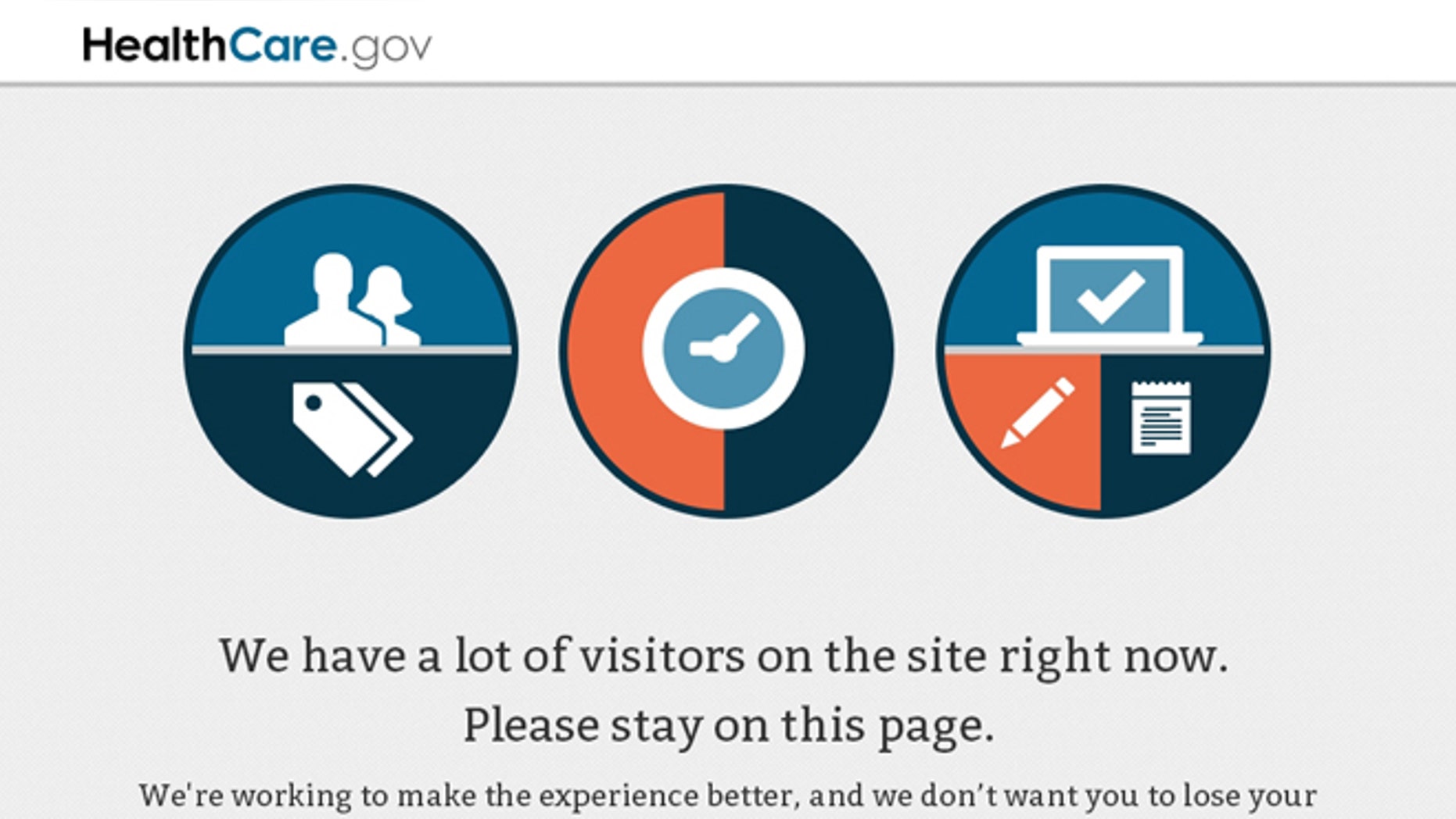 As ObamaCare enrollment begins, technical glitches on federal and numerous state-run insurance exchanges are delaying and turning away Americans. The following is a round-up of reported problems.
Oct. 2: 
Tennessee: Reporter seeking ObamaCare coverage ends up at vacant building
Can a government that cannot figure out how to keep itself open figure out how to manage America's health care system?
The launch of the ObamaCare exchanges is still off to a rocky start. Error messages continued to pop up on the main healthcare.gov site on Tuesday. And one Tennessee reporter has detailed her daylong, and ultimately unsuccessful, saga in trying to sign up for health care via the new insurance exchanges – a goose chase that sent her, in the end, to a vacant building.
The travails of Tennessean reporter Shelley DuBois started at 9:33 a.m. on Tuesday when she tried to log on to the state website, which is really the federal government exchange.
"We have a lot of visitors on our site right now and we're working to make your experience here better," a site message read. "Please wait here until we send you to the login page. Thanks for your patience!"
DuBois reports she got to the login page about 10 minutes later, only to be stopped at the page asking for answers to security questions.
"Time to hit the phones," writes DuBois, who at about 9:48 a.m. said a "nice lady" at the Nashville Academy of Medicine, to which the website referred her, said she wasn't trained to take the call.
DuBois was referred to Health Assist, only to learn shortly after 10 a.m. that the group didn't have any pricing information.
By 10:22 DuBois decided to call in the feds, but the woman on the other end also was locked out of the system. Not totally satisfied with the promise of an application coming in the mail, DuBois got an address where she could talk in person with somebody.
And a few unsuccessful calls later to so-called ObamaCare "navigators," DuBois left at 11:39 a.m. to find the address – only to learn it was a vacant building next to a Holiday Inn Express.
She eventually got a call back at 3:12 p.m. from the United Neighborhood Health Services, but the woman on the other end also was locked out from the website.
"That's a wrap for day one of exchange enrollment," DuBois wrote. "The search continues."
Oct. 1:
Washington: "Connection Refused"
The state-run exchange in Washington state was not on the national radar for potential problems in recent days, but the site experienced hiccups on Tuesday and was still down by midday.
Visitors were greeted with the words "Connection Refused" on an otherwise blank, white screen.
Oregon: Anticipated glitches materialized
Oregon, which has one of country's 16 state-based exchanges, warned residents that anything might happen Tuesday on the site and that they would need the assistance of an insurance agent or other third-party to enroll over the next several weeks.
Sure enough, site visitors on Tuesday were told: "Online enrollment is coming soon! Sign up to receive an email notification when it's available."
However, officials' worst-case scenario that the site could "crash and burn" and they would have to close it down did not happen.
Maryland: Four-hour delay
Maryland, which also has a state-run exchange, had technical problems, too, causing a roughly four-hour delay.
Like the federal government, Maryland had already delayed enrollment for small businesses. The new projected start date is early January, delaying coverage until March at the earliest, according to The Washington Post.
National: ObamaCare exchange site opens with error messages
Many visitors to the official website for the federally run ObamaCare insurance exchanges were met Tuesday morning with an error message. The site was apparently overloaded with traffic but went live after about 11:30 a.m.
"We have a lot of visitors on our site right now and we're working to make your experience here better. Please wait here until we send you to the login page. Thanks for your patience!" read a website message.
By mid-morning, the healthcare.gov site declared "the system is down at the moment," and directed would-be participants to contact a call center if they need help immediately.
Thirty four states are either using the federal site or have a state-federal partnership.
Sept. 30: 
Rhode Island: State site still needs adjustments
Christine Ferguson, director of Rhode Island's site, recently told reporters that people are working around the clock to meet the Oct. 1. deadline. But she also acknowledged, "As this unveils, it is going to be very clear that everything can't be done on a computer." Ferguson predicted the system would get "a lot more user-friendly" over the next several months.
Washington, D.C., Nevada: Delay in launch of Spanish-language site
The Baa administration tried Thursday to portray its delay of small business's online access as a positive development, saying officials thought that "taking a little bit of additional time" was in the best interest of the business owners. But the administration also announced the launch of the Spanish-language version of the federal insurance exchange would be delayed until late October.
Meanwhile, administration and state officials point out that the millions of Americans who want coverage through the federally subsidized Patient Protection and Affordable Care Act can still enroll by phone, mail or third party.
In Nevada, the state-based site also will delay the start of its Spanish-language version. Many of the roughly 600,000 Nevada residents without insurance are Hispanic, but the start of the Spanish version of the Silver State Exchange could be delayed until as late as Nov. 15.
Oregon: Third-party needed to enroll
Oregon -- among the 16 state-based marketplaces or "exchanges" – is requiring residents to use an insurance agent or community group to enroll online through at least mid-October.
"I have no idea what this thing's going to look like Oct. 1," Rocky King, the exchanges executive director, said last week, according to The New York Times. "We could crash and burn and have to close it down."
District of Columbia: Software glitch reported
The District, also running its own exchange, revealed last week that a glitch in its exchange software as it tries to calculate insurance-premium costs when factoring in tax credits, or subsidies, for lower-income customers. Officials also said the site still cannot determine who would be eligible for Medicaid, which about half of U.S. states are expanding under ObamaCare.
Colorado: Problems calculating subsidies
The state-based, online exchange -- Connect For Health Colorado -- will be live Tuesday for the roughly 700,000 residents without health insurance, but it also will not be fully operational because of problems calculating the subsidies. Customers can still get the subsidies, but not without calling for assistance for at least the first month.
A spokesman for the exchange said the state has hired 180 people to man a call center to help insurance shoppers.
The administration had already given some businesses – those with more than 50 full-time employees – the option to delay coverage.
In June, the White House announced it was delaying the so-called "employer mandate" that requires such companies to provide health insurance or pay a penalty. The one-year delay, officials said, was to give employers more time to prepare.
The Associated Press contributed to this report.