Obama Voices Confidence in U.S. Credit, Blames 'Gridlock' for Downgrade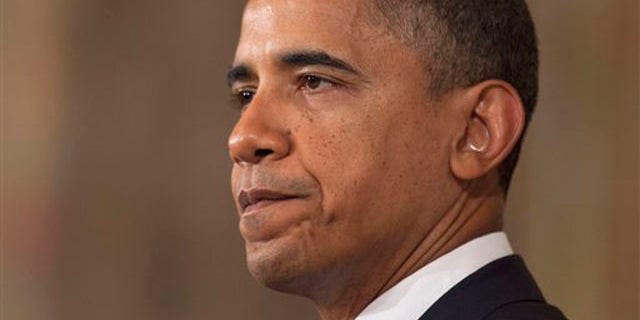 President Obama said Monday he hopes Standard & Poor's decision to downgrade U.S. credit will spur lawmakers to end the "gridlock" in Washington over deficit reduction, but at the same time dismissed the downgrade as the opinion of "some agency."
The president addressed the public for the first time since the landmark decision Friday. Hours earlier, S&P expanded its announcement to lower the ratings for mortgage giants Fannie Mae and Freddie Mac. As stocks plunged in the wake of the decisions, Obama said he nevertheless has the confidence the markets will continue to view the United States' rating as AAA.
"Markets will rise and fall, but this is the United States of America. No matter what some agency may say, we've always been and always will be a triple-A country," Obama said. He invoked the words of billionaire Warren Buffet, who said after the downgrade that the country should be "quadruple-A" if such a rating existed.
Obama also described Washington's problems as "imminently solvable," blaming partisan bickering for the downgrade and urging Washington to come together on a debt-reduction plan. He said a "lack of political will in Washington" prompted the downgrade decision and called on lawmakers to "summon" the spirit of compromise to get past that hurdle.
In the near-term, he said he would be presenting his own recommendations for a new bipartisan committee that will be tasked with finding up to $1.5 trillion in deficit savings. The committee, which Obama said is under a "renewed sense of urgency," was created by the recently signed deal to raise the debt ceiling.
"We will stay on it until we get the job done," Obama said. The president said he wants the deficit reduction proposals to tackle two key areas -- tax reform that asks "those that can afford it to pay their fair share" and entitlement reform that involves "modest adjustments" to programs like Medicare.
Senate Republican Leader Mitch McConnell said in a statement that he disagrees with Obama's "call for tax hikes on American families and job creators," but agrees that the committee "can and should focus on entitlement reform."
As the president voiced confidence about the country's fiscal and political future, S&P announced a slew of other changes Monday. Among the new lowered ratings are: farm lenders; long-term U.S. government-backed debt issued by 32 banks and credit unions; and three major clearinghouses, which are used to execute trades of stocks, bonds and options.
The downgrades mirrored the AAA to AA+ ratings drop given to the U.S. government.
S&P said the agencies and banks all have debt that is exposed to economic volatility and a further downgrade of long-term U.S. debt. Their creditworthiness hinges on the U.S. government's ability to pay its own creditors.
On a volatile day for Wall Street, stocks plunged further after the announcement. The Dow Jones Industrial Average fell nearly 500 points. Investors seeking safety drove gold prices up and Treasury yields down.
The decision only fuels the politically charged atmosphere in Washington. Democrats are blaming the Tea Party for contributing to political deadlock in Washington, which the S&P cited as its main reason for its continued negative outlook.
Republicans are blaming Democrats for not going far enough in tackling U.S. debt, another factor cited by S&P. Others are questioning the credibility of S&P altogether, after the rating agencies were faulted for contributing to the subprime mortgage crisis.
House Republican Leader Eric Cantor's office said in an email Monday that the president should avoid "bashing" the rating agency and instead work to make significant spending cuts and reforms to rein in the debt.
Monday's downgrades of the mortgage giants Fannie and Freddie reflected their "direct reliance" on the U.S. government, S&P said.
Fannie and Freddie own or guarantee about half of all U.S. mortgages, or nearly 31 million home loans worth more than $5 trillion. As part of a nationalized system, they account for nearly all new mortgage loans. Their downgrade might force anyone looking to buy a home to pay higher mortgage rates.
Officials at Standard & Poor's say they will also indicate shortly how local and state governments will be affected by their decision on Friday to lower the long-term U.S. debt from AAA to AA+.
S&P on Friday said that it was downgrading U.S. debt for the first time in history because it lacks confidence that political leaders will make the choices needed to avert a long-term fiscal crisis.
The downgrade of long-term debt issued by the U.S. government affects the banking and lending industries because many interest rates are pegged to the yields on Treasury securities. In addition, many companies use the securities as collateral that they would surrender if their bets lost value.
The lower credit rating for long-term U.S. debt means that it might be considered less valuable for those purposes. It might become more costly for companies to borrow or trade.
Ten of the country's 12 Federal Home Loan Banks also were downgraded from AAA to AA+.
The banks of Chicago and Seattle had already been downgraded earlier to AA+.
The Associated Press contributed to this report.