Obama to Shorten Indonesia Trip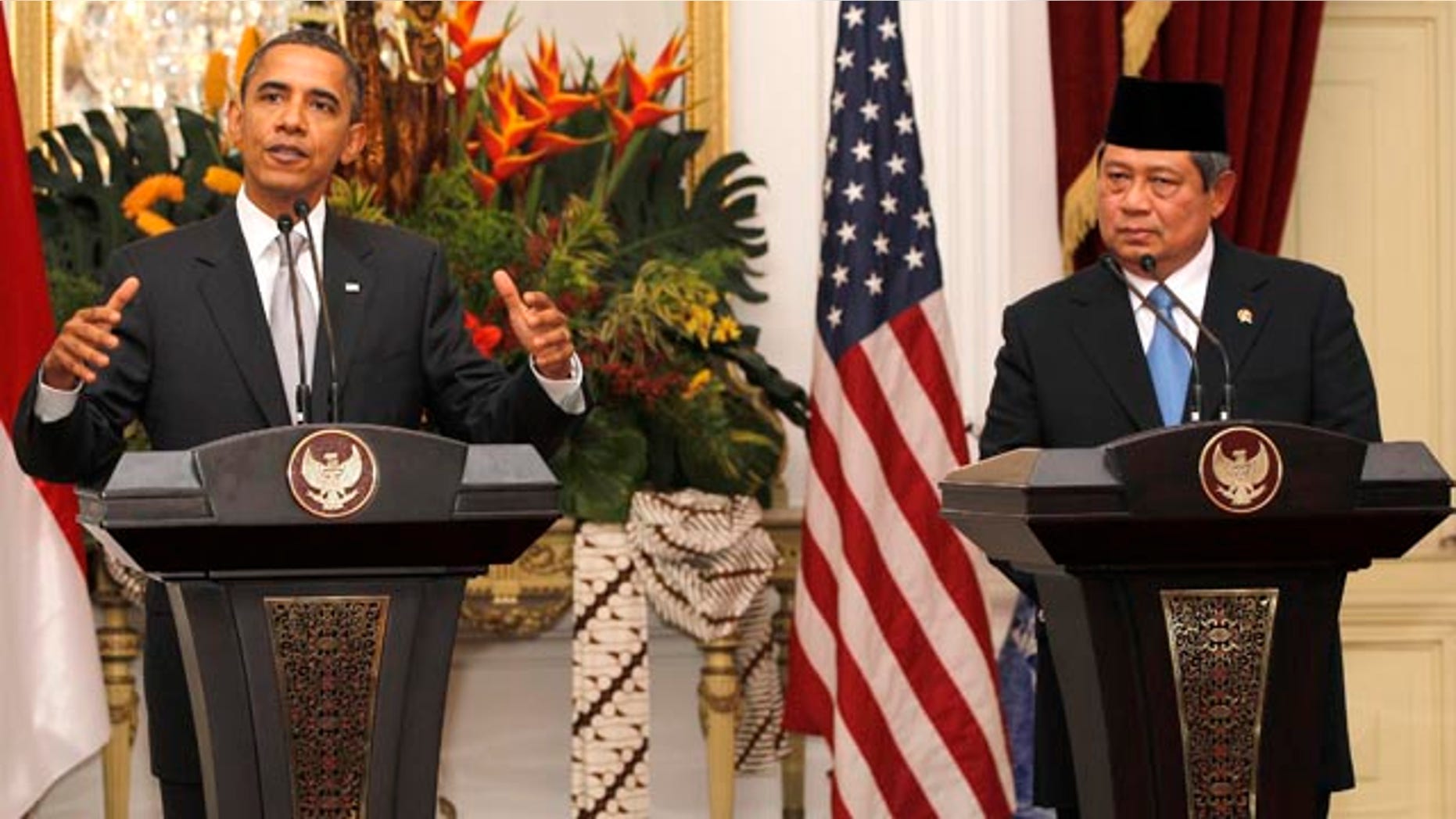 JAKARTA, Indonesia -- President Obama is leaving Indonesia approximately two hours earlier than had been scheduled -- a realization by the Whit House that a volcanic ash cloud could prevent Air Force One from taking off.
The president's scheduled as moved up its event times and canceled a wreath-laying at Kalibata Heroes Cemetery, the burial site of veterans of the Indonesian National Revolution, somewhat akin to Arlington National Cemetery in the United States.
Already, the trip was supposed to be less than 24 hours, with Obama arriving late afternoon Tuesday and leaving midday Wednesday. The trip was shoehorned into a jam-packed 10-day Asia trip, between three days spent in India and economic meetings in South Korea and Japan that start Thursday.
The president finally made it to Indonesia Tuesday, his home for four years of his youth, after two previously scheduled trips there were canceled because of domestic events -- final talks on the health care bill, and then the Gulf oil spill.
The volcanic ash had looked like it might keep him from Indonesia altogether for a third straight time. But with most of his schedule remaining as is, the president will have stopped in the world's largest Muslim-majority nation, an increasingly important player in Asia, where he will speak to his personal biography at an address to a large crowd at the University of Indonesia. The future president moved to Jakarta when he was 6, after his divorced mother remarried an Indonesian, and lived here until he was 10.
Obama and first lady Michelle Obama arrived on a gray, humid day in Indonesia's capital, and were greeted by dozens of dignitaries at Istana Merdeka, a white columned presidential palace reminiscent of the White House.
Obama met with Indonesia's president, Susilo Bambang Yudhoyono where they were to hold a joint press conference and then attend an official dinner at the state palace complex.
The U.S. has increasingly embraced Indonesia as a moderate Muslim nation and partner in counter-terror efforts in the wake of attacks in Bali, Jakarta, and elsewhere in the region between 2002 and 2005.
Like India, Indonesia is also seen as a counterweight to China's gathering strength. The nation of 250 million people is made up of a string of islands stretched through the Indian Ocean between Australia and Malaysia.
"Lots of U.S. interests and lots of challenges and opportunities intersect in Indonesia," Ben Rhodes, deputy national security adviser for strategic communications, told reporters Monday.
"The president will be able to speak to the positive example that Indonesia sets ... as a country with a thriving Islamic community, but also a country that has a pluralistic tradition."
Obama's stepfather was Muslim, and during his time in Indonesia Obama occasionally studied the Quran and visited a local mosque. Although Obama is Christian, that background helped foster enduring rumors in the U.S. about the president's religion.
Planning for Obama's Asia trip featured a religious controversy when the president opted not to visit the Golden Temple Sikh holy site in India, spawning rumors that he wanted to avoid wearing a head covering that could make him appear Muslim. In Jakarta the president planned to visit the giant Istqlal Mosque, the largest mosque in Southeast Asia and a popular tourist attraction.
Obama departs Jakarta for Seoul for a summit of the Group of 20 developed and developing nations.
The Associated Press contributed to this report.