Obama to Launch Public Campaign for Wall Street Crackdown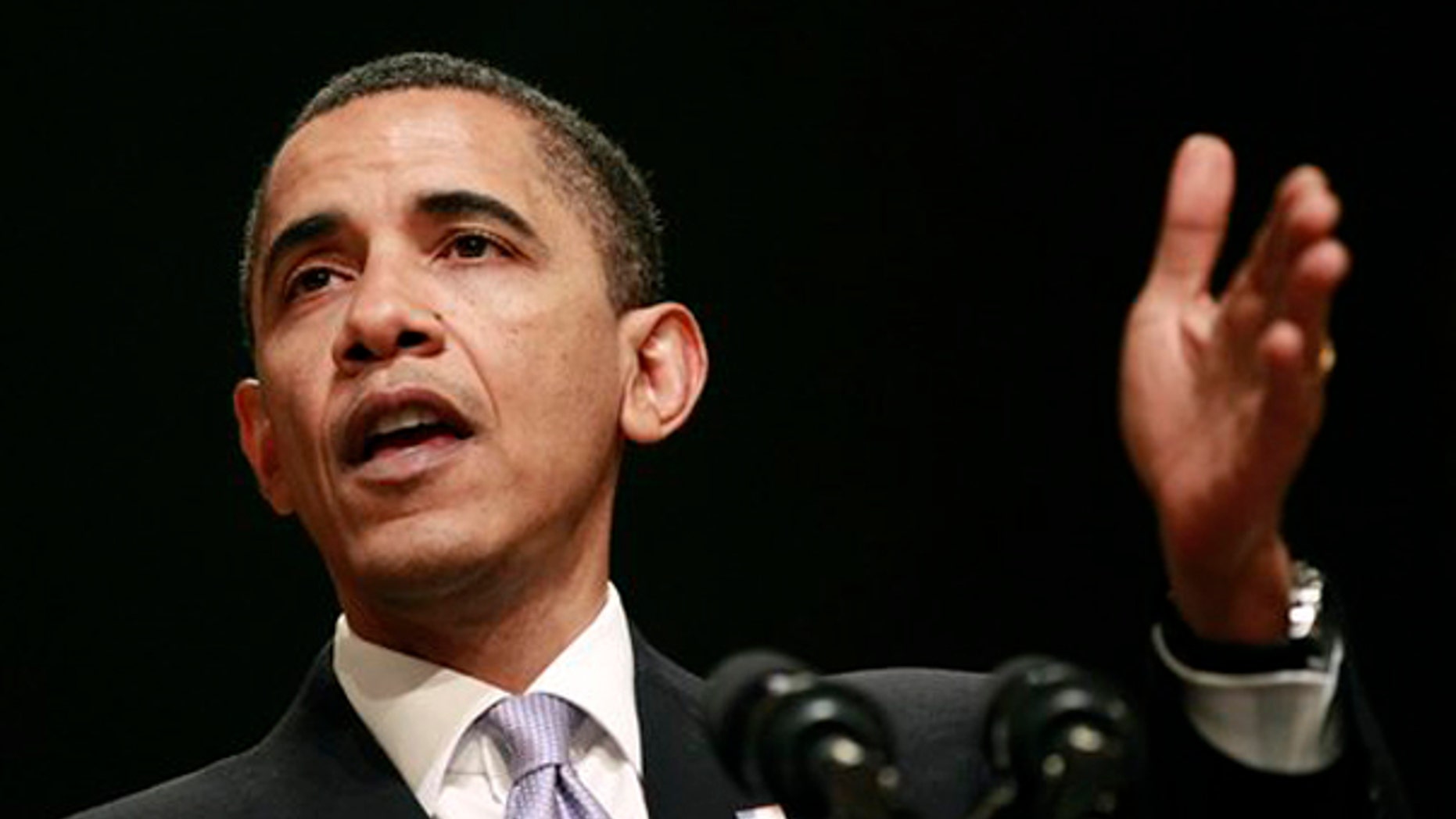 Déjà vu, anyone?
With the Obama administration kicking its push for a Wall Street crackdown into high gear, both sides of the debate are turning to familiar strategy. Just like with health care reform, Republicans are ripping the package and telling Democrats to start over. And just like with health care reform, President Obama is tearing into Republican leaders and pushing ahead with a high-profile public campaign to promote the package.
But while another contentious debate might seem like the last thing Democrats want in an election year, senior administration officials tell Fox News that Obama is feeling the wind at his back after the health care battle and believes the push for tougher Wall Street regulation will boost his popularity. So once again, he's taking the show on the road.
Officials said Sunday that the president plans to embark on a series of outside-the-Beltway rallies and town hall events where he will press for financial regulatory reform and turn up the heat on Senate Republicans. Some events will be built almost entirely around this topic, and, as with the health care push, Obama's campaign arm Organizing for America will coordinate all moves with the White House.
"We cannot delay action any longer," Obama said in a message sent around by Organizing for America over the weekend.
The president is treating the overhaul with the same kind of urgent and barbed rhetoric he used during the health care debate. Senior advisers have prioritized the financial bill as the most important political fight of the next two months -- despite Obama's pledge during his State of the Union address to make jobs legislation the top issue.
But there's a big difference between the Wall Street and health care debates. This time, Democrats are entering the height of the debate one vote short of a filibuster-proof majority and have a strong incentive to negotiate.
The Obama administration offered a concession Friday, when it told Senate Democrats to drop a proposed $50 billion fund designed to finance the liquidation of a big financial institution facing collapse.
But Senate Minority Leader Mitch McConnell held to his opposition Sunday, saying there are "other problems" with the bill and that Democrats need to do more to get Republicans on board.
"I think there is a pretty good ... reason to believe that there is bipartisan opposition to this bill. We ought to go back to the drawing board and fix it," McConnell said on CNN's "State of the Union."
McConnell, though, denied that Republicans are set on blocking the bill no matter what.
"I think we should get a bill. I think it needs to be done on a bipartisan basis," he said. "The only thing bipartisan about the health care bill was the opposition to it. That is not how I view this bill. But I do think we need to get it right."
The Senate Republican leader said there could be "broad bipartisan support" in the area of regulating the derivatives market -- something Obama on Friday set as a requirement for his signature on any Wall Street bill.
Treasury Secretary Timothy Geithner also said on NBC's "Meet the Press" Sunday that "we are very close" on coming to an agreement on the financial regulatory bill in the Senate. He said both parties agree on "the vast bulk of things," but acknowledged, "We're not together on everything."
The House of Representatives passed a financial regulatory bill in December.
Emerging as a key player in the debate on the Senate side may be Sen. Scott Brown, R-Mass., who nearly derailed the health care bill after he was elected in January and broke the Democrats' supermajority.
Brown said Sunday that he's ready to join Republicans in a filibuster to prevent the current financial bill from hitting the floor.
"The present bill is not a good bill, period. I have reviewed it. We've analyzed it," he told CBS' "Face the Nation."
But Brown dangled his potential support out to Democrats, saying he's made "very clear" that he would work with Democrats on another version.
"We absolutely need to fix certain areas in financial reform," Brown said. "The next step is to bring people -- put them in a room and start solving problems. And as evidenced by what I've tried to do, which is to vote with the Democrats and be the 60th vote ... or be the 41st vote."
Fox News' Major Garrett contributed to this report.