Obama To Launch Program Improving Opportunities For Minority Boys, Keep Them Out Of Trouble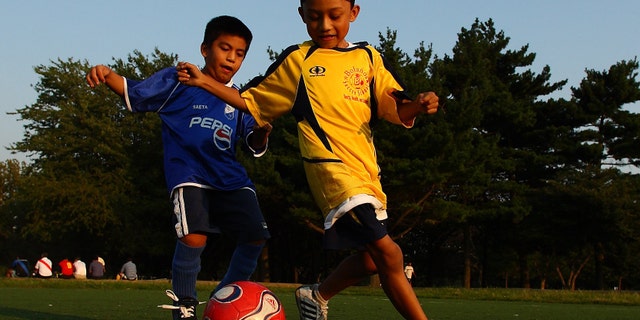 WASHINGTON (AP) – Long before he arrived at the White House, Barack Obama was the son of a single mother, challenged and tempted by the same societal ills that disproportionately keep African-Americans impoverished and behind bars.
Now the nation's first black president is unveiling a new initiative aimed at breaking down those obstacles, and pledging to continue the fight long after his presidency ends.
Joined at the White House by young men of color, Obama on Thursday was calling on America's businesses, philanthropists and government leaders to join forces to put more boys on a path toward successful lives. Foundations were to announce pledges to spend at least $200 million over five years to promote that goal as Obama launches his "My Brother's Keeper" initiative.
Those organizations, which include prominent groups like the Ford Foundation and the Robert Wood Johnson Foundation, will seek to coordinate their investments to create and bolster programs that keep youths in school and out of the criminal justice system, while improving their access to higher education. The White House said it expects money for those programs to grow "exponentially" as major businesses start to pitch in.
Obama will also sign a presidential memorandum creating a government-wide task force to evaluate the effectiveness of various approaches, so that federal and local governments, community groups and businesses will have best practices to follow in the future.
An online "What Works" portal will provide public access to data about programs that improve outcomes for young minority men.
Drawing on the power of example, Obama will single out one of his own staffers to show that humble beginnings need not dictate a hopeless adulthood, according to White House officials, who demanded anonymity to disclose details about the speech ahead of Obama's remarks.
Maurice Owens, known to his colleagues as "Moe," came of age in a crime-ridden Bronx neighborhood where many of his peers ended up imprisoned or dead. With the help of his mother, who was to join Owens at the White House on Thursday, he secured a scholarship to a good high school, made it through college and the Air Force, and eventually landed two doors down from the Oval Office, where he serves as an aide to Obama's chief of staff.
Obama's message to black youth: If kids who grew up like Moe can make it, so can you.
Valerie Jarrett, a senior White House adviser, said Thursday marks the start of an effort that the president and first lady Michelle Obama plan to undertake "for the rest of their lives."
"That's a moral, social responsibility that they feel will transcend the time that he's president," Jarrett said.
Obama's pledge to take action came just last month when, in his State of the Union address, he warned that young, black men face "especially tough odds to stay on track and reach their full potential." As president, Obama has come face to face with some of those young men before.
For Kerron Turner, 19, the turning point came while he was serving detention at a high school on Chicago's South Side, where Obama once worked as a community organizer. A mentor there connected him to a youth guidance program called "Becoming a Man" in which Turner learned to deal with the type of anger that has landed some of his acquaintances in prison.
He stuck with it, and last year Obama met with Turner and other students from the program during a visit to Chicago. He then invited them to join him at the White House months later for an early Father's Day celebration.
If not for the program, where would Turner be today?
"Probably falling in with the wrong crowd. Probably in jail somewhere," he said in an interview.
By fourth grade, 86 percent of black boys are below proficiency levels in reading, compared with just 58 percent of white boys, the White House said, adding that black boys are more than six times as likely as white boys to be murder victims. The unemployment rate last month for African-American men over the age of 20 was 12 percent.
Obama's initiative casts a spotlight on an issue that consumed little of his attention during his first term, to the chagrin of some civil rights leaders who had hoped Obama's election would herald a national effort to undo generations of disadvantage borne by the African-American community.
But Obama stepped carefully, wary of providing easy fodder to critics who might pigeonhole him as, first and foremost, a black president.
"There have been times where some thoughtful and sometimes not so thoughtful African-American commentators have gotten on both Michelle and me, suggesting that we are not addressing enough sort of institutional barriers and racism, and we're engaging in sort of up-by-the-bootstraps, Booker T. Washington messages that let the larger society off the hook," Obamarecently told The New Yorker.
Obama rejects that critique, arguing that even leaders like Martin Luther King Jr. acknowledged that the black community must address issues of personal responsibility.
Now in his second term and freed from the constraints of running for re-election, Obama has adopted a more active approach to addressing racial disparities.
Already this year, the Obama administration has moved to commute sentences for nonviolent drug offenders, hoping to combat sentencing disparities that disproportionately imprison minorities.
His attorney general, Eric Holder, this month encouraged states to repeal laws that permanently bar felons from voting even after they have served their sentences. And Obama connected personally to the issue last year when he declared after a controversial verdict in Florida that "Trayvon Martin could have been me."
Follow us on twitter.com/foxnewslatino
Like us at facebook.com/foxnewslatino