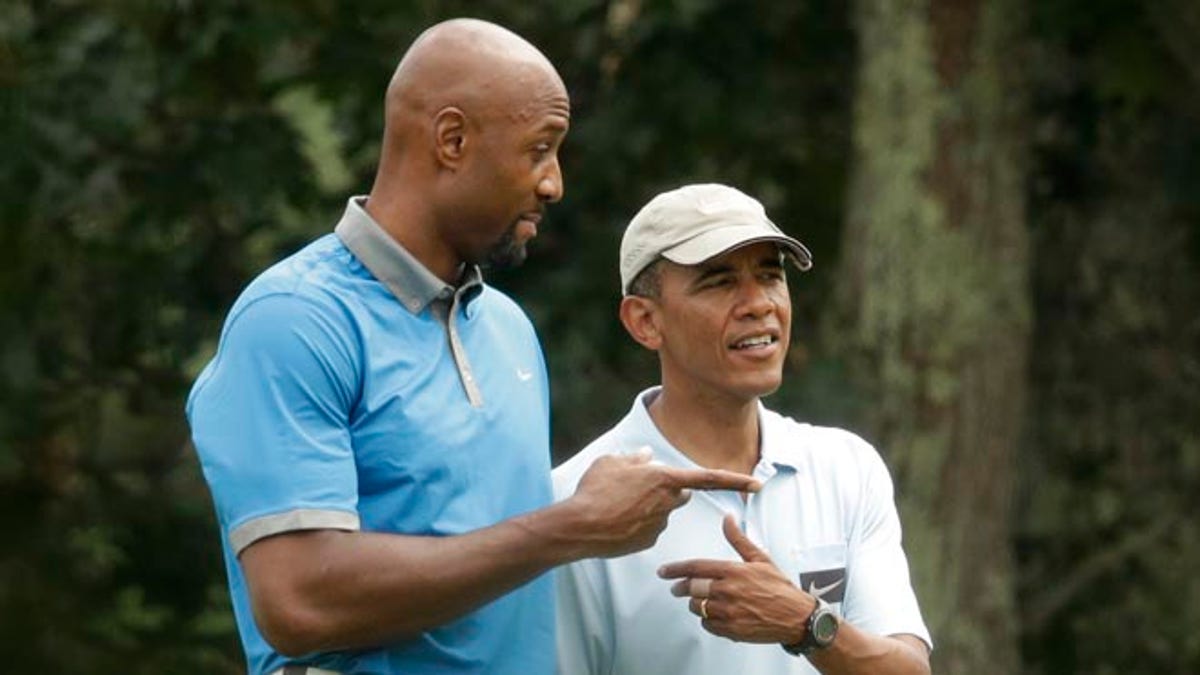 President Obama took a break from his summer vacation to return to Washington early Monday for series of high-level, but unspecified, White House meetings.
Obama left his first family vacation on Martha's Vineyard and will meet with Vice President Joe Biden and other top-ranking officials later Monday, according to White House staffers. But they have not disclosed what officials will discuss -- amid a list of international problems that include fighting in Iraq, Israel and Ukraine and the humanitarian-immigration crisis along the U.S.-Mexico border.
Obama's decision to return to Washington appears to be in part a response to criticism about him spending two weeks on a resort island amid so many foreign and domestic crises.
However, the president's first week on the Massachusetts island, in which he played several rounds of golf, included on-camera statements on U.S. military action in Iraq and the clashes between police and protesters in Ferguson, Mo. And he called foreign leaders to discuss the tensions between Ukraine and Russia, as well as between Israel and Hamas.
"I think it's fair to say there are, of course, ongoing complicated situations in the world, and that's why you've seen the president stay engaged," White House spokesman Eric Schultz said.
Officials disclosed Sunday that Attorney General Eric Holder will brief Obama on Monday about the situation in Missouri, where the Aug. 9 police shooting of unarmed black teen Michael Brown has sparked rioting.
Political observers have speculated that Obama might be returning to take executive action to help fix the country's broken immigration system -- perhaps broadening a 2012 order that delayed deportation for some young illegal immigrants to include as many as 5 million people now living illegally in the United States.
However, White House officials have said the president won't take such action until after summer and after receiving full reports on the issue from the departments of Justice and Homeland Security.
Obama is scheduled to return to Martha's Vineyard on Tuesday and stay through next weekend.
Though work has occupied much of Obama's first week on vacation, he also found time to go to the beach with his family and out to dinner with first lady Michelle Obama. He hit the golf course one more time Sunday ahead of his departure, joining two aides and former NBA player Alonzo Mourning for an afternoon round.
Earlier in the week, Obama attended a birthday party for Democratic adviser Vernon Jordan's wife, where he spent time with former President Bill Clinton and Hillary Clinton.
That get-together between the former rivals-turned-partners added another complicated dynamic to Obama's vacation. Just as Obama was arriving on Martha's Vineyard, an interview with the former secretary of state was published in which she levied some of her sharpest criticism of Obama's foreign policy.
Clinton later promised she and Obama would "hug it out" when they saw each other at Jordan's party. No reporters were allowed in, so it's not clear whether there was any hugging, but the White House said the president danced to nearly every song.
The Associated Press contributed to this report.