Obama Slams Tax Cuts for the Wealthy at Chrysler Bailout Celebration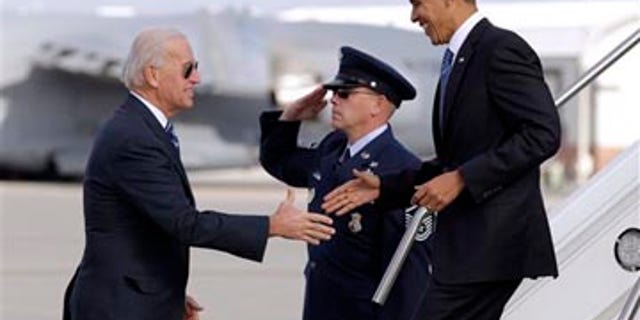 PERU, Ind. -- President Obama used part of his appearance at a Chrysler factory on Tuesday to hammer home his argument that the country cannot afford to extend the Bush-era tax cuts for the wealthiest Americans -- even though his speech was advertised by the White House as a celebration of the auto bailouts.
The tax cuts apparently are weighing heavily on Obama's mind as he prepares for a meeting with GOP leaders at the White House on Nov. 30, the first one since his party was punished by voters in this month's midterm elections.
Newly empowered Republicans, who captured the House and increased their presence in the Senate, are pushing to extend the Bush tax cuts to all Americans, saying that the economy is too fragile for a tax hike on anyone.
But Obama told the crowd at the Chrysler transmission plant that the country cannot afford the $700 billion cost for extending tax cuts to individuals making $200,000 and above or families making $250,000 and above.
"I don't think that we can afford it right now, not when we are going to have to make some tough decisions to rein in our deficits," he said.
Obama's speech came as Federal Reserve officials lowered their economic forecast, saying the economy will grow only 2.4 percent to 2.5 percent this year, down sharply from a previous projection of 3 percent to 3.5 percent.
In his speech at the auto plant, Obama defended the Chrysler bailout, saying it helped keep the company's transmission plant on track.
"We know that was the right decision," he said, adding that no one should ever bet against America.
Earlier, Obama and Vice President Biden greeted each other at Grissom Air Reserve Base after arriving in separate planes for their trip to the Chrysler factory in central Indiana.
Biden and a crew that included Col. Tim Cahoon, Democratic Reps. Joe Donnelly, Baron Hill and Andre Carson and Kokomo Mayor Greg Goodnight awaited the president's arrival. Indiana Sen. Evan Bayh traveled from Washington with Obama.
The vice president's office noted that the president and vice president always travel separately to ensure continuity of government. The Kokomo trip is Obama's fifth stop in Indiana since he became president and his first since August 2009.
White House spokesman Bill Burton said the president's return to Kokomo is not the start of his 2012 campaign.
"This is a place the president visited during the campaign that's seen particularly tough times with unemployment getting as high -- getting over 20 percent. As a result of what's happened with the auto industry and our efforts to turn it around, unemployment has dropped dramatically -- about eight points in the region," Burton said.
Republican Gov. Mitch Daniels, named as a potential 2012 contender against the president, was not joining the commander in chief and his deputy.
Jane Jankowski, Daniels' press secretary, said Daniels had a long-scheduled speech to members of the Indianapolis Rotary Club.
"He's discussing his 2011 legislative agenda. We received late notification of the president's trip and there was no request for the governor to attend," Jankowski said.