Obama seeks leverage off gay-marriage endorsement, heads to more fundraisers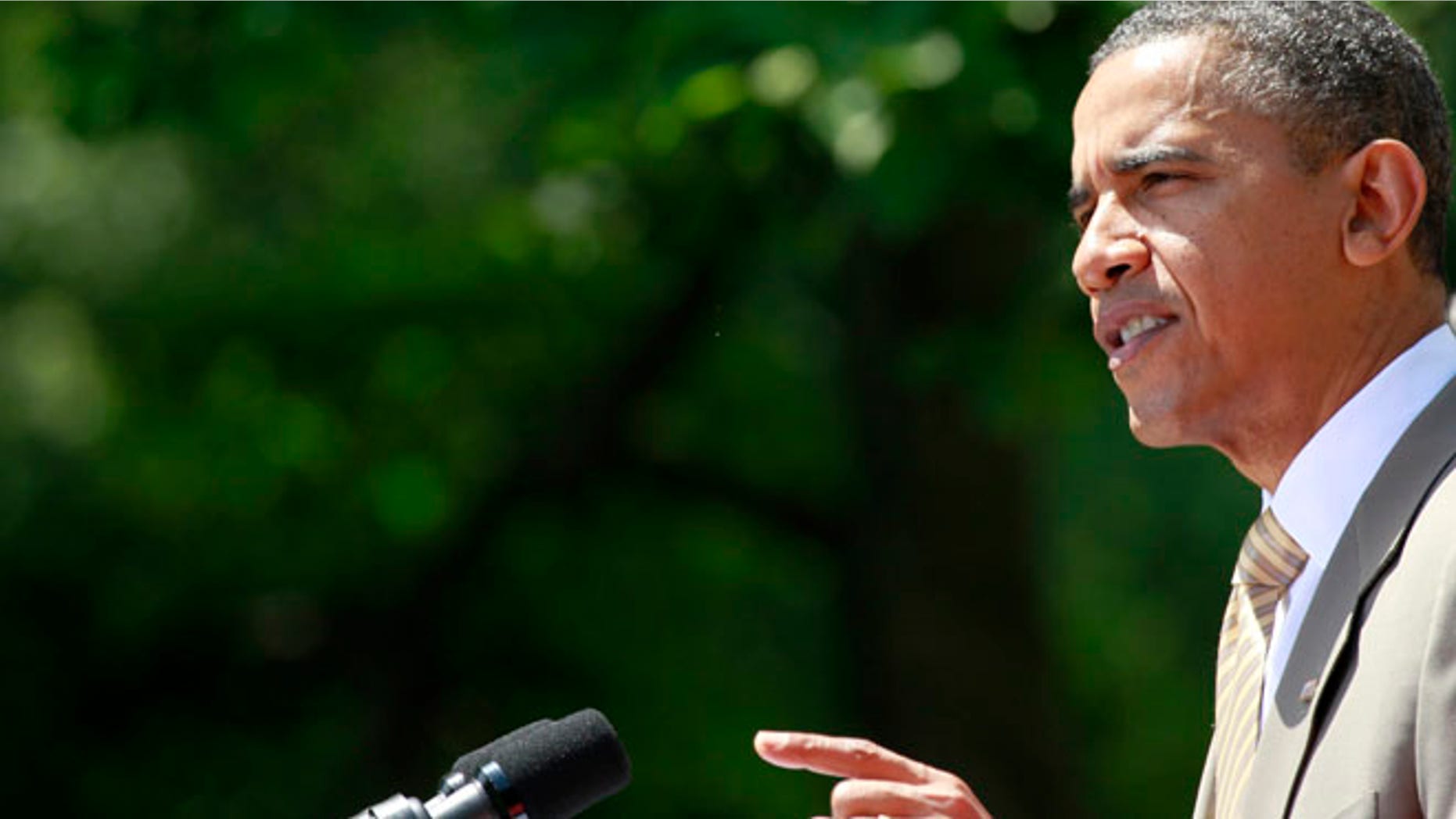 WASHINGTON – In a reversal from past elections, Democrats are starting to wage the culture wars on the presidential campaign trail -- wielding President Obama's endorsement of gay marriage as a weapon against presumptive Republican nominee Mitt Romney.
The president, despite doubts about whether the endorsement will work for him politically, was setting off on another whirlwind day of fundraising and appearances Monday where that announcement was expected to factor prominently.
The Obama campaign, according to most accounts, was not originally planning to hit this issue this early in the season. But Vice President Biden, by personally voicing support for gay marriage more than a week ago, nudged the president along. Now, the two campaigns are diverging. Romney is focusing on the economy. And, for a change, the Democratic presidential campaign is hitting the social issues debate -- as some on the right urge Romney to return fire.
Obama's schedule on Monday will be capped by a pair of fundraisers in New York focused on gay and Latino donors -- one of which will be hosted by the LGBT Leadership Council and openly gay singer Ricky Martin, as well as Latino group The Futuro Fund.
Before that, Obama was taping an appearance with The View, where his announcement last Wednesday was sure to come up. Even the commencement address Obama delivered at Barnard College in New York Monday afternoon had a same-sex marriage tinge -- he shared the stage with Evan Wolfson, founder of the gay advocacy group Freedom to Marry, and touched on the issue briefly in his remarks.
"No matter who you love or what God you worship, you can still pursue happiness -- I will support you every step of the way," Obama said.
The president's schedule reflects a robust push by the Obama campaign to trumpet, not downplay, the president's decision last week to support same-sex marriage -- a historic first for a sitting U.S. president.
The campaign last week released a web video heralding the announcement, while casting Romney as "backwards on equality." The president went on to raise nearly $15 million Thursday night from donors attending a campaign event at George Clooney's house.
The president's events Monday effectively pick up where he left off last week.
Romney and the Republican National Committee, though, are sticking to the issues of the economy and spending. The Republican National Committee released a new web video Monday slamming Obama for his "broken promises" on deficits and debt.
Romney has restated his opposition to gay marriage since Obama announced his support for the unions last week. But the campaign seems eager to keep the focus on pocketbook issues -- GOP officials continue to hammer the state of the economy, with the jobless rate stuck above 8 percent and signs that dispirited American job-seekers are giving up the job hunt.
Officials on both sides of the aisle, though, suggest Romney could really do some damage to the president if he seized on his gay-marriage stance.
Rick Santorum, the former Republican presidential candidate, has called the announcement a "potent weapon" for Romney, should he choose to use it.
Family Research Council President Tony Perkins also claims Obama's position could help Romney rally the support he's been lacking.
Perkins told Fox News on Monday that he's received phone calls "from across the nation from prominent pastors" since Obama's Wednesday announcement. He said those from "traditional black churches," in particular, are saying, "this is just too far for us, we cannot maintain credibility ... and go along with the president on this."
On the surface, national polling on gay marriage suggests Obama is with the majority of the country. A Gallup poll released Monday showed 54 percent of American adults consider gay relationships "morally acceptable." Forty-two percent said they find those relationships "morally wrong." Another recent USA Today/Gallup poll showed 51 percent of adults approved of the president's endorsement, while 45 percent disapproved.
That poll, though, showed that while 60 percent said Obama's announcement would make no difference in their vote, 26 percent said they were less likely to vote for Obama because of that decision. Just 13 percent said they were more likely to vote for him.
Fox News contributor and former Democratic strategist Kirsten Powers said Monday she's not so sure Obama's announcement is a "net winner."
"It puts him in peril" in battleground states, she said -- claiming it was probably not part of some "grand plan" to distract voters from other issues.
Still, she said, it helps with fundraising. And that appears to be where Obama is getting his mileage.
The first fundraiser Obama's attending on Monday night is expected to draw in about 200 people, with tickets starting at $5,000 a head. The next fundraiser, at a private residence, is expected to bring in 60 people, with tickets going for $35,800 per person.
The $15 million raised last Thursday marked a record for a single fundraiser.
The Associated Press contributed to this report.