Obama says there's reason for skepticism on Syria cease-fire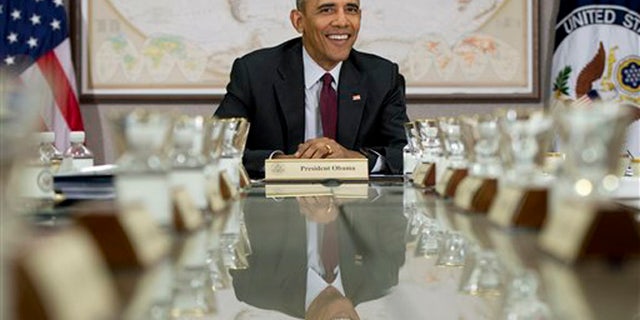 NEWYou can now listen to Fox News articles!
WASHINGTON – With a proposed cease-fire in Syria quickly approaching, President Barack Obama said Thursday it's a certainty that there will continue to be fighting but that the agreement has the potential to reduce the violence, get food and aid to Syrians who are suffering and lead to negotiations to end the civil war.
Obama spoke after a rare meeting at the State Department with some of his top national security advisers, who updated him on the parallel efforts to counter the Islamic State group and bring peace to Syria after years of civil strife. The cease-fire for Syria is set to take effect at midnight Friday local time.
"We're all aware of the many potential pitfalls, and there are plenty of reasons for skepticism," Obama said. "But history would judge us harshly if we did not do our part in at least trying to end this terrible conflict with diplomacy."
Obama emphasized that the cease-fire would not include the Islamic State group. He directed his national security team to accelerate the U.S.-led international campaign against IS "on all fronts."
"ISIL fighters are learning that they've got no safe haven. We can hit them anywhere, anytime — and we do," said Obama, who was flanked by Secretary of State John Kerry, Defense Secretary Ash Carter, Attorney General Loretta Lynch and other top advisers.
Obama said like-minded nations are stepping up and offering more assistance to defeat the Islamic State group. Since last summer militants haven't launched a single successful operation in Syria or Iraq, where it controls large amounts of territory, he said.
It won't be enough to defeat ISIL on the battlefield, Obama said, adding that the U.S. and its allies will have to defeat its ideology. A new "global engagement center" at the State Department will do more to expose members "as the murderers that they are," he said. Meanwhile, the administration is also working with companies like Facebook, YouTube and Twitter to counter the group's online presence.
On Syria, Obama said the cease-fire is a "test" of whether the parties are committed to broader negotiations over a political transition, a new constitution and holding free elections. He also reiterated that Syria's future cannot include Bashar Assad as president, which is a chief point of contention with Russia and Iran, who support the Syrian leader.
Obama said many Syrians will never stop fighting until Assad is out of power.
"It's the only way to end the civil war and unite the Syrian people against terrorists," Obama said.
Obama put the onus on Russia and its allies — including the Assad government — to live up to their commitments under the agreement. The elusive cease-fire deal was reached only after a monthslong Russian air campaign that the U.S. says strengthened Assad's hand and allowed his forces to retake territory, altering the balance of power in the Syrian civil war.
Everybody knows what needs to happen for the ceasefire to work, Obama said, and that includes an end to aerial bombardments and allowing humanitarian aid to reach areas under siege.
"The coming days will be critical and the world will be watching," he said.