Obama raises cash for Colorado senator who skipped own fundraiser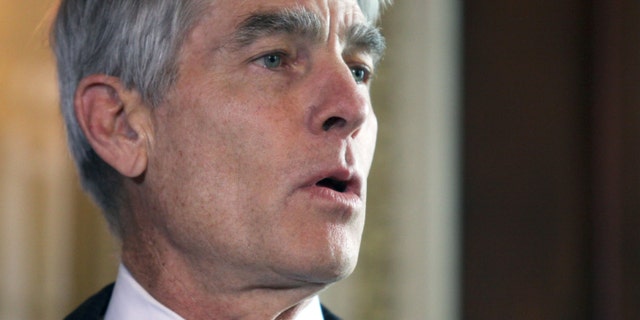 NEWYou can now listen to Fox News articles!
In a tough race for re-election, Colorado Democratic Sen. Mark Udall chose the benefit of President Barack Obama's fundraising prowess Wednesday over the pleasure of his company.
He could have had both.
But he opted to work in Washington while the president, whose poll ratings hover around 40 percent in Colorado, headlined a fundraiser on his behalf in Denver.
Udall "is not an ideologue. Doesn't agree with me on everything. But he believes in the core idea that should be what Democrats are all about: the idea that if you work hard, you should be able to make it," Obama told his audience.
The beneficiary of the event devoted his day to official duties in Washington that dovetailed with home-state politics and his campaign. "It wasn't a political decision," said campaign spokesman Chris Harris, an assertion that Republicans pointedly disputed as events produced a political back-and-forth so vigorous that it would be more typical of a day late in the campaign rather than one in early July.
Udall "has supported the Obama agenda an eye-popping 99 percent of the time," said the National Republican Senatorial Committee.
In a race against an opponent who opposes abortion rights, Udall participated at in a news conference unveiling legislation to counter a recent Supreme Court ruling that restricted access to contraceptives under the nation's health care law.
Representing a state where the population is 20 percent Hispanic, he voted to confirm Julian Castro as the new secretary of housing and urban development. His office also noted the agency has been instrumental in helping with recovery from last year's flood damage in the state, and issued a statement saying the senator has "fought hard" for federal disaster aid.
Spokesman Mike Saccone also said Udall "is continuing his work on the bipartisan Sportsmen's Act, which includes his proposal to expand access to public shooting ranges." It was unclear precisely what he was doing, though, since the bill appears headed for gridlock.
It was unclear what Udall was doing at the moment Obama stepped before supporters at the fundraiser in a Denver hotel near the football stadium where he accepted his party's presidential nomination in 2008.
In his remarks, Obama did not refer to Udall's decision to spend the day in Washington.
He cast the lawmaker's re-election as crucial to his second-term priorities while crediting him with a measure of political independence, an apparent bow to independent and other voters who may disagree with the president. "Mark Udall is a serious person who is trying to do the right thing," he said.
Even before Obama spoke, the campaign back-and-forth scarcely paused in a race that is touted as one of the country's tightest this year, and one that will help determine if Democrats can hold their shaky Senate majority.
Republicans eagerly drew attention to Udall's absence from his own fundraiser, and noted Obama's lagging approval ratings in the state. "Actions speak louder than words. It's clear that the president is beyond toxic, and Mark Udall's campaign is running scared," was the diagnosis from the National Republican Senatorial Committee.
Udall's November opponent, Republican Rep. Cory Gardner, also weighed in, releasing a Web video that shows the senator a few days before the 2008 presidential election speaking enthusiastically about the prospect of a Obama presidency.
"Let me utter two really sweet words. President Obama," he said at the time, drawing out the president's name for emphasis.
Not to be outdone, Udall's campaign distributed an email noting that a recent book reported Gardner had met with Republican strategist Karl Rove during last year's partial government shutdown. The effect was to link the Republican to a former Bush administration official who is unpopular with Democratic voters, and with the interruption in federal services that sent Republican poll numbers plummeting last fall.
Republicans managed to squeeze in a reminder that Udall ducked a question as long ago as last winter when asked if he would want the president campaigning with him in the state. "We'll see what the president's schedule is, what my schedule is," he told CNN on the night of Obama's State of the Union address.
Democrats noted that other lawmakers in the state's congressional delegation worked in Washington during the day, among them Sen. Michael Bennet. He chairs the Democratic Senatorial Campaign Committee, which shared the fundraiser proceeds with Udall's campaign. The cost of tickets ranged from $1,000 to $30,000.
And they said Udall would have been lambasted by Republicans if he had made the opposite decision.
There was some evidence they were correct.
Six years ago, shortly before Udall's election to the Senate, Republicans criticized him for attending a fundraiser rather than being present in the House to cast a vote on energy legislation.