Obama Presses for Middle East Peace, Iran Cooperation in U.N. Address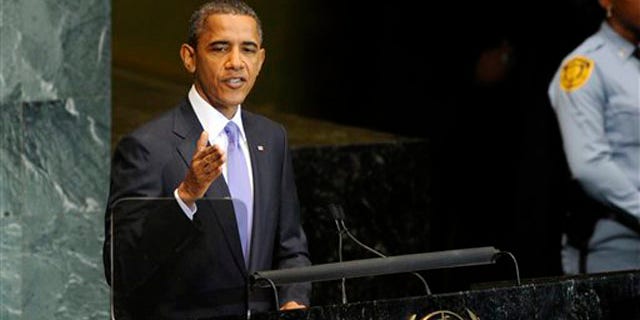 NEWYou can now listen to Fox News articles!
President Obama outlined his foreign policy vision Thursday before a cast of global leaders, pressing for Palestinians and Israelis to reach a peace agreement, for Iran to come clean on its nuclear program and for countries to do all they can to promote economic development and human rights.
In an address to the U.N. General Assembly, the president said "now is the time" for Middle East peace talks to finally succeed after decades of false starts. He urged the international community to let down its skepticism toward renewed negotiations and promote those who are working in earnest to reach an accord.
Obama spoke just hours before Iranian President Mahmoud Ahmadinejad was set to take the podium in a dueling address. The Iranians claim their nuclear infrastructure is peaceful, but Obama said Thursday that the nation "cannot demonstrate the peaceful intentions of its nuclear program."
He said that failure has "consequences," in reference to the fourth round of U.N. sanctions imposed on Iran -- as well as sanctions by the United States and European Union. He added that the U.S. and the international community continue to "seek a resolution" with Iran, once again extending an invitation for the country to negotiate.
"The door remains open to diplomacy should Iran choose to walk through it," Obama said.
The Iranian leader, who regularly challenges American presidents to debate him in front of the world's media, plans to speak Thursday afternoon and has a history of using the annual summit to make provocative statements. In 2008, the Iranian leader called Israel a "Zionist regime" of murderers, igniting outrage. Last year, his comments were so outrageous they prompted a walkout by other nations.
On Wednesday night, a combative Ahmadinejad took to the airwaves to lash out at Israel's prime minister, telling CNN's Larry King that Israeli Prime Minister Benjamin Netanyahu is a "skilled killer" who "should be put on trial for killing women and children."
Ahmadinejad deflected questions about his country's nuclear program, saying "we have no interest" in atomic weapons. "We are not seeking the bomb."
On the sidelines of the summit, European Union foreign policy chief Catherine Ashton, Clinton and the foreign ministers of Britain, China, France, Germany and Russia met Wednesday to try to find a solution to the long-running dispute over Iran's nuclear ambitions. They urged Iran to come to the table for a new round of talks, and said it remained essential for Iran to prove its nuclear program is peaceful. Talks with Tehran reached a stalemate last October, after Iranian officials tried to renegotiate an agreement to ship most of its low enriched uranium out of the country, to be turned into fuel for a research reactor.
In their meeting on Wednesday, Secretary of State Hillary Clinton and the other ministers said they still want to engage with Iran on a fuel swap for its research reactor. They backed the readiness of U.N. nuclear agency chief, Yukio Amano, to convene a meeting.
Obama devoted much of his speech Thursday to building confidence in his administration's efforts to shepherd the Middle East peace talks.
"Talks should press on until completed," Obama said. "Now is the time to build the trust -- and provide the time -- for substantial progress to be made. Now is the time for this opportunity to be seized, so that it does not slip away."
He added: "Peace must be made by Israelis and Palestinians, but each of us has a responsibility to do our part as well."
Palestinian President Mahmoud Abbas, whom Obama praised in his speech, is threatening to walk out of the talks if Israel does not extend a slowdown on construction of Jewish settlements in the West Bank that is set to expire next week. Netanyahu has said he will not extend that partial freeze.
The looming expiration appears to have stalled the negotiations, which got under way in early September in Washington between Abbas and Netanyahu and then moved to a second round in Egypt and in Jerusalem last week. That second round ended inconclusively with little visible progress and without an expected announcement of a third session.
Clinton and the administration's special Middle East peace envoy George Mitchell have been meeting with officials from both sides and other interested parties this week in New York to press the agenda forward but seem to have made little headway.
The meeting comes on the heels of a three-day summit to promote the achievement of U.N. anti-poverty goals by the 2015 target that wrapped up late Wednesday night. Presidents, prime ministers and kings from many of the U.N.'s 192 member states who attended the summit are remaining in New York and will shift gears to other world issues from the continuing impact of the global financial crisis to terrorism and nuclear proliferation at the ministerial meeting.
On the summit's last day, nations pledged more than $40 billion to battle needless deaths among poor mothers and their children. But the struggling world economy, particularly in the United States, raises deep concerns that the cash won't be forthcoming. Leaders exhorted financial donors to fulfill their aid commitments.
The Associated Press contributed to this report.