Obama Offers Moral Support to FEMA Workers Coping With Irene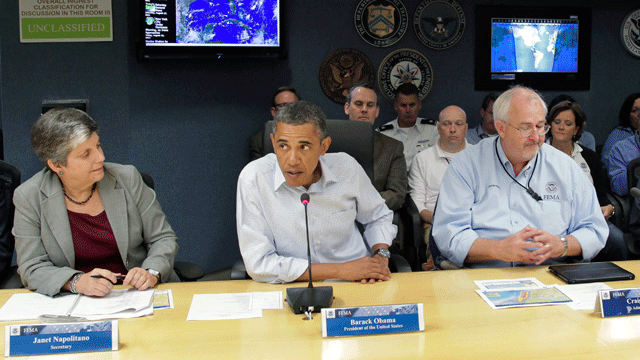 NEWYou can now listen to Fox News articles!
President Obama on Saturday offered moral support to federal emergency management workers hunkered down for Hurricane Irene's weekend march up the East Coast and 6,500 troops were put on standby in case they are needed for post-storm relief work.
"Everybody here, you guys are doing a great job," Obama told dozens of workers during a visit to the Federal Emergency Management Agency's command center. Fully activated and operating around the clock, the center helps coordinate the national response to natural disasters.
Defense Secretary Leon Panetta, meanwhile, told 6,500 active-duty troops to be prepared to help with relief efforts after Irene passes. Panetta issued a prepare-to-deploy order for troops from all branches of the military, spokesman George Little said.
The request for the possible help came from states in the path of the storm.
At the National Response Coordination Center, Obama said he was monitoring the situation closely. He was accompanied by FEMA Administrator Craig Fugate, Homeland Security Secretary Janet Napolitano and his assistant for homeland security, John Brennan. He thanked the workers, who sat at computer stations clad in red or blue vests, for their efforts.
Obama said he got an encouraging response during conversations Friday with governors and mayors from affected states when he asked what else they needed to prepare.
"There was quiet on the phone and that was a good sign," he told the workers.
"This is still obviously going to be a touch-and-go situation for a lot of communities, but knowing that they've got an outstanding response team like this will make all the difference in the world," he said. "Especially because you all are not going to get any sleep for the next 72 hours or so."
Obama's emergency management team updated him on the storm Saturday morning before the trip to FEMA headquarters, the White House said. He asked to be alerted to developments as the hurricane churned up the Eastern Seaboard.
Obama shortened his vacation on Martha's Vineyard, Mass., and returned to Washington late Friday, several hours earlier than planned, because of the storm.
The president also participated in a daily video conference at FEMA with federal and state agencies involved in preparing for and responding to natural disasters. He said he had heard a lot of concerns about flooding and power outages.
"It sounds like that may be an enormous strain on a lot of states," Obama said during a brief portion of the conference open to media.
He said the government is aiming to be as effective with the response and recovery after Irene as it has been with preparations before the storm became a threat to the U.S.
"It's going to be a long 72 hours and obviously a lot of families are going to be affected," the president said.