Obama hits Russia with more sanctions, hints at extending Iran's nuclear deadline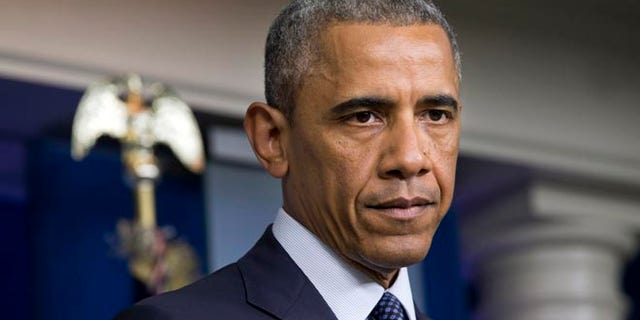 President Obama on Wednesday announced new sanctions against Russia for its involvement in Ukraine and other foreign policy moves in response to several international concerns across the Middle East.
"We live in a complex world and at a challenging time," Obama said from the White House. "And none of these challenges lend themselves to quick or easy solutions, but all of them require American leadership. And as commander in chief, I'm confident that if we stay patient and determined, that we will, in fact, meet these challenges."
The president said the new sanctions against Russia -- which hit major Russian banks and lucrative energy and defense entities -- are in large part for allowing weapons to cross into Ukraine and other involvement in that country.
"I have repeatedly made it clear that Russia must halt the flow of weapons and fighters across the border into Ukraine," Obama said. "I have made this clear directly to [Russian President] Putin."
Obama also said that Iran has made significant efforts to fulfill its promise to scale back its nuclear program -- including international inspections -- ahead of a July 20 deadline. But he said he will talk with Congress in the coming days about whether to extending the deadline, saying there are still "significant gaps."
The president said he supports Israel's efforts to defend itself against militant group Hamas' rocket attacks but stress the United States supports a diplomatic solution and cease-fire agreement being brokered largely in Egypt.
And he hailed the two finalists in Afghanistan's presidential election recently agreeing to an international audit of more than 8 million votes to decide a winner. Obama said their commitment was a major step toward Afghanistan having its first Democratic transfer of power in the history of that nation.
The Russian sanctions are the most recent move by the Obama administration -- along with other Western countries -- to punish Russia for annexing the Crimean Peninsula from Ukraine and allegedly backing pro-Russian rebels that have occupied buildings elsewhere in eastern Ukraine.
Ukraine residents ousted pro-Moscow President Viktor Yanukovych and have since tried to form a more Democratic government. In May, residents elected businessman Petro Poroshenko, who has pledged to work with Western allies.
The penalties significantly expand on previous U.S. sanctions, which hit Russian individuals and companies with travel bans and asset freezes.
But they stop short of fully cutting off key Russian economic sectors -- a step U.S. officials said they were continuing to hold in reserve in case Moscow launches a full-scale invasion of Ukraine or takes similarly provocative actions.
The Treasury Department sanctions target two major Russian energy firms, Novatek and Rosneft, and a pair of leading Russian financial institutions, Gazprombank and VEB, restricting their ability to access U.S. capital markets.
Eight Russian arms firms responsible for the production of small arms, mortar shells and tanks were also hit with sanctions.
Included on the sanctions list were four individuals: Putin adviser Igor Shchegolev, Russian State Duma Deputy Speaker Sergei Neverov, Ukrainian separatist leader Aleksandr Borodai and Sergey Beseda, an official with Russia's Federal Security Service, the intelligence agency that replaced the KGB after the collapse of the Soviet Union.
European Union leaders also on Wednesday ordered tougher sanctions against Russia, asking the European Investment Bank to sign no new financing agreements with Moscow.
The leaders, meeting in Brussels, also agreed to act together to suspend financing of the new European Bank for Reconstruction and Development operations in Russia. They also signaled their willingness for the first time to go after Russian companies "that are materially or financially supporting actions undermining or threatening Ukraine's sovereignty, territorial integrity and independence."
They ordered their foreign ministers to draw up a list of such people or entities by the end of July.
In a decision that could affect Russian oligarchs or members of the Kremlin inner circle, the EU leaders also asked the ministers to consider targeting people or companies "who actively provide material or financial support to the Russian decision-makers responsible for the annexation of Crimea or the destabilization of Eastern Ukraine."
Until now, the EU had targeted 72 people in Ukraine and Russia with asset freezes and visa bans, as well as two Crimea-based companies whose assets in EU member countries were ordered frozen.
The ramped-up sanctions indicated European leaders' exasperation over Russia's failure to heed the demands they made at their last summit on June 27 to take specific actions to end the armed pro-Moscow revolt in Ukraine's east.
The leaders also asked the EU's executive arm, the Commission, to consider on a case-by-case basis whether EU-Russian cooperation programs with Russia should be suspended, except those dealing with cross-border cooperation and security. They also requested recommendations on how to restrict investment in Crimea, which the EU accuses Moscow of annexing illegally by force.
Also Wednesday, the Pentagon said that Russian combat troops are again building up along the border with Ukraine.
U.S. officials said they also believe Moscow may be sending heavy weapons into the country to aid the separatists.
Ukraine and the West have accused Russia of fomenting the insurgency by sending troops and weapons, including tanks and rocket launchers, something Moscow denies.
The Associated Press contributed to this report.