Obama Hits Campaign Trail in Connecticut to Stump for Blumenthal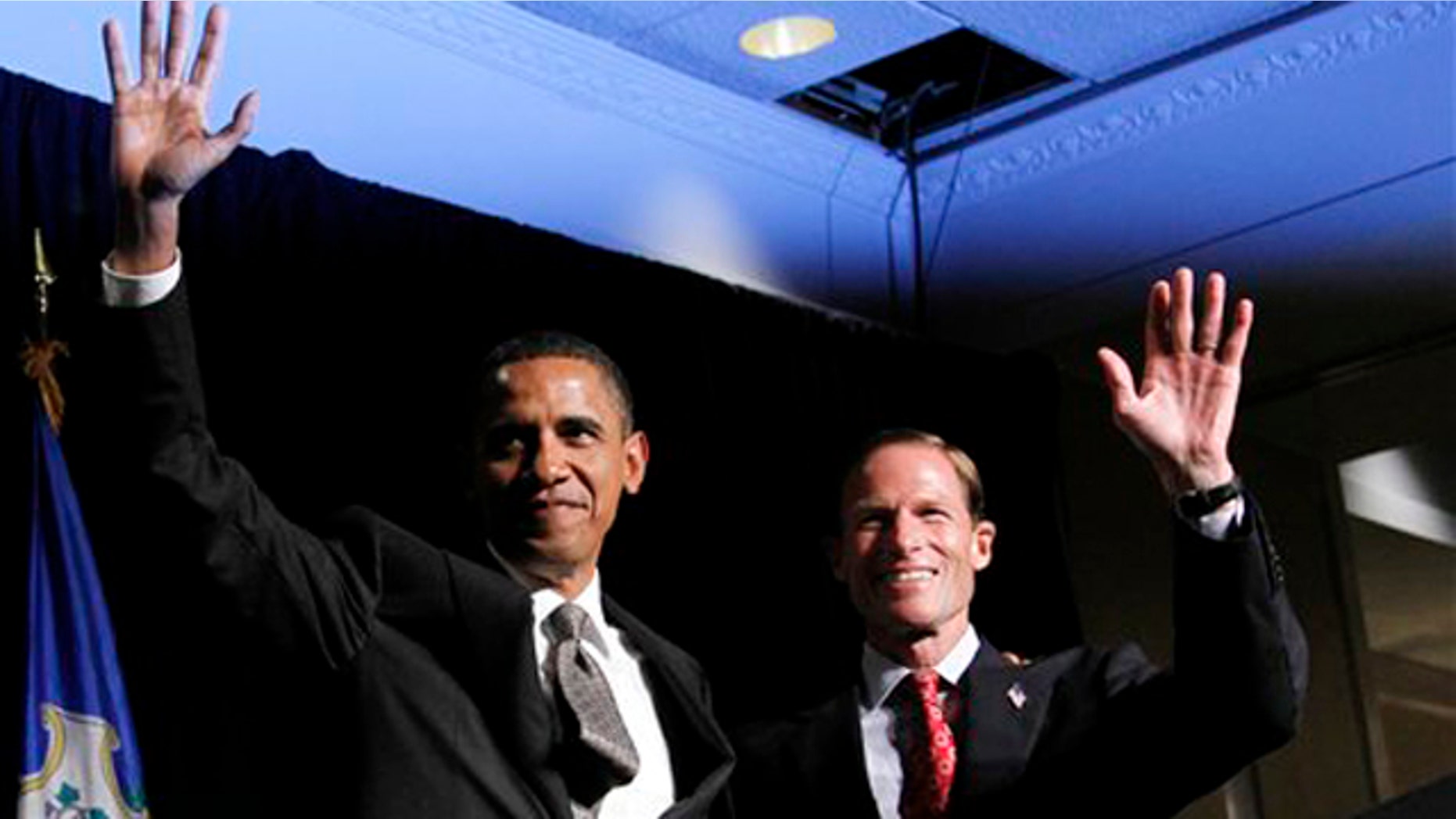 President Barack Obama waded into Connecticut's hard-fought Senate race on Thursday, hitting the campaign trail to raise money for state Attorney General Richard Blumenthal in his bid against Republican Linda McMahon.
Obama warned voters in the Nutmeg State against taking a chance on McMahon, a former professional wrestling executive. "Public service is not a game," Obama said in a swipe at the political newcomer.
"This is the kind of leader you want representing you, someone you know," Obama said of Blumenthal as they stood on stage in the ballroom of a Marriott Hotel in Stamford. "Somebody who doesn't just show up and try to get a victory by writing a big check and flooding the airway with negative ads."
Obama's visit offers Blumenthal the chance to add some much-needed money to his coffers to counter McMahon, who has pumped millions from her personal fortune into a campaign for the seat being vacated by retiring Democratic Sen. Chris Dodd.
In Greenwich, Obama attended a small dinner at the home of developer Rich Richman. Guests including movie director Ron Howard and television journalist Jane Pauley donated up to $30,400 each to raise just more than $1 million for the Democratic National Committee.
Earlier Thursday, McMahon offered tempered criticism of Obama, who won this reliably Democratic state in 2008 with 61 percent of the vote. Now, 51 percent of voters disapprove of his job performance, according to a recent Quinnipiac University poll.
"I think President Obama, in my view, has fallen far short of what the expectation was when he became president. We are further in debt, our deficit has grown, unemployment has grown," McMahon told the Associated Press. "From a leadership perspective, I think he has fallen short."
With faint praise for her opponent, she also played on the theme of Blumenthal as the ultimate self-promoter.
"He seems to be a pretty nice guy. ... I don't know him personally. I know of him. I have certainly seen his picture in newspapers and quotes and all of the press releases that have gone out over the years," she said. "He's very well-known, recognized around the state."
In response to a request for an interview prior to Obama's arrival in Connecticut, Blumenthal campaign manager Mindy Myers issued the following statement to Fox News: "Dick looks forward to welcoming the president of the United States to Connecticut. It's an honor to have the president's support, and his visit will help make a difference for our campaign by energizing our supporters and helping raise the resources we will need against our opponent, who is spending an unprecedented $50 million on her campaign."
McMahon was pushing ahead with a campaign designed to appeal to Democrats as well as Republicans. On Thursday evening, as Obama raised around $400,000 at the Blumenthal event to be split between Blumenthal and state Democrats, McMahon planned to visit the Spanish-American Merchants' Association to talk about small businesses, then glad-hand at a town fair in Willimantic.
Blumenthal's campaign is trying to counter McMahon's topflight political machine with one-on-one campaigning and by highlighting his record of challenging special interests and fighting corruption as attorney general.
An environment that is punishing experience and ties to the establishment -- traits Blumenthal does not deny -- make it tough for the four-decade veteran of Connecticut politics. A Quinnipiac poll released Tuesday showed him with a 51 percent to 45 percent lead over McMahon among likely voters. He had enjoyed a lead of 10 percentage points among registered voters in last month's poll and had been 17 points up in July's poll.
McMahon, whose family built massive wealth as owners of World Wrestling Entertainment, has pledged to spend $50 million on the race. She is blanketing the state with ads and packing mailboxes with fancy brochures. Blumenthal's campaign officials acknowledge they can't match that.
Fox News' Mike Emanuel and the Associated Press contributed to this report.