Obama: Fed Action Not Designed to Weaken Dollar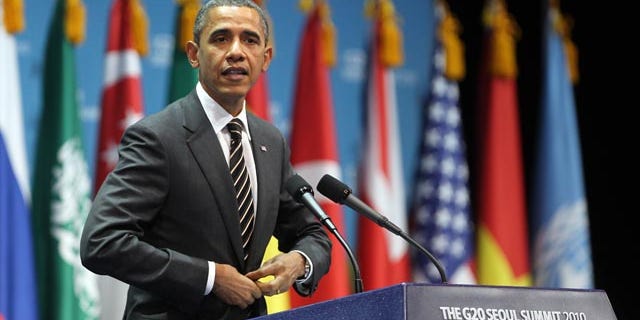 NEWYou can now listen to Fox News articles!
SEOUL, South Korea -- Staking his ground in the global fight over the world's major currencies, President Obama on Friday disputed claims the U.S. was deliberately weakening the dollar, while accusing China of manipulating its yuan.
Obama said the decision by the Federal Reserve to pump $600 billion into the U.S. economy was designed to give a boost to a slow recovery and address fears of deflation. Germany and other members of the Group of 20 of the largest economies meeting here this week have complained the infusion of cash will devalue the dollar and hurt their exports to the United States.
The Fed operates independently from the executive branch and Obama has been careful to avoid interfering in its actions. But he broke from his policy of not commenting on the Fed decision to respond to those complaints.
"From everything I can see, this decision was not one designed to have an impact on the currency on the dollar, it was designed to grow the economy," Obama said at a news conference following the G-20 summit.
He added: "There was some concern that we had very low inflation, that a huge danger in the United States is deflation and that we have to be mindful of those dangers going forward."
At the same time, Obama said China's currency is undervalued and is an "irritant" to the U.S. and other trading partners. Obama said he raised the issue with President Hu Jintao during a private meeting Thursday. Obama said the two will meet again in January when Hu visits Washington.
China "spends enormous amounts of money" to keep the yuan undervalued, the president said, adding Beijing must, "in a gradual fashion," let markets set the currency's value.
"My hope and expectation is that we will see progress on this front," Obama said. "It means some adjustments for China, so we understand that this is not solved overnight, but it needs to be dealt with."
If Obama hoped for more pointed prodding from other G-20 nations, he didn't get it. A joint agreement issued by the G-20 broadly called for countries to "move toward more market determined exchange rate systems" and to "refrain from competitive devaluation of currencies."