Obama, Congress avert gov't shutdown, focus on taxes, spending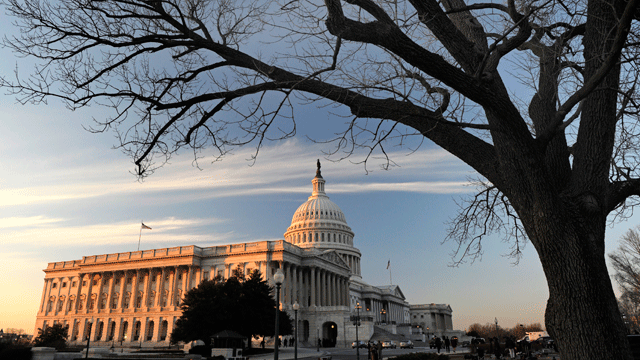 NEWYou can now listen to Fox News articles!
Avoiding the high drama of recent year-end budget fights, President Obama signed legislation Friday keeping government agencies open into next week, giving White House and congressional bargainers more time to complete sweeping deals on taxes and federal spending.
Facing a midnight deadline, Obama signed the measure keeping government afloat through Wednesday just hours after the House used a voice vote to send it to him. The Senate approved the bill a day earlier, its easy sojourn through Congress underscoring that neither party saw reason to risk a government shutdown battle.
Lawmakers voted for the short-term measure to allow more time on twin year-end deals that come with dozens of unresolved issues.
Ahead of Friday's vote, Democrats criticized majority Republicans for running up against a government shutdown deadline yet again, requiring passage of the so-called "continuing resolution" to keep agencies funded through next Wednesday.
"Even after we pass this CR, today we'll be just five days away from a government shutdown. That's no way to run the greatest, freest country on the Earth," Rep. Jared Polis, D-Colo., said on the House floor.
Republicans countered that Democrats were just as much to blame for disputes that stalled the 12 annual spending bills that fund government and resulted in them being mashed together into a giant trillion-dollar-plus "omnibus" spending bill.
GOP Rep. Tom Cole of Oklahoma called on lawmakers to "give the American people what they deserve -- some peace, quiet, and certainty in the Christmas season, and then come back here next year with an opportunity to build on this."
Unresolved issues include policy disputes over environmental and other issues that lawmakers of both parties are trying to attach to the must-pass spending legislation. Republicans are seeking to lift the oil export ban and roll back various Obama administration regulations; Democrats are maneuvering to protect Obama's environmental rules and enact permanent tax credits for wind, solar and other renewable energy.
"We're not going to get everything we want in negotiations. The Democrats aren't going to get everything they want in negotiations," House Speaker Paul Ryan, R-Wisconsin, told reporters Thursday. "But I believe that we will successfully complete these negotiations."
Under current law, government funding expires Friday at midnight, when the last short-term spending bill expires. Even as the House prepared to follow the Senate's lead and extend that deadline through Wednesday Dec. 16, Ryan allowed that even more time might be needed.
"I'm not going to put a deadline on it," he said. "I want to make sure that these negotiations are done well and done right, and not by some arbitrary deadline."
Ryan assured lawmakers from Northeastern states that legislation extending health benefits and a compensation fund for 9/11 first responders would be made part of the spending bill. The spending legislation, which funds the government through the 2016 budget year, has become increasingly intertwined with the tax bill, which could deliver a political victory for both sides.
Uncertainty remained as to whether lawmakers would pull off a major tax bill with permanent extensions benefiting both sides, or simply opt for a two-year extension of existing tax breaks. With Congress' legislative year drawing to a close, lawmakers were eager to finalize their work and head home for the holidays.
"Everything is tenuous right now. We've had meetings, there's no finality," Senate Minority Leader Harry, D-Nev., said late Thursday. He said sticking points relate to labor and environmental issues, and a campaign finance provision pushed by his Republican counterpart, Majority Leader Mitch McConnell of Kentucky, to lift certain spending limits by party committees.
A two-year budget and debt deal passed earlier this year set the overall spending levels, but that left it up to the powerful Appropriations Committee to allocate the money ahead of the deadline for a partial government shutdown. The final areas of contention are the so-called "riders," the policy issues that lawmakers like to add to must-do bills.
Sen. Barbara Mikulski of Maryland, top Democrat on the Senate Appropriations Committee, said negotiators were down to about 40 riders after starting with 202. She contended Democrats proposed just a few, "and ours were very reasonable."
House Democrats, looking to draw attention to their push for gun control legislation, emphasized a new demand as they announced their opposition to any bill that doesn't undo a longstanding provision that has been interpreted to block the Centers for
Disease Control from conducting research on gun violence.
"My understanding from them is they need Democratic votes to pass it. So we will have to come to terms to do that," said House Minority Leader Nancy Pelosi of California. "Don't expect us to vote for a bill that has a ban in it. Take the ban out."
Fox News' Chad Pergram and The Associated Press contributed to this report.