Obama Compares Puerto Rico Economy to U.S. Economy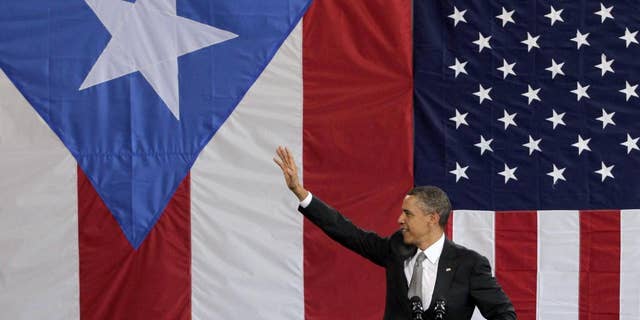 NEWYou can now listen to Fox News articles!
Speaking in San Juan, Puerto Rico Tuesday morning, President Obama addressed the struggles of the island territory since the recession started and linked them to those of other Americans.
"A lot of folks are asking some of the same questions here on the island as they're asking in Indiana or California or in Texas," Obama said, "How do I make sure my kids get the kind of education that they need? How can I put away a little money for retirement? How can I fill up my gas tank? How can I pay the bills?"
And the president offered a familiar response to these questions saying, "these problems didn't develop overnight here in Puerto Rico or anywhere else."
But Puerto Rico was struggling even before the recession, with unemployment at 11.3 percent when candidate Obama visited in 2008. That rate has only climbed since then and today Puerto Rico's unemployment is over 16 percent.
The president says his economic plan and healthcare reform also includes help for Puerto Rico. "We're giving Puerto Ricans the tools they need to build their own economic futures."
Obama highlighted some of Puerto Rico's success in adapting energy efficiency as part of investments for long term savings and growth. Similar to American companies adapting clean and renewable energy, the president praised a recent green roof project calling it "one more step toward creating a clean energy economy."
But he acknowledged there is much work to do. Speaking to the 4 million Puerto Ricans on the island, and another 4 million Puerto Ricans who reside in the United States, President Obama pushed for change and new ideas in both Puerto Rico and the United States, so both nations can win the future.
"With each passing decade, with each new challenge, we reinvent ourselves," he said. We find new ways to solve our problems."