Obama Chic: Finding the Perfect Pooch in a Shelter Will Be a Tough Task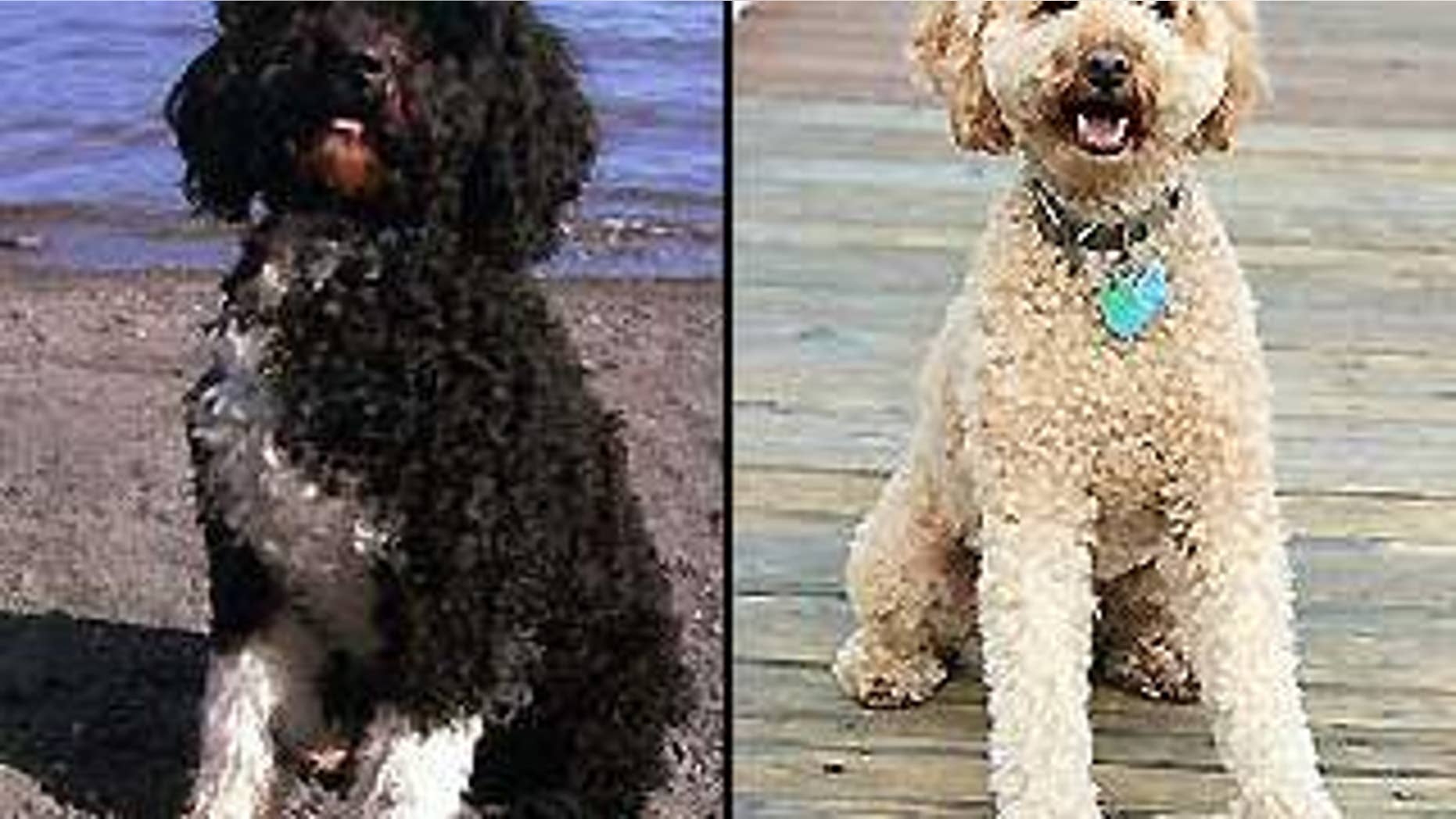 More than two months after President-elect Barack Obama promised his young daughters that they'd rescue a dog from a shelter and give it a home in the White House, the first family-to-be has narrowed its choice down to two breeds -- neither of which is likely to be found in a pound.
Obama said Sunday that the presidential pooch will be either a Labradoodle or a Portuguese water dog, both of which are non-shedding dogs, which is important to the family because their 10-year-old daughter, Malia, is allergic.
In a FOX Forum poll conducted Monday, 59 percent of respondents recommended the Obamas choose a Labradoodle, while 41 percent said they preferred the Portuguese water dog.
But breeders and shelter operators say those breeds are expensive, and not often found in a pound. And even if the Obamas get lucky, the dog will almost certainly will be the Labradoodle, which is a crossbreed between a French poodle and a Labrador retriever. And even that will be very hard to find.
The Washington Humane Society didn't have any Labradoodles or Portuguese water dogs in its shelters on Monday. But the organization's two shelters take in more than 30 animals a day, so it's a good time for the Obamas to be looking, said Tara de Nicolas, the society's director of communications.
"You do usually see, after the holidays, the people who give pets as gifts," she said. "Within a month or so after Christmas you start to see those animals surrendered across the country. It's very probable we could see those breeds come through the door any day. We do see poodle mixes most often."
But a Portuguese water dog is not as common.
Lou Guthrie, president of the Portuguese Water Dog Club of the Carolinas and a long-time breeder, told FOXNews.com that it is very unlikely that the Obamas will find a purebred Portuguese water dog in a shelter.
"We try to do everything we can to prevent Portuguese water dogs from winding up in shelters," Guthrie said. "The minute we hear about one in a shelter, we all rush to collect it out of the shelter. My contracts, and most Portuguese water dog breeders' contracts, are going to say that if you have to give the dog up, it comes back to them. I even give money back so that it won't end up in a shelter."
Guthrie said it would make more sense for the Obamas to go to a breeder if they are looking for a puppy, because finding one in a shelter is very unusual. "Rescue tends to have older dogs that may have some problems or whose owners' circumstances have changed," she said.
Nonetheless, a Portuguese water dog, if the Obamas can find one, would be a good fit for the White House and an active young family, Guthrie said.
While they do love being active and in the water, "we generally consider them an inside dog, because they want to be with people all the time," Guthrie said. "You would find them in the Oval Office laying under the desk in their down time. Mine usually are at my feet here at my desk."
About 30 percent of the dogs at the Atlanta Humane Society are purebreds at any given time, public relations manager Kari Bogison told FOXNews.com, though she has seen few Portuguese water dogs come through the shelter.
But there have been some Labradoodles, and rescue groups exist for both breeds.
"If everyone is pushing them to adopt, I'm sure the Labradoodle rescue groups will want to give them a dog," Bogison said. "Every shelter in the country wants to be the one to give them their dog."
The North Shore Animal League America in Port Washington, N.Y., has neither a Labradoodle nor a Portuguese water dog in its shelters right now -- but it has in the past -- according to Joanne Yohannan, senior vice president of operations.
"It's likely that the Obama family will be able to find this kind of dog in a shelter," Yohannan told FOXNews.com.
Finding a Labradoodle is likely to be easier, according to Joanne Cousins, spokeswoman for the International Doodle Owners Group, a network of volunteer rescuers based in Indianapolis.
"Since [Obama] first made that announcement, I can't tell you how many people have been e-mailing us and calling us to get the Obamas a dog," Cousins said. "I have a couple of really cute looking puppies going to the vet this afternoon. I can send done of those to the Obamas. It's very likely that they will be able to find a great dog in rescue."
Labradoodles have increased in popularity and there are over 600 breeders in the country, Cousins said. That means more dogs wind up in shelters, as owners fed up with ruined furniture and chewed shoes give them away.
"We see a lot of dogs -- beautiful dogs, sometimes -- in the shelters because people say the dogs are hyper," Cousins said.
Labradoodles from disreputable backyard breeders can cost as little as $20, Cousins said. Puppy mill dogs sold in pet stores tend to cost between $1,000 and $1,200, and high-end breeders charge as much as $2,500 for the crossbreed.
The group has gone from finding 20 or 30 Labradoodles in shelters at any give time to finding as many as 300, and Cousins said she worries the Obama-bump being given to the breed will make the problem worse.
"I would love to put a dog in the White House. The downside of it is that we were just starting to see the tail end of this designer dog fad," she said. "We're worried now that there will be a whole new surge of popularity for these dogs and that some of the craziness might start again."
The White House, meanwhile, is prepared for a new presidential pup, regardless of breed.
"It's a personal decision by all means," said Sally McDonough, press secretary for first lady Laura Bush. "The White House is a home to the first family, and like a lot of American homes, pets are very much a part of it. The White House works to accommodate that decision and not vice versa."