Obama Campaign Rejects Claim Biden May Be Replaced by Cuomo on 2012 Ticket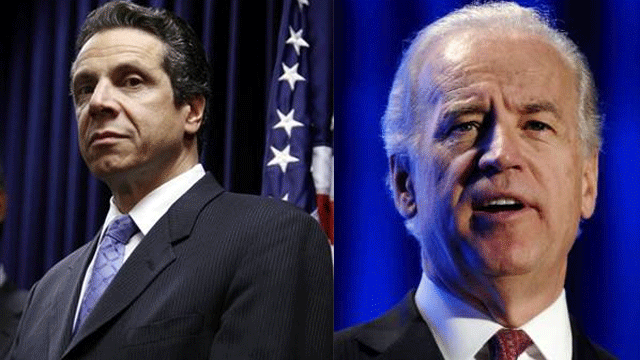 Vice President Joe Biden is on the 2012 re-election ticket, President Obama's aides said Tuesday after a report suggested that the campaign may be willing to replace him with New York Gov. Andrew Cuomo.
The New York Post reported that Cuomo, who was elected governor in November 2010, is having a great year. Some in the state GOP even say he'd be an asset to the president.
"I don't think there's any doubt Obama is going to pick him as his running mate. The president is in trouble and Biden doesn't bring anything to his ticket," said William Powers, a former New York Republican Party chairman, according to The Post.
But the claims that Cuomo will be called up to serve may just be a "trial balloon" out by Albany rather than Washington, said K.T. McFarland, a Fox News national security analyst who ran as a Republican in 2006 for the New York Senate seat.
Rumors of mid-campaign replacements are usually just that. Cuomo, however, has not denied an interest in higher office, and was noticeably quiet after predictions were made last week that he could run for president in 2016.
Biden may not be out on his nose if a replacement were made. He could take Hillary Clinton's position as secretary of state as she has previously indicated she's nearly ready to retire from the fast-moving position as the nation's top diplomat.
A source familiar with Cuomo's thinking jokingly told The New York Post that if the president called, "He won't answer." While some voters might be annoyed to have him leave New York only two years into his four-year term, Cuomo might also have little incentive to run for vice president, especially if Obama were to lose.