Obama, Bush mark Tanzania embassy bombings at memorial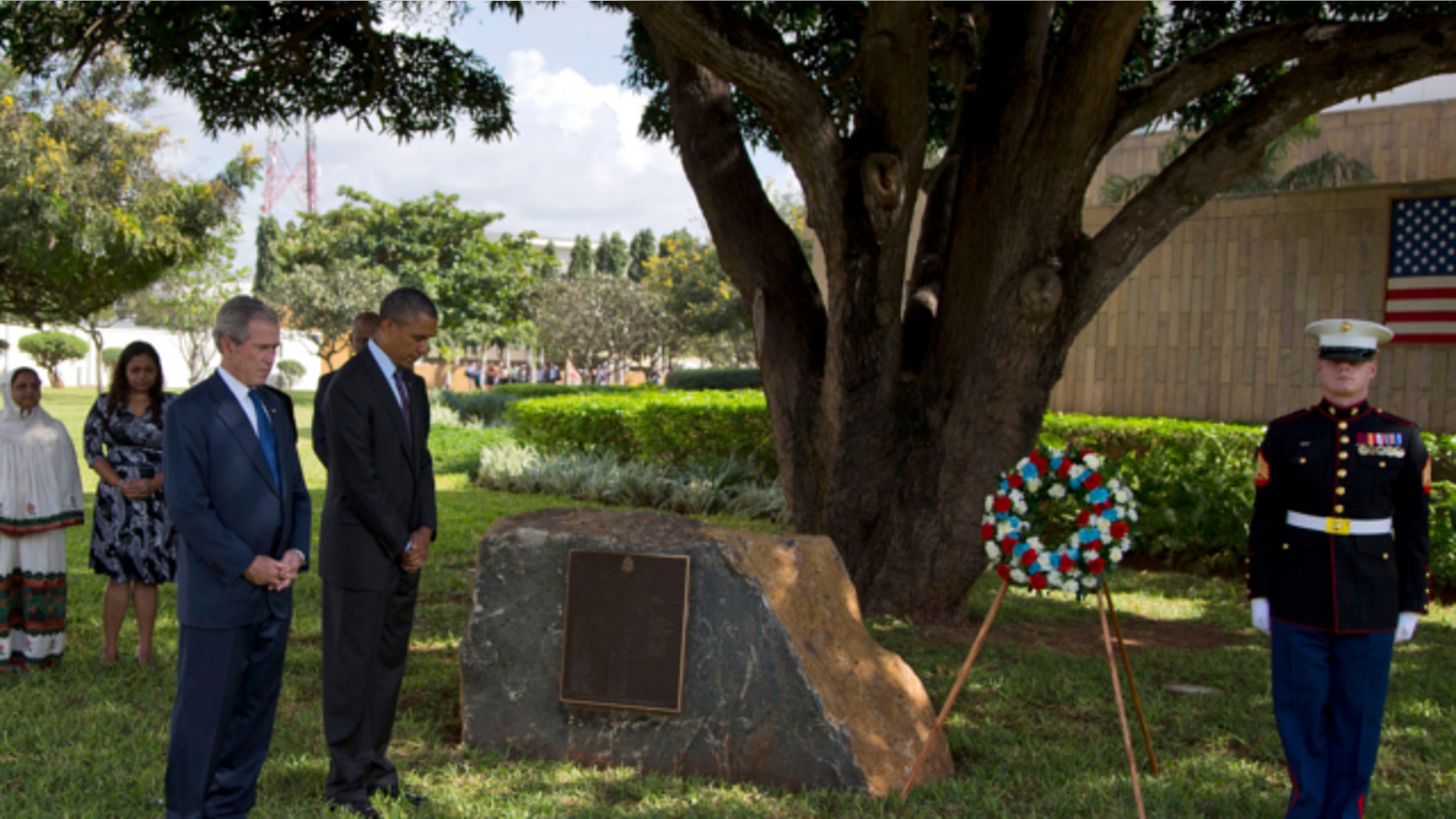 President Obama and former President George W. Bush gathered Tuesday at a memorial for Americans killed in the U.S. Embassy bombing in Tanzania nearly 15 years ago.
Obama and his Republican predecessor laid a wreath in honor of the 11 Americans who died in the attack masterminded by Osama bin Laden, along with a near-simultaneous bombing at the U.S. Embassy in neighboring Kenya.
Both were in the same coastal city of Dar es Salaam promoting development on the continent by coincidence. Obama is on the final day of a weeklong tour of the continent, while the George W. Bush Institute is hosting a two-day summit on African women.
Initially the two men had no plans to meet, but the White House announced Monday that they would participate in the memorial. It was a rare joint public appearance by the two presidents.
Both men bowed their heads after a Marine placed the wreath on a stand. They shook hands with victims and family and walked back to the embassy together. The ceremony lasted minutes; neither man made any public comments.
Meanwhile, first lady Michelle Obama and Laura Bush planned to appear together on a panel at the conference on empowering African women. President Bush plans to deliver his own speech there Wednesday, after the Obamas have returned to Washington.
Obama has credited Bush with helping save millions of lives by funding AIDS treatment. "I'm looking forward to being able, on African soil, to once again thank him on behalf of the American people for showing how American generosity and foresight could end up making a real difference in people's lives," Obama said Monday.
But Obama also said he wants to change the approach the U.S. takes with Africa. "We are looking at a new model that's based not just on aid and assistance, but on trade and partnership," he said.
"Ultimately, the goal here is for Africa to build Africa for Africans," Obama said. "And our job is to be a partner in that process."
In that spirit, Obama has announced a new trade agreement with eastern African nations and a program to bring more power to Africans who don't have access to electricity. His final event Tuesday is a speech at Tanzania's Ubungo Power Plant, which was funded by a U.S. grant and built by American corporations Symbion and General Electric.
"There's enormous potential here in Tanzania to start getting electricity out into villages in rural areas, more reliable service that can then power manufacturing, power new businesses which creates more jobs, creates more demand," Obama explained.
The Associated Press contributed to this report.