Obama, Biden Stump in Buckeye State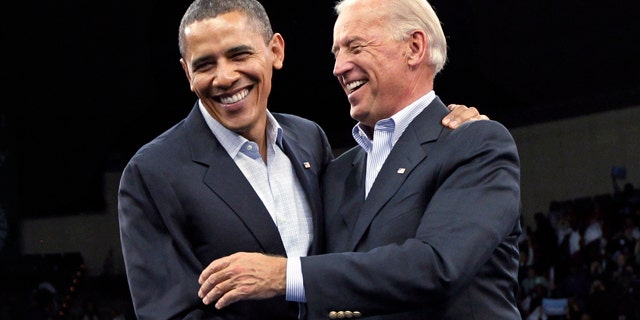 WASHINGTON -- President Barack Obama took his soaring campaign rhetoric to Ohio on Sunday -- bashing the opposition and imploring Democrats to go to the polls -- as he wound up a four-state campaign swing designed to stem an expected Republican tide in Tuesday's congressional election.
Obama and his Democrats have a hard sell in an election year where the jobless rate remains stuck near 10 percent under the weight of an economy that is only creeping out of a deep recession. Millions of Americans have lost their homes -- what amounts to their life savings -- in mortgage foreclosures.
That was a message foremost on the mind of former Alaska Gov. Sarah Palin in a Sunday morning television appearance. The 2008 Republican vice presidential nominee said voters would be sending Obama and his Democrats a sobering message: "You blew it, President Obama. We gave you the two years to fulfill your promise of making sure that our economy starts roaring back to life again."
The president, however, said he was not giving up hope that Democrats will beat the bad odds on Election Day, keeping the party on track to move forward with reforms he promised in his winning campaign for the White House two years ago. He acknowledged, however, the uphill battle facing Democrats.
"Don't let anybody tell you this fight isn't worth it," Obama told the friendly crowd at Cleveland State University, ticking off the accomplishments of his first two years in office. "It's always been hard to bring about change."
Obama was pushing hard for Democrats in swing-state Ohio, in particular Gov. Ted Strickland who is in danger of losing office to Republican John Kasich, a former congressman.
As in many swing states, a Strickland loss would have many ramifications beyond the state in 2012 when Obama is next on the ballot. Ohio will lose two House seats because of the 2010 census, and the governor there will help oversee a redistricting process that may be fiercely partisan. Governors also can direct substantial political resources to the presidential contender of their choice, and Ohio is the state that decided the 2004 presidential race in favor of George W. Bush.
In his adopted hometown of Chicago on Saturday, the president repeated his oft-stated message, telling thousands of supporters at a nighttime outdoor rally that "it's up to you to let them know that we have not forgotten, we don't have amnesia."
But Democrats' continual reminders that the country's economic misery began during Bush's administration has not helped Obama's party. Democrats are widely expected to lose at least 40 seats and their majority in the House of Representatives, where all 435 seats are on the ballot.
Before heading to Cleveland, the president stopped by the Valois Cafeteria near his home in Chicago's Hyde Park neighborhood for breakfast. He told reporters he felt good about Democrats' chances, provided that voters turn out in large numbers.
"Obviously the other side is enthusiastic," Obama said as he ordered pancakes, eggs and turkey sausage, to go, in the noisy cafe. "We've got to make sure our side is too."
Also at stake are 37 places in the 100-seat Senate and governorships in 37 states. Republicans are expected to considerably shrink the Democrats' edge in the Senate, but fall short of the 10 seats they need to regain the majority they lost four years ago. Republicans were likewise expected to pick up several governors' seats.
Obama and the Democrats can boast of major legislative achievements during the first two years of his presidency -- a major overhaul of the U.S. health care system and new tougher regulations on the financial industry -- but those accomplishments are complex and hard to turn into simple campaign sales pitches.
Republicans, on the other hand, are running on the promise of smaller government and low taxes. That's a message that has resonated with many angry and anxious American voters. Republicans also have been helped by the enthusiasm of the ultraconservative tea party movement that has blossomed in this election. Its candidates are running under the Republican banner.
Obama's final campaign tour included stops in states he carried in 2008 -- Pennsylvania, Connecticut, Illinois and Ohio -- and where Democrats are struggling this year. From Cleveland he returns to Washington to celebrate the Halloween holiday with his two daughters and other children invited to the White House.
The president was joined in Ohio by Vice President Joe Biden, a sign of the importance the administration places on the pivotal swing state, where Democrats could lose as many as six House seats.
In his final get-out-the-vote pitch, Obama has been acknowledging the difficulties Democrats face.
"There's no doubt this is a tough election," he said Saturday during a campaign stop in Philadelphia, "because we have been through an incredibly difficult time as a nation."
Candidates were everywhere over the weekend, making their last-minute pitches for support.
Former President Bill Clinton, who has been criss-crossing the country to campaign for endangered Democrats, returned to Maine on Sunday to support Democrat Libby Mitchell as she and four other candidates for governor made a final push to get their backers to the polls.
Clinton's visit to the Lewiston Armory was his second stop in Maine in five weeks to campaign for Mitchell, who's is running third in the five-way race which is led by the Republican, tea party-favorite Paul LePage.
He praised Mitchell's record on jobs, education, energy and taxes, and urged young people to cast their ballots.
"Any young person who doesn't vote this Tuesday is playing Russian roulette with their future," he said.
Clinton was in Ohio earlier this weekend, on behalf of Strickland. He called Republican campaign pledges "a joke." He said, "Their deal sounds good but it doesn't work. ... Our ideas work better than theirs."