Obama Announces $2B in Grants for Clean Energy Jobs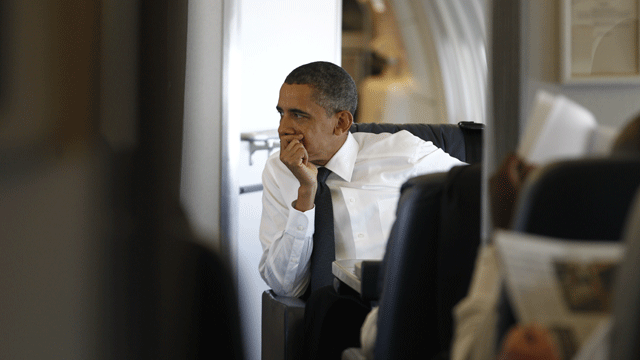 President Barack Obama announced Saturday a $2 billion commitment to solar energy companies with the hope of creating new jobs, in light of lackluster employment figures released Friday that bodes poorly for a swift economic recovery.
"The recession from which we're emerging has left us in a hole that's about 8 million jobs deep," Obama said in his weekly radio address. "And as I've said from the day I took office, it's going to take months, even years, to dig our way out -- and it's going to require an all-hands-on-deck effort."
Meanwhile, Republicans attacked Democrats for the national debt, which topped $13 trillion in May, in their own radio address. "At a time when many Americans are clipping coupons and pinching pennies, President Obama and the Democrats in Congress continue to spend money that they -- we -- do not have," said Sen. Saxby Chambliss (R-Ga.), who delivered the weekly GOP radio address.
The Obama administration has extended cash grants for clean energy products as part of the federal stimulus package.
"Already, I've seen the payoff from these investments," Obama said. "I've seen once-shuttered factories humming with new workers who are building solar panels and wind turbines; rolling up their sleeves to help America win the race for the clean energy economy."
The Energy Department is awarding nearly $2 billion in conditional commitments from federal stimulus funds to Abengoa Solar and Abound Solar Manufacturing. In return for the funds, Abengoa Solar has agreed to build what the administration says will be one of the largest solar plants in the world in Arizona. It will be capable of providing clean energy to 70,000 homes.
The Obama administration estimates the Arizona plant will create about 1,600 construction jobs, with more than 70 percent of the construction components and products used to build it manufactured in America.
Abound Solar Manufacturing agreed to build two new plants in exchange for the funds, one in Colorado and one in Indiana. The administration says these projects will create more than 2,000 construction jobs, and more than 1,500 permanent jobs as the plants produce millions of solar panels each year.
Meanwhile, Chambliss, in the Republican address, said the debt is a national security issue, since most U.S. debt is held by China. "Just as with our energy and food supplies, America is vulnerable when we disproportionately rely on other nations," he said. "It is a matter of great concern that we are in deep debt to countries that often don't share our values or positions."