Obama adviser Ben Rhodes slammed for tweet joking about GOP leaders' 'obits'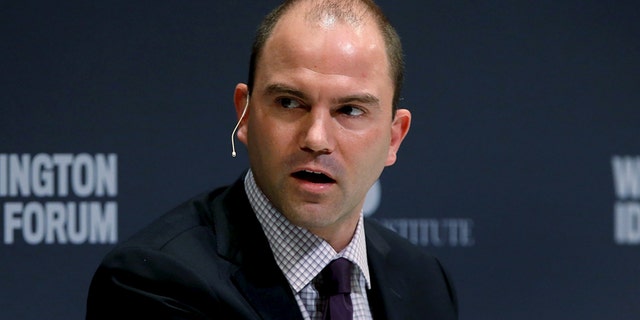 Obama adviser Ben Rhodes woke up Thursday to a wave of social media condemnation after a wee-hours tweet joking about the "obits" for top Republican leaders.
The tweet was in reference to a photo posted on President Trump's Instagram account showing him, Vice President Pence, House Speaker Paul Ryan, and Senate Majority Leader Mitch McConnell smiling and giving a goofy thumbs up in the Oval Office – apparently celebrating the passage of the GOP tax reform bill.
Dan Pfeiffer, another top Obama adviser, prompted the response from Rhodes after he tweeted of the pic, "I hope this is the photo they use on the front page of the Times on the day Trump is indicted."
Seven minutes later came the Rhodes repartee:
"And alongside the obits for Ryan, McConnell, and Pence."
Perhaps Rhodes – a vocal critic of the Trump administration – meant their political obituaries, a common phrase in Washington when referring to the hoped-for professional demise of one's ideological foes.
But the tweet landed with a thud.
AshLee Strong, Ryan's press secretary, fired back:
"Really? Obits? Irresponsible and dangerous tweet. Hope you see fit to delete this," she wrote.
Rep. Steve Scalise, R-La., who was seriously wounded in the shooting at a Republican congressional baseball practice in suburban Washington in June, chided Rhodes.
"You may want to reconsider your rhetoric," he tweeted.
Rhodes was a top foreign policy adviser under then-President Barack Obama, and was often said to have achieved a "mind meld" with the former president.
His tweet regarding the photo touched off a characteristically coarse – at times vile – thread of social media responses for all involved. While Rhodes was mocked for his tweet, Strong was also attacked for hers.
One user openly wished Ryan "dies," while another wished for an "excruciating, tortuous death in public so we can all watch and cheer."
Strong responded, "And if you have any doubts about what rhetoric like @brhodes' inspires, just look at the responses here."