Obama Administration Makes Emergency Funding Request for Teachers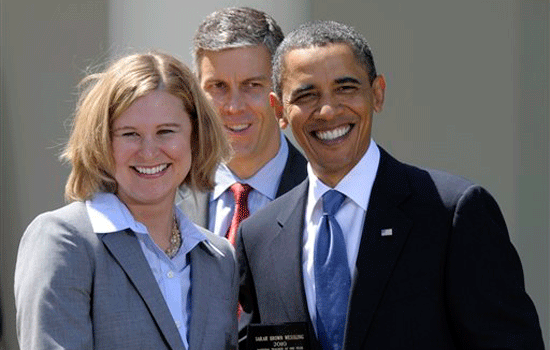 Despite President Obama's pledge for honest budgeting and billions of dollars in stimulus money spent to save teachers' jobs, the Education Department is asking for off-the-books emergency funding to keep local districts from laying off school teachers next school year.
Education Secretary Arne Duncan sent Democratic lawmakers a request Thursday to pass a $26 billion emergency supplemental to fund up to 300,000 teachers' jobs that he says will otherwise be lost in the fall.
Administration officials want to add the teacher funding to a $60 billion supplemental request sent to Congress to pay for ongoing military operations in Afghanistan as well as Haiti relief and money for the Federal Emergency Management Agency. The Senate Appropriations Committee passed that measure on Thursday but Committee Chairman Daniel Inouye, D-Hawaii, has said he is reluctant to load the bill with additional spending goodies.
The request comes just a year after an unprecedented $100 billion in federal stimulus money was allocated to school districts as part of the $863 billion recovery act. Of that amount, $48 billion was designated for saving teachers' jobs and investing in educational programs. Another $31 billion in stimulus funds were sent to states for Pell grants, competitive funds and programs helping disadvantaged students.
An additional $21 billion in stimulus money is still available but not yet obligated for district expenses, according to the U.S. Education Department.
An Education Department spokesman acknowledged that the stimulus funds have already saved roughly 300,000 teachers' jobs once, but an additional $23 billion more is needed to preserve education jobs, along with $1 billion in funds to save early childhood education jobs and an additional $2 billion to support public safety.
Education Department spokeswoman Sandra Abrevaya told FoxNews.com that the stimulus money has run nearly dry and the weak economy makes it necessary for additional funding.
"The funds are still being distributed but the vast majority has been awarded to states and states that have faced major local budget cuts over the last year and a half have used significant portions of those funds," she said.
"We are gravely concerned that ongoing state and local budget challenges are threatening hundreds of thousands of teacher jobs for the upcoming school year, with estimates ranging from 100,000 to 300,000 education jobs at risk," Duncan wrote in his letter to House Speaker Nancy Pelosi and Senate Majority Leader Harry Reid.
But some Republican lawmakers are wondering "when will it ever end?"
"I think that will be the reaction of the American people," Rep. Tom Cole, R-Okla., a member of the House Appropriations Committee, told FoxNews.com.
"We were told the stimulus package would fix these things. Clearly, it has not succeeded at that. At some point, some tough decisions have to be made at the local level -- spending cuts or reforms. I think it's not an appropriate role for the federal government to be involved indefinitely in these things," Cole said.
"This latest state bailout proposal promotes the same flawed logic as the failed 'stimulus' bill that has contributed to a record $1.5 trillion deficit and left one in every 10 Americans from our workforce out of work," House Minority Leader John Boehner said in a written statement.
"Giving states another $23 billion in federal education money simply throws more money into taxpayer-funded bailouts when we should be discussing why we aren't seeing the results we need from the billions in federal dollars that are already being spent," Boehner said.
During his presidential campaign, Obama slammed the use of emergency supplemental spending, which was repeatedly used as a tool in the Bush administration to pay for the wars in Afghanistan and Iraq.
When he unveiled his first budget last year, Obama pledged to bring "honesty and fairness" back to the budget process by getting rid of off-budget items that hide the real costs for government programs and proposed tax cuts.
"Because we're also suffering from a deficit of trust, I am committed to restoring a sense of honesty and accountability to our budget," the president said in remarks during a joint session of Congress in February 2009. "That is why this budget looks ahead 10 years and accounts for spending that was left out under the old rules -- and for the first time, that includes the full cost of fighting in Iraq and Afghanistan. For seven years, we have been a nation at war. No longer will we hide its price."
Cole said the habitual overspending by Washington has got to stop.
"I think we violate the pledge so routinely, it's ridiculous," Cole said. "The president, I don't think, has been open or fair in the budget process."
Abrevaya couldn't say how many of the 300,000 jobs that were saved by the stimulus package are now in peril again. But she acknowledged that it's possible teachers who were able to keep their jobs over the last year and a half due to the stimulus funding may now are now facing layoffs.
"So they're now facing another school year with persistent local budget problems and need additional assistance to avoid layoffs," she said.
Abrevaya added that officials expected the economy to be in a better position by now to maintain the teacher's jobs.
"Unfortunately, while there are signs of recovery, it's not significant enough on its own to help these local decision makers [avert] thousands of layoffs," she said.