NY lawmakers looking for ways to ban, regulate street performers taunting tourists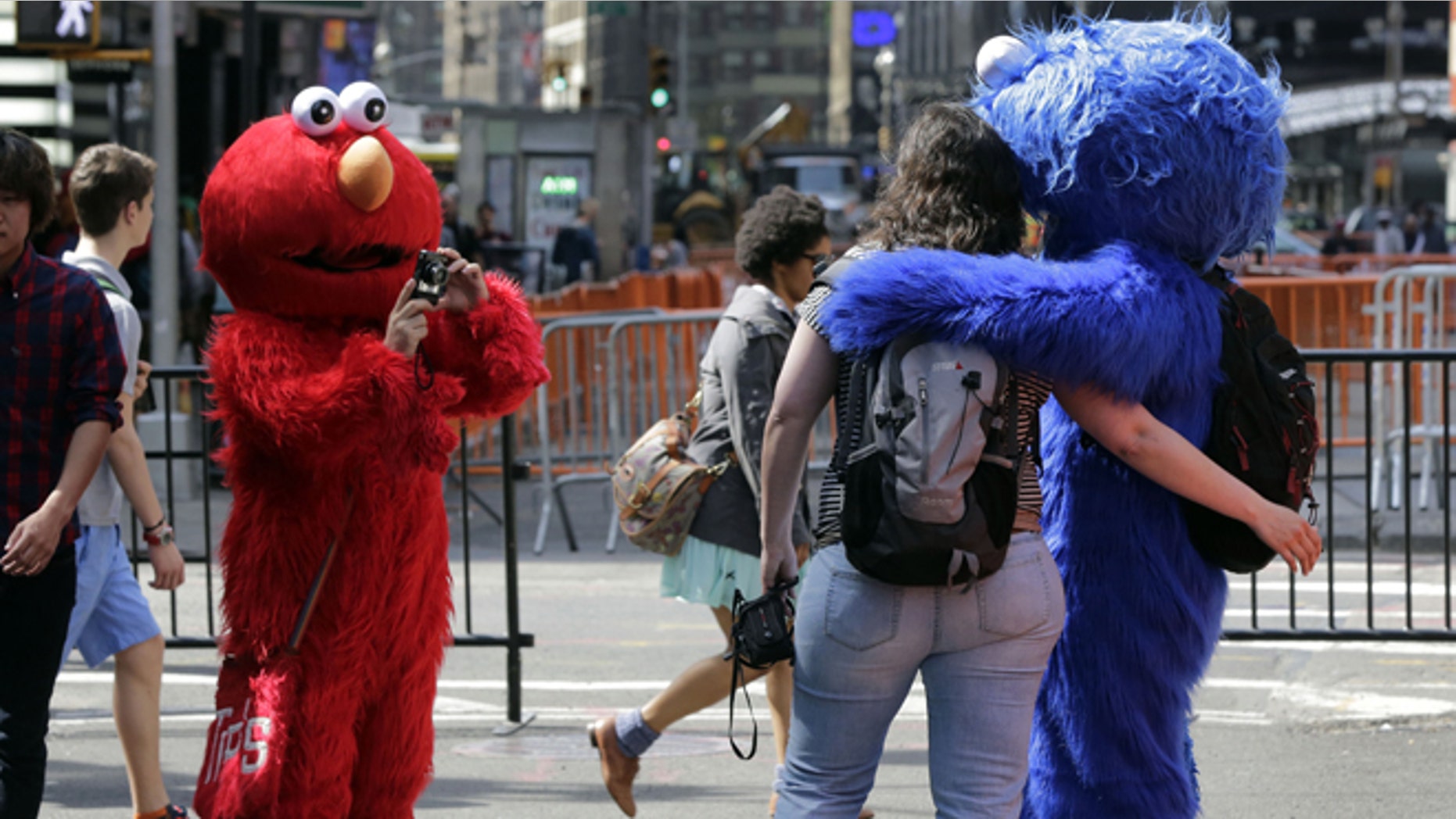 New York City Councilman Peter Vallone Jr. wants Elmo, Super Mario, Cookie Monster and other costumed copycats to stop harassing visitors in Times Square.
Vallone told FoxNews.com Wednesday he is looking at the legality of possible legislation that would either ban or tighten restrictions on people who dress up like children's characters and try to tap tourists for money.
Vallone is pushing two bills – one that would require street performers to register their characters and get a permission slip before donning costumes, and another that would ban the practice altogether.
Recent incidents in the Big Apple with have prompted Vallone and others to look for ways to cut down on unruly behavior.
"There are strong First Amendment issues associated with these but the time has come to stop pretending that these are some sort of harmless performers working for tips and call it what it is – a for-cash business," Vallone said.
A Cookie Monster impostor was accused over the weekend of shoving a 2-year-old in Times Square.
"He was using words that were really bad," said Parmita Kurada of Stamford, Conn., who told police she got into a dispute this week with a man in a Cookie Monster costume who demanded $2 for posing with her 2-year-old son, Samay.
The Associated Press reported that when Kurada told the Cookie Monster that her husband needed to get cash, the shaggy blue creature pushed her son and started calling him obscene names.
"It was very scary for us, and I was crying. I didn't want to provoke him, so I said, 'We'll give you the money, but stop yelling!'" she said.
Osvaldo Quiroz-Lopez, 33, was charged with assault, child endangerment and aggressive begging.
This isn't the first time tourists have been bullied by street performers.
Before Quiroz-Lopez's run-in with the law, a guy dressed up in a Super Mario costume was charged with groping a woman, and an Elmo look-a-like was booked for spewing anti-Semitic slurs.
The case against the fake Super Mario is still pending. The Elmo accused of racist rants pleaded guilty in September to disorderly conduct and was sentenced to two days of community service.
Vallone also said there were reports of a man dressed up as Spiderman accused of punching passersby.
"Clearly something needs to be done but it could be worse," Vallone said. "Twenty years ago we were worried about violent crime and prostitution in the area. Now we're worried about Elmo."
Street performers are protected by the First Amendment and are allowed to roam New York working for tips or donations as long as they don't block traffic.
Vallone says he is working with other lawmakers to weigh their options on how to regulate the characters.
The Associated Press contributed to this report.