NY Gov. Cuomo, other officials in Puerto Rico to pledge support in tackling economic crisis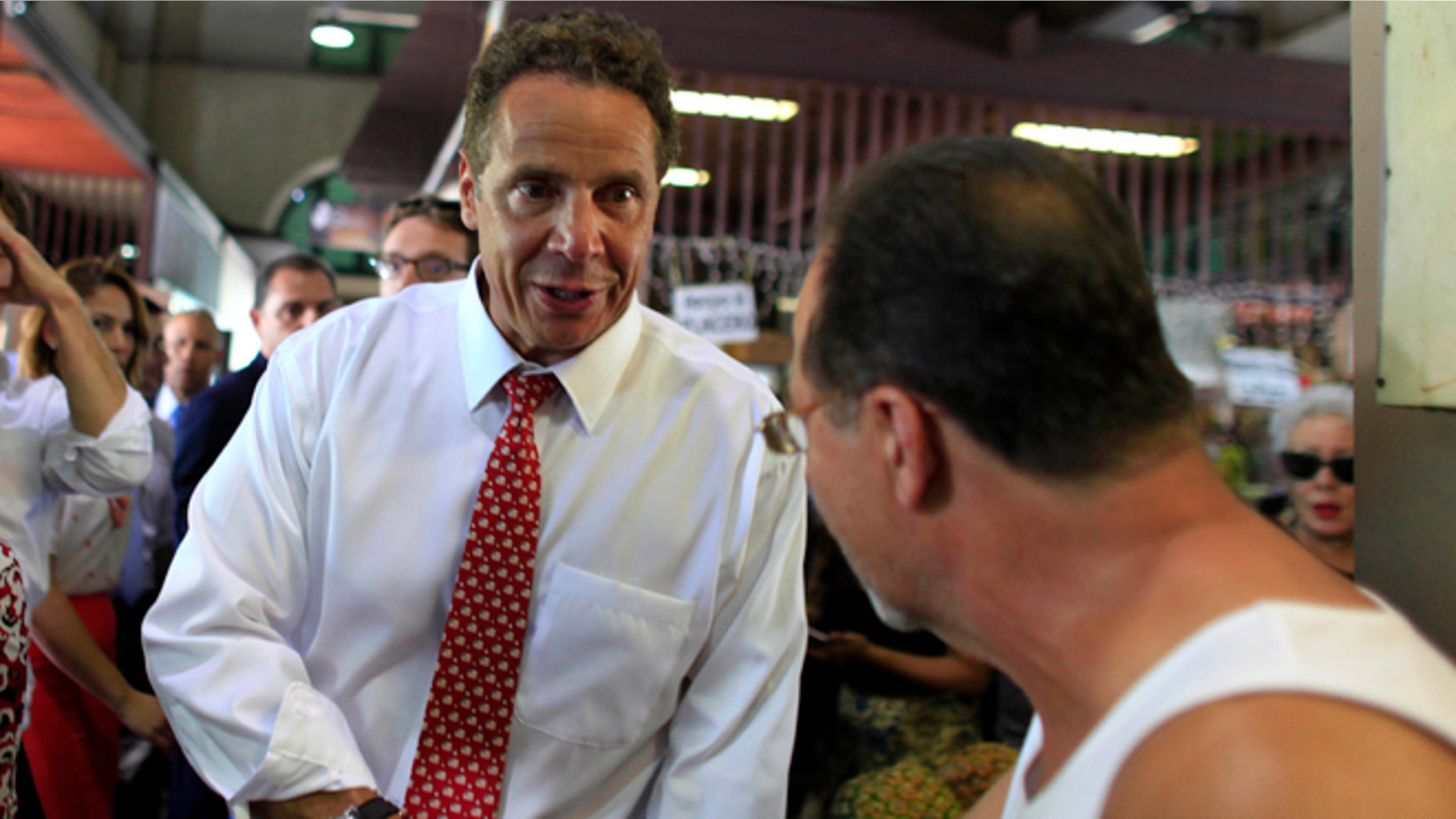 SAN JUAN, Puerto Rico (AP) – New York Gov. Andrew Cuomo and a delegation of top state officials met with Puerto Rico's governor on Tuesday to develop what he called a historic partnership with the U.S. territory to help it emerge from a deepening economic crisis.
Cuomo pledged that New York officials will share their expertise in areas including economic development and health care and step up political pressure as the island seeks more equal treatment from the U.S. government to emerge from a nine-year economic slump.
"We believe that the federal treatment of Puerto Rico when it comes to Medicaid, when it comes to bankruptcy protection, when it comes to tax treatment is unfair and abusive," Cuomo said. "We're going to do everything we can to remedy the situation because we think it's wrong, and that's why we're here today."
Puerto Rico is struggling with $72 billion in public debt that the governor has said is unpayable and needs restructuring, adding that a portion of that debt is a result of the U.S. territory receiving lower Medicare and Medicaid reimbursements than U.S. states. The island's government also is pushing for access to Chapter 9 bankruptcy, with Cuomo saying the issue is on President Barack Obama's radar but that more needs to be done.
"The real question is: have you succeeded in convincing the president to do something yet? And the answer is 'no,'" the governor said. "Otherwise we wouldn't be here today ... More people know about the financial crisis in Greece than they know about the economic pressures on Puerto Rico."
Cuomo and his delegation of more than a dozen officials, which included New York's attorney general, its comptroller and its secretary of state, spoke Tuesday at a public round table at the University of Puerto Rico's medical sciences campus in the capital of San Juan. Also attending were U.S. Rep. Charles Rangel and City Council Speaker Melissa Mark-Viverito, among others.
The delegation pledged to send a team of experts from New York's Department of Health to help restructure Puerto Rico's health system and another team to help boost the island's agriculture sector. In addition, they promised to help Puerto Rico lessen its dependence on oil, create a bilateral trade agreement and propose a $5 million joint tourism campaign to boost travel between Puerto Rico and New York, with Cuomo noting that Puerto Rico and New York have faced similar economic and health care challenges.
Cuomo's announcement comes as Puerto Rico braces for potential federal health care reimbursement cuts starting next year that could add up to $3 billion through 2017.
Puerto Rico Gov. Alejandro García Padilla said obtaining the same federal reimbursements as U.S. states regarding Medicaid and Medicare would be a game changer for Puerto Rico's economy.
"We pay the same, so we are entitled to receive the same money," he said. "We're owed that money."
Garcia said that additional cuts to those federal reimbursements would throw off a five-year fiscal reform plan expected to be released Wednesday as Puerto Rico prepares to negotiate with bondholders over its debt.
Cuomo said he expects the partnership with Puerto Rico to be a long-term one, noting that he and other New York officials will be back on the island on Nov. 7 for a march to demand that Puerto Rico receive equal treatment from the U.S. government.