North Dakota Democratic Party discourages hunters from voting, claims they could lose out-of-state licenses
NEWYou can now listen to Fox News articles!
The North Dakota Democratic Party is discouraging hunters from voting in the upcoming election, claiming they could lose their out-of-state hunting licenses if they do so.
"Attention hunters: If you vote in North Dakota, you may forfeit hunting licenses you have in other states. If you want to keep your out-of-state hunting licenses, you may not want to vote in North Dakota," the ad says, linking to a similar warning on the North Dakota Democratic-NPL website.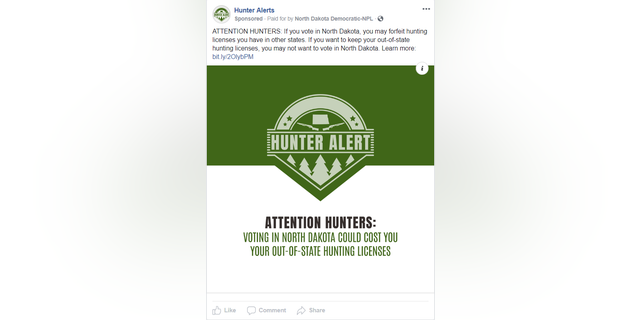 "By voting in North Dakota, you could forfeit your hunting licenses. You MUST be a resident of North Dakota to vote here. And if you are a resident of North Dakota, you may lose hunting licenses you have in other states," the website said.
The ad is linked to the Hunter Alert Facebook page which appears to have been created earlier this week. Facebook notes it was paid for by the North Dakota Democratic-NPL.
FOX NEWS MIDTERM ELECTION HEADQUARTERS
A spokesman for the North Dakota Game and Fish Department said it was not involved in the ad and didn't back the message.
"I don't know what they're talking about," Robert Timian, the chief game warden, told Fox News.
He said he wasn't aware of any similar ads in the past.
North Dakota Secretary of State Al Jaeger also told political blogger Rob Port he's never heard such a claim before.
North Dakota Sen. Heidi Heitkamp, a Democrat, is in danger of losing her seat to Republican Rep. Kevin Cramer in next week's election. Fox News has ranked the race as likely Republican.
HEITKAMP APOLOGIZES FOR NAMING SEXUAL ASSAULT, ABUSE VICTIMS IN NEWSPAPER AD
Last week, Heitkamp gave almost $2.7 million of her campaign cash to the North Dakota Democratic Party to help with other races in the state.
"Heidi Heitkamp is using her anti-Kavanaugh campaign coffers to suppress voter turnout in North Dakota," Jake Wilkins, the North Dakota GOP spokesman, told Fox News, adding she's "made it clear that she only cares about winning re-election, not helping her constituents."
Donald Trump Jr., the president's oldest son, accused the party of trying to suppress voters.
"Only the party that wants to take your guns could do something so untruthful to suppress the North Dakota vote. This ad is false," he said. "Don't let these liar Democrats get away with it."
Republicans, too, have been accused of voter suppression ahead of the election. A new law requires North Dakotans to have an ID that shows a name, birthdate and street address to vote. But many Native Americans, who tend to vote for Democrats, say a street address is not always evident on reservations.
A federal judge denied a request from a North Dakota tribe to block the state's voter ID law earlier this week.
Neither Heitkamp's campaign nor the Democratic Party responded to a request for comment from Fox News Friday morning.
The Associated Press contributed to this report.