No DHS deal with Dems; Boehner's job safe, House Whip Scalise says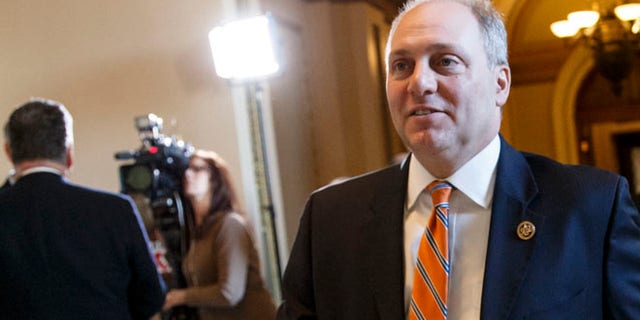 NEWYou can now listen to Fox News articles!
House Majority Whip Rep. Steve Scalise on Sunday rejected criticism that the chamber's Republican leaders are failing in attempts to fully fund the Department of Homeland Security -- dismissing allegations of cutting a partisan deal and blaming Senate Democrats.
Scalise told "Fox News Sunday" that House GOP leaders have not made a deal with chamber Democrats that would fund the agency through the fiscal year and erase provisions to roll back President Obama's executive actions on immigration.
"There is no such deal. There is no such bill," said Scalise, the House's third-ranking Republican.
The Louisiana lawmaker argued that the House passed a 7-day funding bill late Friday, minutes before the agency would have been forced into a partial shutdown, to "keep the fight going" and force Senate Democrats to negotiate in conference with House leaders on a bill.
"Senate Democrats won't go to conference," Scalise said. "And anybody who disagrees with the president's illegal action [on immigration] should light up the Senate switchboard and make Senate Democrats feel the heat."
The GOP-led Senate has failed to pass its own funding bill, which includes the immigration language, because the chamber's Democratic leaders have effectively blocked a full vote.
Scalise, nevertheless, expressed confidence about a change, arguing Senate Democrats said two weeks ago that they would not take up the House bill -- but ultimately did.
He also downplayed rumblings that House Speaker John Boehner allowing a vote next week to fund the agency minus the immigration provision will result in a coup, which likely would be led by the chamber's most conservative wing, the 50-plus member Freedom Caucus.
The temporary funding bill passed Friday got no votes from 55 House Republicans. However, 80 percent of the caucus voted yes, Scalise argued.
Any attempt to ouster Boehner would follow a failed effort at the start of the 114th Congress in January to replace him.
"We had this vote a few weeks ago," Scalise said. "Boehner is the speaker going forward. We're working hard to get an agenda through the House, including bills on the Keystone pipeline and the economy."
At least one congressional aide acknowledged a deal between Boehner and House Minority Leader Nancy Pelosi.
Boehner spokesman Mike Steel has denied such a deal, and Pelosi's office has neither confirmed nor denied one.