New Strzok-Page texts call into question Obama's 2016 statement on FBI probes
Newly released text messages between FBI lovers Peter Strzok and Lisa Page saying Barack Obama wanted to "know everything" the FBI was "doing" could raise questions about the former president's 2016 statement that he was not involved in discussing pending probes.
The texts were part of a batch released by Sen. Ron Johnson, R-Wis., along with majority staff from the Senate Homeland Security and Governmental Affairs Committee. Strzok and Page, who worked for a short period of time on Special Counsel Robert Mueller's team, have been in the spotlight ever since a slew of anti-Trump messages between them surfaced last year.
In the new text message chain from Sept. 2, 2016, Page mentioned Obama in the context of a briefing for then-FBI director James Comey.
"Checkout my 9:30 mtg on the 7th," Strzok texted Page.
"I can tell you why you're having that meeting. It's not what you think," Page responded.
"TPs [talking points] for D [Comey]?" Strzok asked.
"Yes, bc potus wants to know everything we are doing," Page said.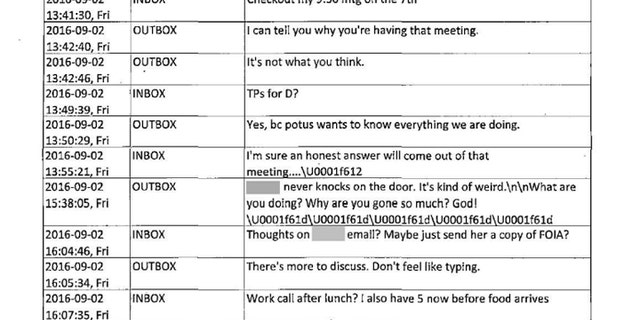 The message suggested that Obama would meet Comey regarding an FBI matter.
Yet, on April 10, 2016, Obama told Fox News' Chris Wallace that he did not have any involvement in ongoing FBI investigations.
"I do not talk to the attorney general about pending investigations. I do not talk to FBI directors about pending investigations," Obama said on "Fox News Sunday." "I guarantee that there is no political influence in any investigation conducted by the Justice Department, or the FBI, not just in this case, but in any case."
FBI LOVERS' LATEST TEXT MESSAGES: OBAMA 'WANTS TO KNOW EVERYTHING'
It's unclear from the texts what exactly Strzok and Page were referring to with the apparent talking points for Comey. According to the Senate report, the text raises questions about Obama's involvement in the Clinton email investigation.
The conversation took place during an apparent lull in the Clinton email investigation, though it wasn't necessarily closed, either. In July 2016, Comey announced that Clinton was "extremely careless" in her handling of classified information on her private server but would face no charges. In late October, Comey announced that he would revisit the Clinton investigation.
The Strzok-Page conversation also occurred just days before Obama met with Russian President Vladimir Putin on the sidelines of the G-20 summit, where he confronted him about cyber concerns amid reports and intelligence surfacing that Russia meddled in the 2016 presidential campaign.
A former deputy assistant to Obama, Colin Kahl, highlighted on Twitter a Daily Beast reporter who floated this meeting as relevant to that text exchange.
Also on Sept. 2, 2016, though, the FBI released documents on its interview with Hillary Clinton as part of the email probe, along with a memo summarizing the bureau's investigation of her use of a private email server during her tenure as secretary of state.
After the mention of "potus," Strzok alerted Page to "NYTimes.com breaking," which could have been the report, "FBI Papers Offer Closer Look at Hillary Clinton Email Inquiry."
Fox News' Jake Gibson contributed to this report.