New Jersey Gov. Chris Christie Hopes To Put 'Bridgegate' In The Rear View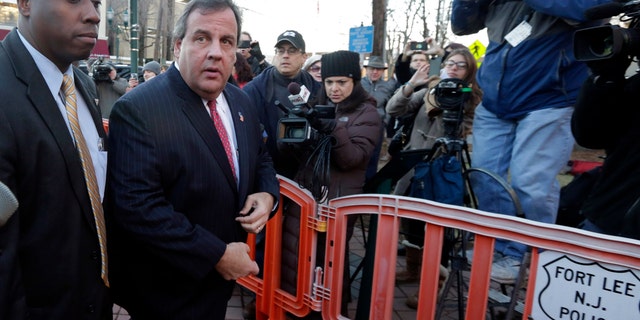 TRENTON, N.J. (AP) – A wounded Chris Christie is working to move beyond the most challenging test of his political career, a traffic scandal that rocked his administration this week and threatens to tarnish his national image ahead of the next presidential contest.
Allies of Christie, New Jersey's Republican governor and a possible candidate for president in 2016, suggest the worst is behind him. But critics promise to keep probing what happened, federal prosecutors are examining the case and thousands more internal documents were scheduled for release Friday.
"I am embarrassed and humiliated by the conduct of some of the people on my team," the famously blunt Christie said Thursday while facing reporters.
"Unless something new develops, I think he'll survive."
Christie had previously assured the public that his staff had nothing to do with lane closings last fall that caused major backups at the George Washington Bridge, among the world's busiest. But after documents revealed Wednesday that his administration may have intentionally caused the traffic jam to exact political retribution, the governor fired a top aide and jettisoned his chief political adviser.
Christie adamantly denied any personal "knowledge or involvement" in the lane closures, a passionate pronouncement that satisfied some critics in the short term but creates political risk amid ongoing investigations. Democrats and Republicans said the governor's presidential prospects could be severely undermined, if not crippled, should evidence emerge that contradicts his denials.
"Unless something new develops, I think he'll survive," said former New Jersey Gov. Tom Kean, a Republican whom Christie has described as a mentor. "But if there's a pattern of these things, if other incidents emerge with similar characteristics, that's going to be a real problem."
David Axelrod, a top adviser to President Barack Obama's campaigns, said Christie handled the high-profile news conference "as well as he could."
Unless a smoking gun turns up, "he lives to fight another day," Axelrod tweeted.
Christie said he fired the aide, Deputy Chief of Staff Bridget Anne Kelly, "because she lied to me" when he demanded weeks ago that anyone who knew anything about the episode come forward. He also cut ties to former campaign manager Bill Stepien, asking him to withdraw a bid to become the next state GOP chairman.
The governor said he was disturbed by the "callous indifference" Stepien displayed in emails released this week. Stepien had widely been seen as a potential campaign manager for Christie if he runs for president and had been tapped to serve as a senior political aide to the Republican Governors Association, which Christie will lead for the next year.
Christie said he is still looking into the episode and will take action against other senior staff members if warranted.
Some Republicans defended the governor, who faced reporters for nearly two hours Thursday and then traveled to Fort Lee, a borough near the entrance to the bridge, to personally apologize to the mayor and community residents. Documents show that Christie's aides appeared to close the lanes to punish the mayor for refusing to endorse Christie during his recent re-election campaign.
"He apologized, took full responsibility and acted decisively in firing those responsible," said Fred Malek, a top Republican financial donor. "If anything, it serves to reinforce his image as a strong and effective governor."
The issue is far from over for Christie.
Democrats in the New Jersey legislature could spend months investigating the case, forcing Christie and his staff to defend themselves and repeatedly bringing the scandal back to the limelight. U.S. Attorney Paul Fishman is reviewing the case and the general inspector of the Port Authority of New York and New Jersey, which oversees the bridge, also is investigating. In Washington, Sen. Jay Rockefeller, a West Virginia Democrat who heads the Senate Commerce, Science and Transportation Committee, has demanded answers about the debacle.
Political strategists suggested the episode offers future opponents a ready-made line of attack — who likes a traffic jam? — that strikes at the heart of the inclusive political brand Christie has worked to cultivate. Driven by partisan politics, the lane closures clogged the already-busy bridge for days, delaying children from getting to school and first responders from emergencies.
The bridge affair also reinforces a negative stereotype from critics who say Christie's no-holds-barred approach makes him nothing more than a bully in a state known for its tough-guy politics. And it comes on the eve of a second term that was designed to be a springboard to a national campaign.
In less than two weeks, Christie plans to celebrate his inauguration at Ellis Island, gateway for millions of immigrants and so a symbolic location designed to showcase his ability to appeal to a broad swath of voters. He will also outline his second-term priorities in the coming weeks and begin an aggressive national travel schedule as chairman of the governors' group, a role that gives him a chance to broaden his network of big-money donors.
Whether the traffic scandal will define Christie's future is hard to tell. But it raises the question of whether he can become a breakthrough figure in the Republican Party at a time when many Americans bemoan dysfunctional government, or simply become part of the gridlock.
"Abuse of power by government officials is wrong, whether it's closing lanes in Fort Lee, using the IRS to target political opponents, or waiving the law regarding Obamacare," said Jenny Beth Martin of the Tea Party Patriots, lumping together the New Jersey scandal with issues that have dogged Obama's second term. "Gov. Christie held some subordinates accountable. Time will tell whether this is enough."
Follow us on twitter.com/foxnewslatino
Like us at facebook.com/foxnewslatino