New England mayors call for refugee resettlement freeze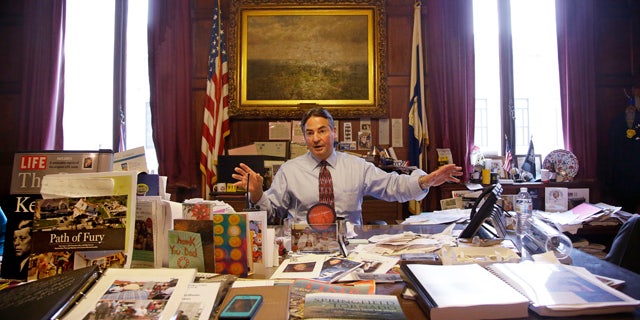 The mayor of Springfield, Massachusetts has asked the federal government for a moratorium on sending refugees to the city, claiming that newly arrived families create a strain on city resources and the school system and do not receive sufficient aid from resettlement agencies.
Domenic Sarno, a Democrat, made his request in a letter sent Thursday to Rep. Richard E. Neal, D-Mass. Copies were also sent to Senators Elizabeth Warren and Ed Markey, as well as Massachusetts Gov. Deval Patrick.
"I'm not cold-hearted at all," Sarno told The Republican newspaper Friday. "I want to help. All I am asking for is accountability from the agencies. You just can't continue concentrating poverty on top of poverty."
Sarno first demanded last summer that the U.S. government stop sending refugees. But after recent inspections found Somali families living in overcrowded, pest-infested apartments without electricity and sometimes heat, he stepped up complaints, saying resettlement agencies are bringing in "warm-weather" refugees and dumping them into cold climates only to leave them dependent on the city.
"I have enough urban issues to deal with," Sarno said. "Enough is enough."
Springfield is the third-largest city in Massachusetts, with a population of 153,000. The refugee population in Springfield is estimated to be 1,500 -- roughly 1 percent of the total. According to the 2010 census, 26.8 percent of the population lived below the poverty line.
Sarno's comments have drawn a backlash from refugees who say they're being scapegoated for problems the city faced long before their arrival.
"Why not talk about the problems in the city, why not talk about the houses that are unstable and in bad conditions, why only talk about the Somalis and Somali Bantus?" Mohammed Abdi, 72, said through an interpreter.
About 100 Somalis arrived in Springfield in 2004, placed there because the city met government criteria including a public transit and other urban infrastructure. The community has grown as others reunite with family members.
Sarno says the State Department has not been receptive to his requests to stop sending refugees, echoing sentiments sometimes heard elsewhere.
Lewiston, Maine, Mayor Robert MacDonald, who in 2002 asked Somalis there to help "reduce the stress on our limited finances," took heat a decade later for saying immigrants should "accept our culture and, and you leave your culture at the door." He later clarified that he didn't expect them to abandon their religion or language but said: "I'm not going to apologize for `leave your culture behind."'
Manchester, New Hampshire, Mayor Ted Gatsas in 2011 asked the State Department to stop resettling refugees there. Last year, he told the AP he still believes the city could benefit from a break in arrivals to "get these people into working society."
Such requests are rare, said Daniel Langenkamp, a department spokesman.
"We make every effort to work with local officials and other stakeholders to ensure the resettlement of refugees is acceptable," he said.
The Department, he said, does not place refugees unless an area is equipped to handle them. The government's work with refugees in Springfield is mostly about family reunification, and it cannot keep families from moving there if they are placed elsewhere, he said.
Federal funding of about $1,800 per person helps resettlement agencies assist refugees for as long as eight months, but Springfield argues that is not enough time for some refugees to adjust.
Robert Marmor, president of Jewish Family Services, a resettlement agency in Springfield, said that aid for additional services is available from other sources and that his door is always open.
"It is unfortunate that 5 percent of refugees who struggle are the focus and not the 95 percent who are really making it," Marmor said.
Somali refugee Adan Abdi, 28, came to Springfield in 2004 with his parents and six siblings after years in refugee camps where security, food and water were scarce and a couple of pounds of corn per person had to stretch for two weeks.
"There is no comparing our new life in America to living in those camps," said Abdi, who has a wife and three children. "Springfield is my home. It's where I began my new life."
The Associated Press contributed to this report.